Over the last year, while the world has faced unprecedented obstacles, it has also celebrated its share of triumphs. 2021 has provided much-needed perspective and understanding particularly in the United States: Justice was both obstructed and served, world leaders pushed new initiatives to fight the climate crisis, and labor rights were challenged across the country. From the riots at the Capitol building on January 6th to millions of COVID-19 vaccines administered, we reflect on a year of social impact within and beyond our borders, and recognize the unique adversity we are experiencing together.
In 2021, WORLD Channel showcased dozens of short films, long-form documentaries and behind-the-scenes interviews with filmmakers that covered a breadth of stories relevant to the times we live in. Throughout the year, we introduced an array of epic film series and specials including Eyes on the Prize, Decolonizing Mental Health, the 13th season of AfroPoP: The Ultimate Cultural Exchange, Hindsight, and Legal Lens, among other collections. 
We introduced BIPOC mental health practitioners making strides in the healthcare industry, a mother-daughter duo canvassing to get out the vote amidst the COVID-19 pandemic, a young immigrant seeking better opportunities for his family, and everyday individuals from Milwaukee to Puerto Rico working to create more equitable communities.
Explore our best-of list of documentaries and look for what's new to come in 2022.
America ReFramed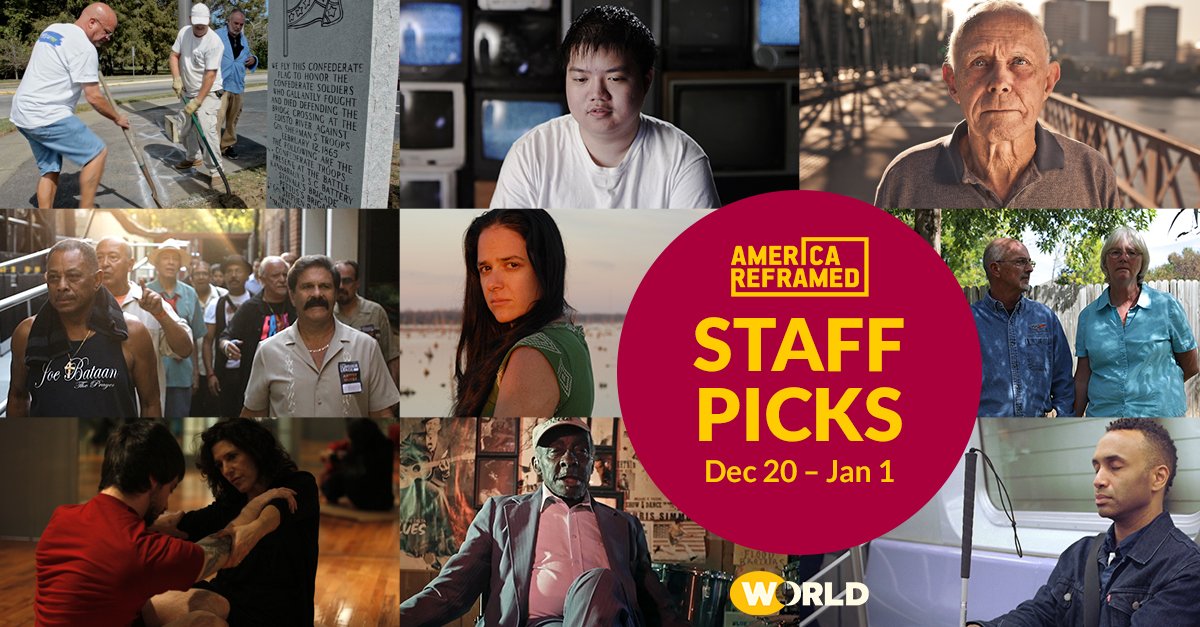 As 2021 comes to a close, America ReFramed looks back over its nine seasons that present the story of an ever-changing nation. Through Jan. 1, WORLD Channel and American Documentary bring back nine documentaries representing the evolution of the series through voices that give a deeper, fuller picture of individuals, communities, and experiences across this country.
Available online & on the PBS App
Jack and Yaya met at ages three and two through their shared backyard fence. They spent their childhood together, building forts and burning trash cans in their small hometown in South Jersey. From a young age, Yaya and Jack saw each other as they truly were, a girl and a boy, even though most of the world didn't see them that way. As they grew older, they supported each other as they both came out as transgender.
Available online & on the PBS App 
Luis is an undocumented 16-year-old Guatemalan boy who arrives alone in New York City from an ICE detention center with little support and many responsibilities. Luis has journeyed to the U.S. to make money for his family back home, all of whom are relying on him for their very survival. Luis faces all the obstacles of being an undocumented worker, with the added burdens of his young age: homesickness, mandated participation in the NYC school system and social workers monitoring his every move. Above all, Luis must manage the looming threat of deportation by ICE.
Through encounters with local residents and historians, a Chinese American family discovers their family's important role in the Mississippi Delta and learn about the symbiotic relationship between the Black and Chinese communities during the Jim Crow era. The film provides a window into the struggles of Chinese immigrants in the American South during the late 1800s to mid-1900s and the discrimination they faced. The Chiu family's history demonstrates how exclusionary immigration laws like the Chinese Exclusion Act of 1882 separated their family for generations.
Doc World
In Montego Bay, Jamaica, three athletes from Spot Valley High School prepare to compete in the island's greatest sporting event: Champs. The film follows the students over the course of a year while highlighting the historic and contemporary issues of the island - 'all inclusive' international resorts sit alongside crime and poverty. Through a story of hope, struggle and identity, see what it means to grow up in Jamaica, and learn why these young athletes are striving for success that could determine the rest of their lives.
Available online, on YouTube & on the PBS app
In five compelling documentaries, WHY SLAVERY? exposes governments, organizations, agencies and individuals continuing the cycle of human and sex trafficking. As told through intimate portraits of people living in the shadows, modern slavery is not only acknowledged – it is brought to the forefront of global political and economic conversation.
Local, USA
During primary elections in April 2020, it is estimated that almost 16% of Black voters were disenfranchised in Milwaukee, the largest city in a key swing state. Mother-daughter activist team Danell Cross and Melody McCurtis are determined to prevent this from happening again in this Webby-nominated film of organizing a Black community to prepare for the 2020 presidential election.
Pandemic19  
Available online & on the PBS app through Jan. 1
As "shelter in place" orders begin rolling out, three doctors in the U.S. fighting COVID-19 record their changing impressions – fears, hopes, challenges, and triumphs – while laying bare their emotional feelings as the chaos of the pandemic rages on outside the frame of their video confessions.
Stories from the Stage
 
Hear from storytellers from all different backgrounds, each with a moment to share. With the same great stories from the flagship TV series in your earbuds, listen along to extraordinary stories from ordinary people.
What does it mean to grow up Black in America, a country too often divided by race? It might mean strangers looking at you with suspicion, being pulled over by the police for no reason and/or being afraid to walk outside because of who you are. Bullied by a group of kids, Ben Cunningham finds out he is not alone; Susanne Schmidt shares the realities of raising kids of a different race; and Angie Chatman learns about how far we have come, and how far we have to go in a chance encounter she will never forget. 
Twenty years ago, the events of 9/11 changed the world. People struggled to make sense of the terrible acts, and to rebuild their lives in its aftermath. After the death of his father in the attacks, David Filipov goes to Afghanistan where a simple Pop-Tart takes on a whole new meaning; social psychology professor Michael Sargent confronts his biases on an airline flight; and Jude Treder-Wolff finds seeds of hope to fuel her work as a clinical social worker and creative arts therapist.
Digital Series
The law can be viewed as a menacing force to intimidate and coerce. But what happens when the law is challenged to right a wrong or create constructive change? Twelve Harvard Law students set out to explore that intersection through five short films featuring captivating profiles and passionate characters, examining how laws and regulations can either disrupt lives or lead to positive shifts.
In an initiative created by Firelight Media, Reel South and the Center for Asian American Media, six short films capture long-standing community issues, calling attention to what life in the American South and Puerto Rico looks like today and how social movements and the complicated history of the regions provide color to it all.
By focusing its gaze on the transformative work of therapists and individuals of color, this series of short films calls for a redressal of the ways in which we define psychiatric illness and health. Through 20 profiles, the digital series dismantles the racism that underscores the mental healthcare industry and discusses what a more responsive mental health care system should look like.
THE CONVERSATION REMIX explores the present catharsis we are living through, following the death of George Floyd on May 25, 2020. Through three short, powerful character-driven films, we dive into how the current uprising is impacting communities, and how we can contribute to discussions about racial justice reform. This remix of the 2015 New York Times 'A Conversation on Race' series is a vibrant collage of people's lives and experiences, which powerfully frame and illustrate the reckoning that is happening around us.
Specials
Hosted by Amna Nawaz, senior national correspondent for the PBS NewsHour, this special highlights the impact of young voters and explores the change they want to see from the new U.S. presidential administration, featuring teen voices and leading journalists covering topics such as youth activism, civics, and misinformation.
Through contemporary interviews and historical footage, the series, which recounts the fight to end decades of discrimination and segregation, traces the civil rights movement from the Montgomery bus boycott to the Voting Rights Act; from early acts of individual courage through the flowering of a mass movement and its eventual split into factions.
In 1937, Haitians and Dominicans of Haitian descent were exterminated on the basis of anti-Black racism. In 2013, the Dominican Republic's Supreme Court stripped the citizenship of anyone with Haitian parents, rendering more than 200,000 people stateless – Elena and her family stand to lose their legal residency. Negotiating bureaucratic processes and a racist, hostile society, she becomes the face of the struggle to remain in a country built on the labor of her father and forefathers.
---
Discuss and engage with us on Facebook, Instagram and Twitter by using the hashtag #WORLDChannel tagging us @worldchannel. Subscribe to our newsletter and YouTube for more features including events and interviews.
Enjoy our content? Consider donating to keep important storytelling like this going, and find more on PBS Passport.