Films that question and reflect on the role of race in America.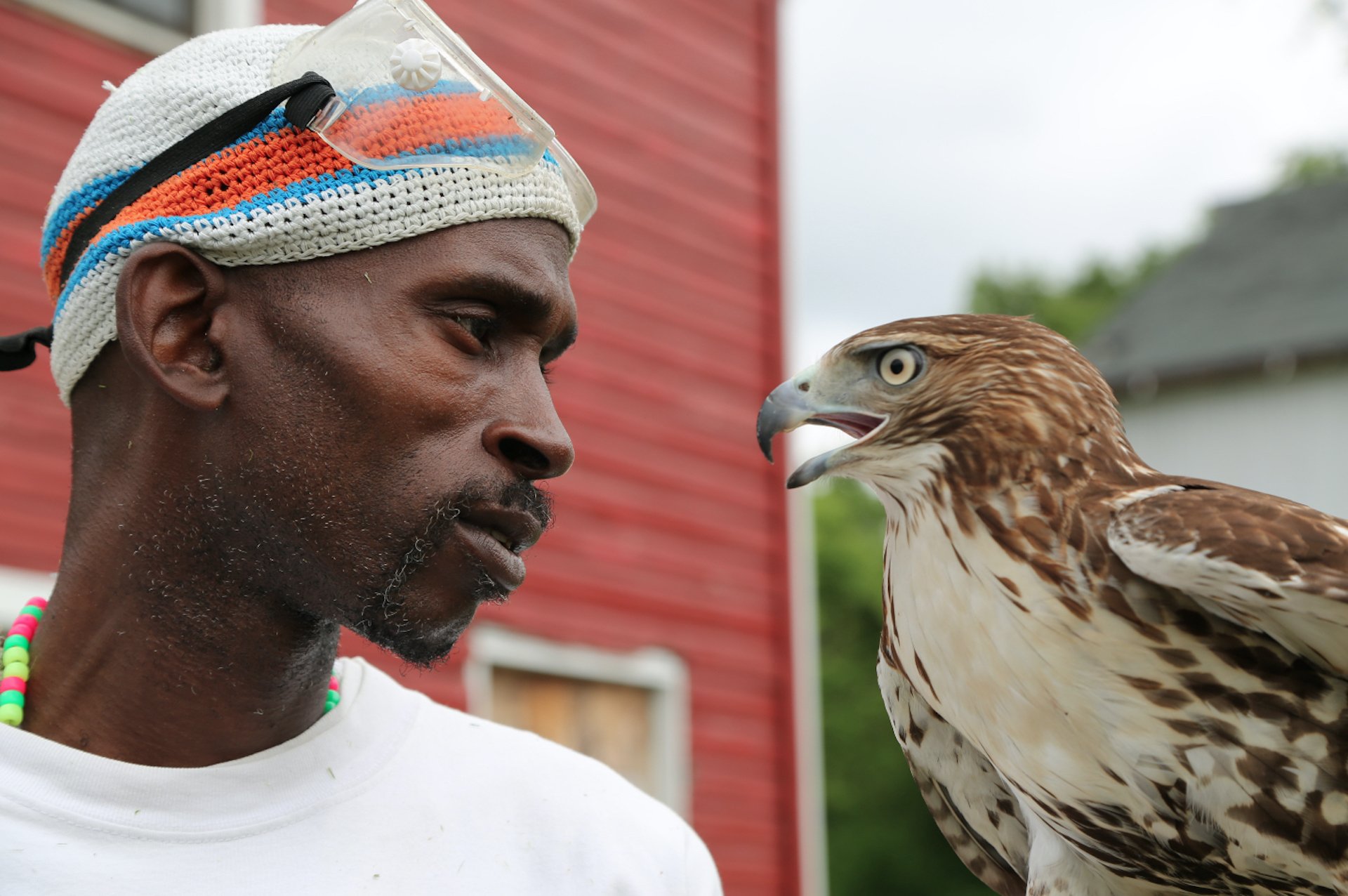 2020 marked a year in which Americans were forced to confront racism in the country. From the murder of George Floyd to attacks on Asian Americans and Pacific Islanders, the violence we've witnessed has shined a bright light on hate and brutality. The COVID-19 pandemic has further exposed the inequalities Black, Latinx, Asian and Indigenous communities face.
Following the anniversary of Floyd's death on May 25, 2021, it's crucial we reflect on the events of the past year, and to continue the work of how to effectively create solutions to address racial injustice. It's become clear that talking about race can be uncomfortable, but it is necessary to have these conversations in order to work towards a more equitable society. 
This month, we take a sharp look at the racism plaguing the mental health industry; follow a South Carolina shop owner in his fight against the Confederate flag; and watch one of the only Black falconers in the country rebel against bias to teach, inspire and foster community.
Stories about race are deeply rooted in US history and WORLD Channel embraces the complexities of each one. As we continue to listen to and share stories, how has your perception of race changed?
Discuss and engage with us on Facebook, Instagram and Twitter by using the hashtag #RaceInAmerica and tagging us @worldchannel. Subscribe to our newsletter and YouTube for more features including events and interviews.
PREMIERING THIS MONTH
The Falconer
America ReFramed | June 1 on TV, Online & the PBS app
Watch Master Falconer Rodney Stotts and his birds of prey in this feature documentary that shows one man's mission: to build a bird sanctuary; to break the cycle; to teach; to inspire; to transform.
This Webby Award-winning short answers the question: What does it mean to grow up Black in America, a country too often divided by race? It might mean strangers looking at you with suspicion, being pulled over by the police for no reason and/or being afraid to walk outside because of who you are.
Meltdown In Dixie
America ReFramed | June 8 on TV, Online & the PBS app
In Orangeburg, South Carolina a battle erupts between the Sons of Confederate Veterans and an ice cream shop owner forced to fly the Confederate flag in his parking lot.
The Decolonizing Mental Health series dismantles the racism that underscores the mental healthcare industry. By focusing its gaze on the transformative work of therapists and individuals of color, it calls for a redressal of the ways in which we define psychiatric illness and health.
 
STREAMING
Exploring the stigmas Black girls face as they grow up within and outside their community. A love letter to Black daughters, mothers share their concerns with how they are shaping and impacting their daughters' independence.
Learning to Breathe
The Conversation Remix | Watch Online & the PBS app
Black men reflect on their younger selves, sharing how their ideas of racism have changed. In 2015, Black boys, teens and young men shared thoughts about race. Five years later, they return to compare/contrast how perspectives on race, justice, and social inequity & inequality have changed.
Good White People
The Conversation Remix | Watch Online & the PBS app
Unpacking how white people view and interact with race in America. Following the 2020 Black Lives Matter protests, a family in the mostly homogeneously white Adirondacks community in New York shares their views on race and anti-racism.
Curtain Up!
America ReFramed | On TV, online & on the PBS app
Brimming with excitement, PS 124 students prepare to stage a new adaptation of "Frozen." Behind the scenes, the young Asian American actors grapple with cultural stereotypes, family expectations, and post-graduation uncertainties.
First Vote
America ReFramed | Watch on TV, Online & the PBS app until June 2
With unparalleled access, the character driven FIRST VOTE looks at Chinese American electoral organizing in North Carolina and Ohio, and explores the intersections between immigration, voting rights and racial justice.
Mother and daughter duo, Danell Cross and Melody McCurtis, organize their Black community of Metcalfe Park to prepare to vote in the 2020 presidential election and overcome its challenges.
Tariq's Cube
Local, USA | Watch online & on the PBS app
Follow Tariq Ali into the world of Rubik's cube competitions as he comes to terms with a family tragedy and his complex multiracial identity as a Muslim American in a country where hate crimes are on the rise.
The Donut King
Independent Lens | May 26 on TV, online & on the PBS app
In 1975, Ted Ngoy escaped the Khmer Rouge in Cambodia, fled to California, and began anew with his wife and children. By the 1980s he had ascended from janitor to donut mogul. The Donut King is a tale of hard knocks, redemption, wealth, survival, risk, and donuts.
Philly D.A.
Independent Lens | Watch Online & the PBS app
What happens when you try to transform the criminal justice system from the inside out? Civil rights champion Larry Krasner defies precedent with a landslide win to become Philadelphia's District Attorney.
Want more? Explore our Race in America collection page for more films and features to watch.