Exploring America's New Normal in the New Year
With the start of a new year, January 2022 serves as a moment to consider the current state of our economy, social movements and country as a whole and how we can continue to reform our communities. Last year taught us many lessons about justice, equality and human rights, revealing the shortcomings of our country and others around the world to serve its people justly.
2022 can become the turning point we've been waiting for by taking our failures and creating opportunities to better ourselves and those around us. As we enter a midterm election year, race, economic inequality, climate change and healthcare, including the continuing fight against COVID-19, remain front of mind. We've become more aware than ever of the urgent work that must continue to be done to transform America into a more equitable society, a mission Dr. Martin Luther King, Jr., whom we honor this month, made his life's work.
This month, watch stories of economic instability in the Midwest, continuing racial tensions in the South and students taking control of their education across the country, films that represent a changing America and the resilience of its communities that help us best understand where we've been and how we can move forward.
WATCH LIVE
How is the North Korea regime financing their nuclear war program? The government sells its own citizens as laborers to work in Russia, China and a dozen other countries, including member states of the European Union.
In 2016, a maid – trapped in the Middle East's Kafala System – returned home to Kenya with 70% of her body burned. The film exposes the inner workings of the system, and the reality faced by thousands of women each day.
How can you move forward when everything is lost? With luck...and a second chance. Mandy Trichell writes a eulogy for the mother she couldn't connect with; a lost baby bird helps Warren Holleman channel his feelings about family; and more.
Hindsight: Missing Magic & Comida Pa' Los Pobres | Reel South
Jan. 11 on TV | Available on YouTube & the PBS app
In two stories, a young poet confronts Birmingham's violent history after being arrested at a demonstration protesting police brutality, and a Puerto Rican activist builds a solidarity movement to confront the island's food crisis and colonialist legacy. 
​​What if inequality becomes the norm where the most vulnerable citizens are left behind with no money, home, rights...and no country of their own? The Hungarian government has slashed social benefits and criminalized homelessness. To fight for social justice, homeless and middle class activists are confronting the authorities.
What happens when you discover that your assumptions are flawed? A white filmmaker starts his academic inquiry by documenting low-income, adult students of color at the Clemente Course in Boston. After time, he comes to terms with his own complicity in racism. Alongside students, a unique filmmaking collaboration forms to explore the area's history of racism and gentrification.
It might be difficult for one person to truly make a difference. But by working together, through big and small actions, we can change the world. Mariama White-Hammond gets down and dirty for a cause; Adam Stumacher volunteers as a human shield in the West Bank to experience the other side of the checkpoint; and Ronald Smith stands up for his interracial marriage.
Staying in the game is hard. But when you hang in there for the ride, the memories you create can last a lifetime. Heather Rodman honors her father by running a road race dressed as Rudolph the Red Nosed Reindeer; Banafsheh Salamat learns a lesson from a disastrous dance performance; and Tim Douglas gives up watching sports for a year and discovers a new life.
Meltdown in Dixie | America ReFramed
Jan. 25 on TV | Available online & on the PBS app Jan. 25 through Jan. 30
In the wake of the 2015 Charleston Massacre, a battle erupts in Orangeburg, SC between the Sons of Confederate Veterans and an ice cream shop owner forced to fly the Confederate flag in his parking lot. What is the broader role of Confederate symbolism in 21st century America, and how do these symbols help maintain lingering racial oppression?
There is no more quintessential image of Wisconsin than a red barn with a herd of cows grazing in a green field against a blue sky. The state's dairy history is an essential part of the state's culture and economy, generating more than $45 billion a year, but all of it is at risk as a confluence of factors are causing many small, family-owned dairy farms to quit. Take a deeper look at the continuing crisis and the future for farmers, businesses and communities who rely on the dairy industry to survive.
The news cycle spins faster than ever, and the flow of stories seems to never end. Yet we rarely learn the story behind the story. A young Joe Pagliuca gets a chance to meet the Pope; Rinaz Mala immigrated to the U.S. from Syria on Christmas Eve; and Shannon Dooling jumps hurdles in her quest to become a journalist.
WATCH ONLINE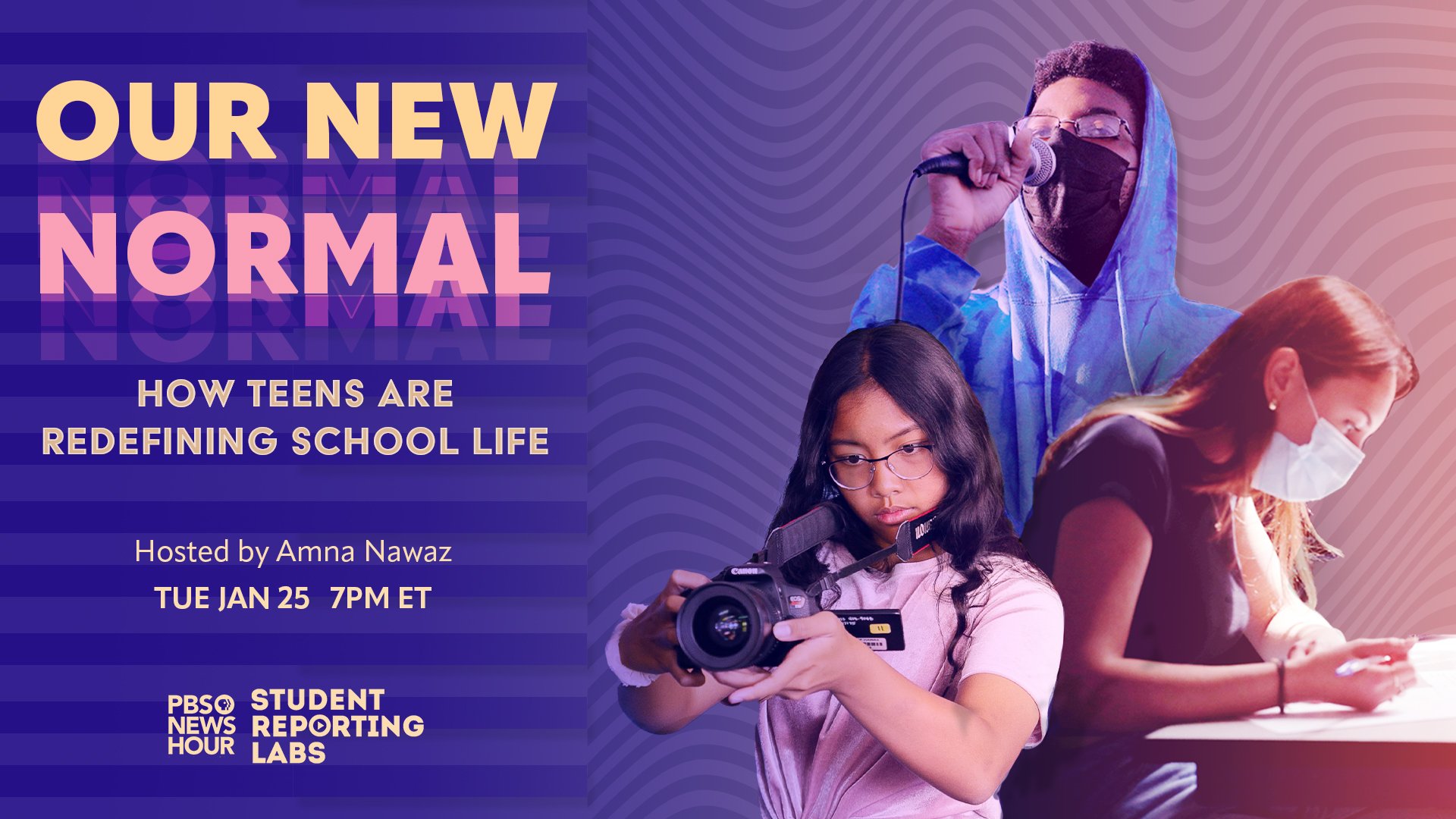 From vaccination and mask mandates to curriculum protests, school districts across the country are taking center stage in some of today's biggest civic debates. But what do students have to say about their education? In an hour-long special, PBS NewsHour Student Reporting Labs will explore how young people are rethinking their educational experience, what they want to see changed, and how students are redefining spaces they are traditionally left out of. 
Through archival footage and oral histories, explore the rise, demise and contested resurgence of America's "motor city" and the impetus behind the African American migration up north through a multi-generational choir of voices who reside in mail carrier Wendell Watkins's work route. 
This character-driven verité documentary features a diverse cross-section of politically-engaged Chinese Americans – a gun-toting Tea Party-favorite candidate courting GOP votes in the South; a podcaster in Ohio who became a citizen in order to vote for Trump; a long-haired journalist confronting Chinese Americans for Trump after moving to a battleground state; and a University of North Carolina professor teaching about race and racism in the U.S.
Pyne Poynt | America ReFramed
Available online & on the PBS app through Jan. 21
Numbed by a plague of despair, generational poverty, gun violence and open air drug markets, the youth of Camden, NJ, one of America's poorest cities, don't know who to fear more: the police or the drug dealers. With dogged determination, resident Bryan Morton rallies an array of stakeholders – single moms, local politicians, and the formerly incarcerated – to reclaim Pyne Poynt Park as a safe space for little league teams and the community.
In their home countries, Subhi, Cheyenne, Mari and Junior were targets of death threats, harassment and discrimination because of who they are and who they love. The four are among the many LGBTQ+ refugees and asylum-seekers who have fled persecution to resettle in the U.S. This film humanizes a group of people who are desperately trying to find a safe place to call home as leadership in America continues to demonize immigrants and restrict the flow of refugees into the country.
In New York, residents of public housing moved in with the promise of affordable housing and a stepping stone to financial stability and independence. But lack of oversight and political chaos have left them living in horrific conditions in the world's wealthiest city in this intimate look at the lives of residents grappling with health, safety and quality of life issues.
Produced in partnership with the USA TODAY Network-Wisconsin and Milwaukee Journal Sentinel, four young people share their mental health journeys in hopes of encouraging others to get help for their mental health challenges.
During primary elections in April 2020, it is estimated that almost 16% of Black voters were disenfranchised in Milwaukee, the largest city in a key swing state. Mother-daughter activist team Danell Cross and Melody McCurtis are determined to prevent this from happening again in this Webby-nominated film of organizing a Black community to prepare for the 2020 presidential election.
As "shelter in place" orders begin rolling out, three doctors in the U.S. fighting COVID-19 record their changing impressions – fears, hopes, challenges, and triumphs – laying bare their emotional feelings while the chaos of the pandemic rages on outside the frame of their video confessions.
By focusing its gaze on the transformative work of therapists and individuals of color, the series dismantles the racism that underscores the mental healthcare industry and calls for a redressal of the ways in which we define psychiatric illness and health. Through 20 profiles, the digital series discusses what a more responsive mental health care system should look like.
---
Discuss and engage with us on Facebook, Instagram and Twitter by tagging us @worldchannel. Subscribe to our newsletter and YouTube for more features including events and interviews.
Enjoy our content? Consider donating to keep important storytelling like this going, and find more on PBS Passport.