New Films of Untold Stories Across America Coming in 2022
Subscribe to WORLD Channel's newsletter and YouTube channel to stay up-to-date on what's to come.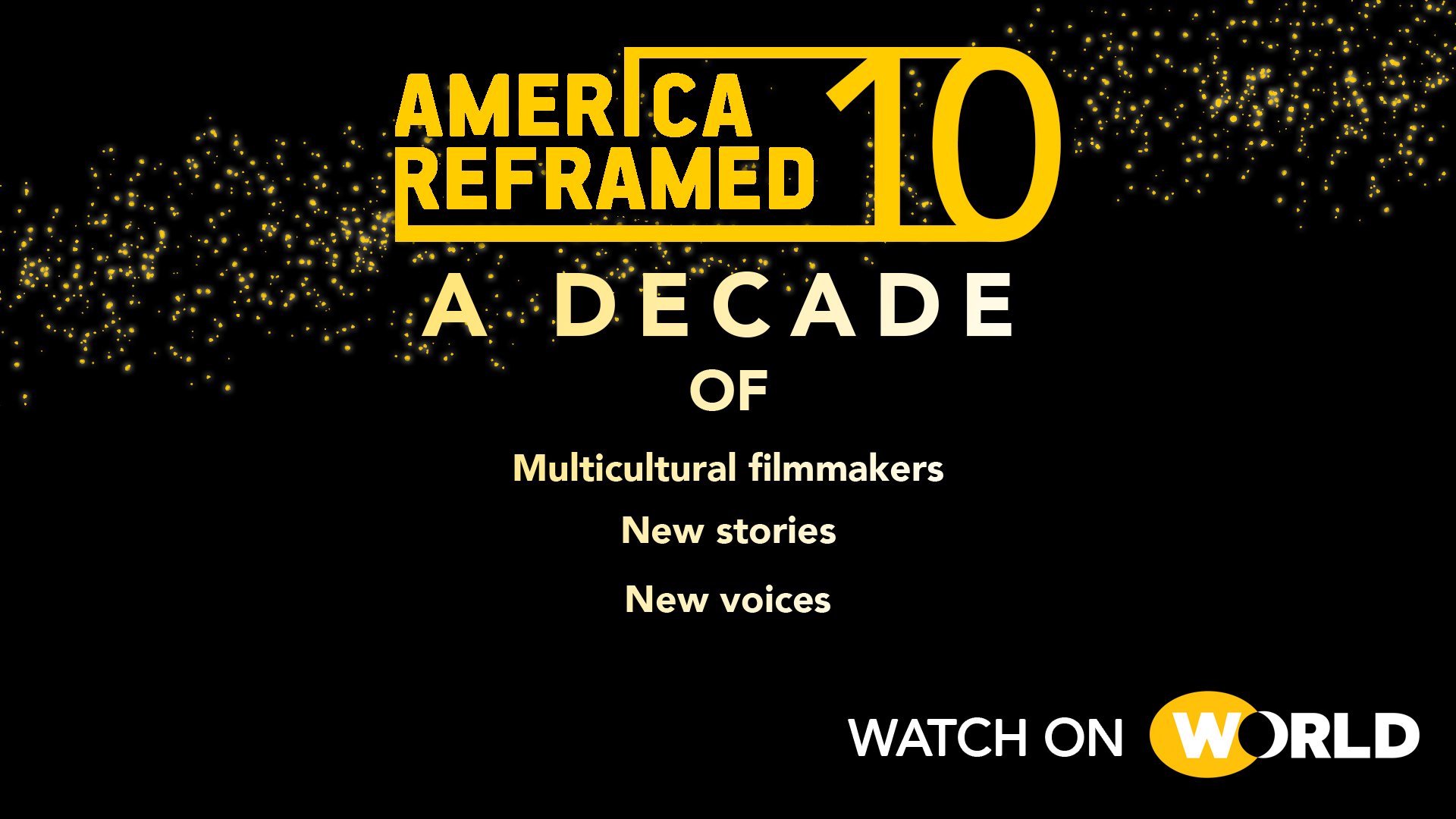 Since September 2012, America ReFramed has aired 170 films from over 370 diverse filmmakers, with female and BIPOC representation at the forefront of the series' mission. Over nine seasons, the award-winning series has become a WORLD Channel mainstay, bringing audiences films that document an ever-evolving America, including stories about people with disabilities, the incarcerated and formerly incarcerated, veterans, the LGBTQ community, seniors, immigrants and more.
"For 10 years, America ReFramed has shined a spotlight on a transforming America, bringing audiences into communities that are becoming increasingly diverse and introducing them to people whose stories are often overlooked by the mainstream," said Chris Hastings, executive producer and managing editor of WORLD Channel.
In 2022, America ReFramed will move to a new Thursday night time slot, bringing with it a slate of seven new films for season 10 from multicultural makers that explore unique experiences of Americans from Rutland, Vermont and Sapelo, Georgia to all corners of the nation.
 
Season 10 will launch with the premiere of Fannie Lou Hamer's America, a portrait of the life and work of the sharecropper-turned-human rights activist from Mississippi, produced by Hamer's great-niece Monica Land and Selena Lauterer and directed by Joy Davenport. During Black History Month, watch a special PBS presentation of Fannie Lou Hamer's America on Tuesday, February 22, followed by the WORLD Channel broadcast on Thursday, February 24.
Preview the upcoming season now.
Through public speeches, personal interviews, and powerful songs, Fannie Lou Hamer's America explores and celebrates the life of a nationally-famous voting rights activist.
An attempt to bring Syrian refugees to the economically struggling town of Rutland, VT unleashes deep partisan rancor and inspires long-time resident Stacie to emerge as an resilient leader in a divided community.
The story of a unique American island, its matriarchal griot, Cornelia Walker Bailey, and her adopted sons as they come of age in the last remaining enclave of the Saltwater Geechee people.
Kendra Mylnechuk Potter, a Native woman adopted into a white family discovers that her birth mother April was also a Native adoptee. Kendra and April connect while navigating what it means to be Native or a member of a tribe from the outside.
In this powerful tale about the rise of Korea's global adoption program, four adult adoptees return to their country of birth and recover the personal histories that were lost when they were adopted.
In the 1960s, a young San Francisco Chinatown resident, Harry Chuck, turned his lens onto his community to document the Asian-American Movement from the perspective of youth on the front lines.
Three defendants in a specialized mental health probation program and filmmaker Margaret Byrne all reckon with mental illness. Their stories make clear just how precarious the ties between people with mental illness, their families and society can be.
On May 5, 1991, people took to the streets of Washington D.C. to protest the police shooting of Daniel Gomez. LA MANPLESA weaves together the collective memory of one of D.C.'s first barrios and dives into the roots of the rebellion.
A viral joke video catapults 24-year-old Hayden Pedigo of Amarillo, TX into the spotlight, prompting him to make a surprise bid for city council. KID CANDIDATE follows his unorthodox campaign while unpacking issues in small-town America.
---
FINDING YOUR VOICE THROUGH FANNIE LOU HAMER
Throughout the 1960s, Fannie Lou Hamer established a legacy of civil rights and human rights activism that remains relevant to this day – especially among Black youth. Join writer and historian Keisha Blain in conversation with Fannie Lou Hamer's America executive producer and Mrs. Hamer's great-niece Monica Land to hear about what the current generation of social justice warriors can learn from Fannie Lou Hamer's example. Moderated by Co-Executive Producer of America ReFramed Erika Dilday.
Be the first to know about premieres, features and more by subscribing to WORLD Channel's newsletter and YouTube channel. Follow us on Facebook, Twitter and Instagram to get the latest on America ReFramed.
Enjoying WORLD Channel's content? We're able to continue our incredible programming thanks to viewers like you – show your support and consider a donation today.