In 'Hayden & Her Family,' audiences are welcomed into the Curry home, where Elizabeth, Jud and their 12 children – seven biological and five adopted – navigate daily life. Born with linear nevus sebaceous syndrome, Hayden is one of the five adoptees with special needs, who we see find her place among her many siblings.
Filmmaker May May Tchao spent years getting to know the family and documenting their everyday life, from hours of homeschooling to days welcoming new siblings. Tchao talked to us about how she went about capturing the family dynamics within the Curry household and what larger message her film says about family and community.
WORLD Channel: What was it like filming the Curry family day in and day out?
May May Tchao: The children – Hayden was about 10 years old and the little ones were about 5 – were really interesting. They would always put on their acts of "look at me, look at me, look at me!" So we humored them, we took a lot of footage. They were very honest at that point in time – the children were very un-self-conscious. They were very open and talked about each other, about themselves. It was really wonderful to delve into the nuance of the relationship, of the family lifestyle, and also pick up some of the emotions.
The beauty is that the family follows a different script. Success to them is not pushing them to go to Harvard and Yale, to get an MBA or something like that. Success to them is how to live a good life, to be kind. There is no one way to be good parents or to be a family.
WC: How would you describe your filmmaking process?
MT: I'm interested in human-interest stories and building those kinds of stories. When you focus your camera on moments of humanity, where things really happen in front of your eyes, and there is no pretense, there is no acting. Capturing the truth is really important for me. 
My first film is about women in China – how the economic prosperity of China affects the roles, rights and status of the women. It is a very hefty subject, considering China is still a very gender-biased culture. All the protagonists I've researched have a big range, from rural to urban, and their stories are very different. But they still have something to do with the family, how they affect the children, how they affect their future and how the children honor the parents. Those are the stories, the nuance, the triumph, the tribulations of what humanity is about.
In Hayden's case, it really stemmed from my experience with gender-biased issues. At that point in time, there was still the one-child policy. I noticed that a lot of the abandoned children in China were little girls, and there were lots of special needs children that were in the orphanages. Once I got to know the family, I decided they have a very interesting story. And you're talking about a family who has seven biological children, and they adopted five special needs children. It's like, "Why do they do it?" It was propelled out of my own curiosity to pursue that story.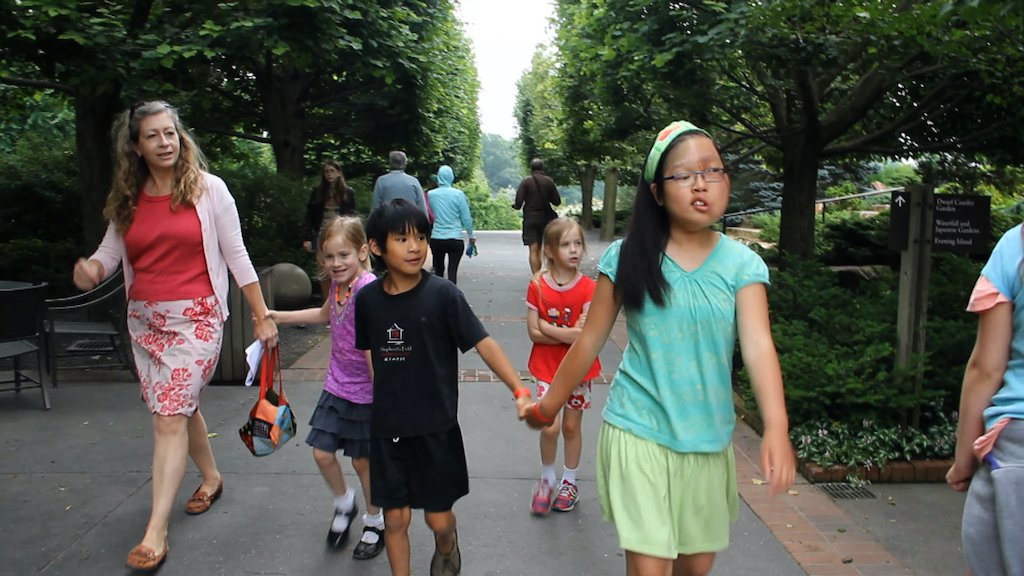 WC: What story does the film have to tell about parenting?
MT: Hayden is the thread of the story, but the parents are the real stars. They have a totally different philosophy of parenting, of how they want to make a difference.
There is a certain family dynamic there. Hayden had some cognitive problems, and she was going through some surgery, so we decided to make that a part of the story about parenting – how Elizabeth and Jud try to understand the pains of a very injured child and how they overcome it and slowly draw Hayden out. Ultimately, the parent-child relationship is about trust, and then how they gain the trust. A lot of those little moments were built into the film to show how they do it. 
In the adoption world, you would think that the parent finds a child and they walk into the sunset and live happily after. It's not so for them at that time. When Elizabeth was being interviewed, she was candid about her emotions. I really appreciated it [as] it's very rare. One of the goals I hope this film would achieve is to give parents a safe place to talk about their issues. It's not always hunky-dory, whether you adopt a child or you are just being parents. As a parent, you are allowed to show your feelings. And I hope that parents will have a safe place to find support, resources and conversation to help each other through the bad times.
May May Tchao is a Chicago-based director who spent 30 years in advertising before transitioning to filmmaking. 'Hayden & Her Family' is her second film.
---
Discuss and engage with us on Facebook, Instagram and Twitter by using the hashtag #HaydenProject and tagging us @worldchannel. Subscribe to our newsletter and YouTube for more features including events and interviews.
Enjoy our content? Consider donating to keep important storytelling like this going, and find more on PBS Passport.