Watch films exploring how communities across the country are pushing for systemic change.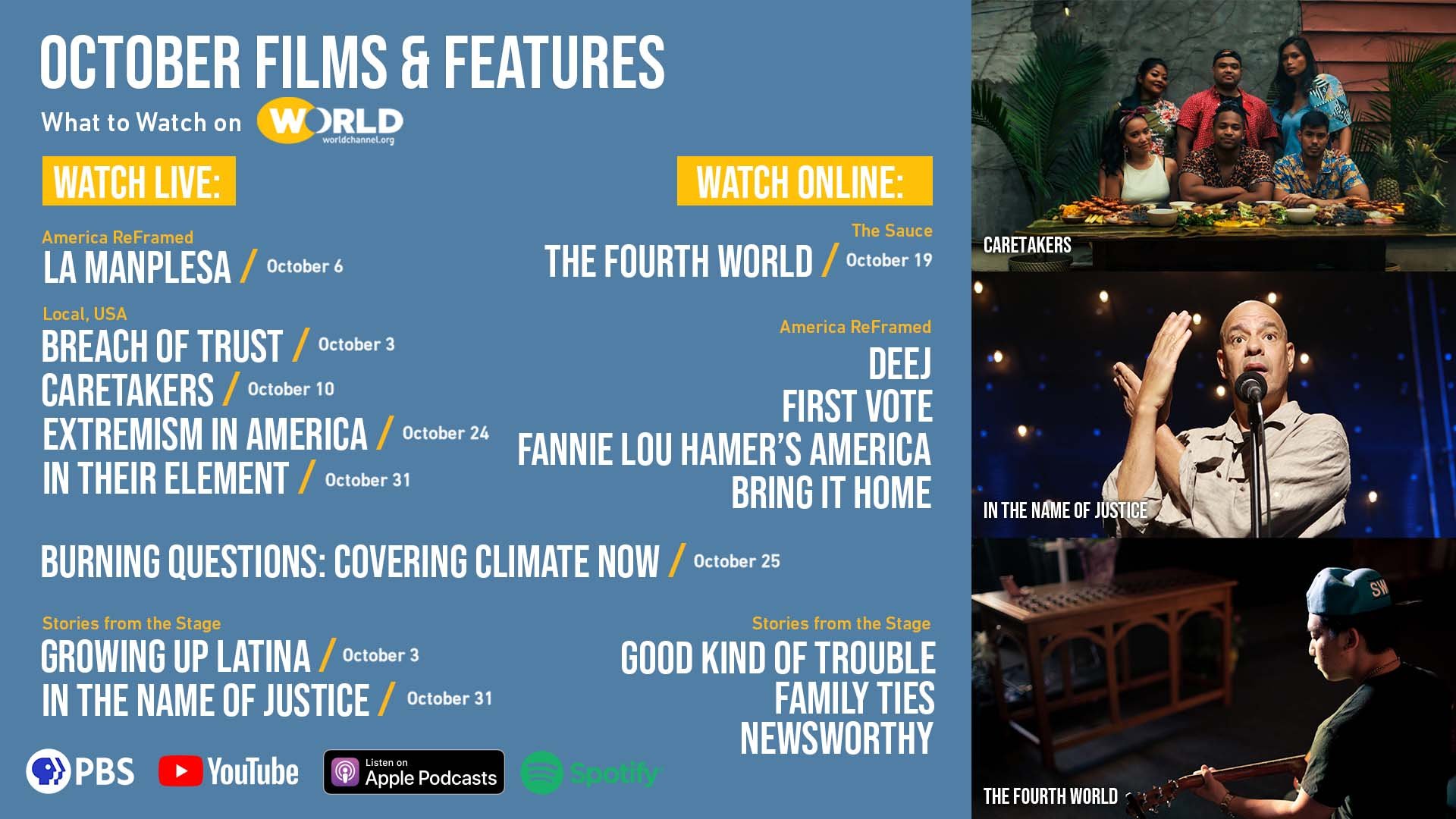 Power may reign at the very top, but when privilege and mistrust leaves communities in a position of vulnerability, change must come from within. Every voice, even the smallest, deserves to be heard and have their faith restored through a systematic shift.
In October, WORLD presents a slate of new episodes of Local, USA covering sexual assault on college campuses, Filipino American contributions during COVID-19, white supremacy and climate crises on Indigenous lands. Each film presents local stories with national influence, exploring how institutions across the United States have a fundamental impact on every person – stories that have the ability to change unethical systems and encourage reform across the country.
Also this month, continue celebrating Hispanic Heritage Month with America ReFramed's La Manplesa: An Uprising Remembered, telling the story of one of Washington, D.C.'s first barrios – the Salvadoran neighborhood of Mt. Pleasant – and how the community rose up against injustice after the shooting of Daniel Gomez over three decades ago.
Watch WORLD Channel's films and features in October to reflect on how, when communities come together to right a wrong, change is put into motion.
WATCH LOCAL, USA EACH WEEK
Breach of Trust | Local, USA
October 3 on TV, online & on the PBS app
Told from the point of view of women advocating for accountability and change, the film examines the sexual assault scandal at the University of Southern California and details crimes committed by former gynecologist Dr. George Tyndall, as well as exposing the active cover-up on the part of the administration.
Caretakers | Local, USA
October 10 on TV, online & on the PBS app
Explore the history of Filipinos in care work and profiles of Filipino Americans on the front lines today. The film shows, as filmmaker Geena Rocero says, "Filipinos as we are," while telling the stories of all people providing vital care. Meet caretakers like nurse Belinda Ellis, therapist Aleksa Manila, Chef Channing Centeno and phlebotomist Angel Bonilla. Based on the GLAAD- and Emmy-nominated web series. From Chasing the Dream: Poverty and Opportunity in America, a public media initiative from The WNET Group.
In Philadelphia, gun violence is the leading cause of death for young Black men. Explore the impact on families through the eyes of mothers like one woman whose youngest of four sons was murdered. The film demonstrates the challenges gun violence prevention advocates confront while allowing viewers to understand the often-untold trauma and resilience of survivors.
According to government officials, domestic terrorism by white supremacists is the nation's most urgent threat. The film shows how the spread of extremist beliefs and violence was downplayed for decades by policymakers and law enforcement even as this dangerous ideology, fueled by racism, grew into a potent force today. Exploring Hate: Antisemitism, Racism and Extremism is a reporting initiative from The WNET Group and Retro Report.
In Their Element | Local, USA
October 31 on TV, online & on the PBS app
Indigenous leaders rise up to meet the challenge of the climate crisis. The film features four communities across the United States, each working to protect a different natural resource: earth, air, fire, and water. For people whose existence is inseparable from their native land, climate change is not a tale of the future – it is the present. From Peril & Promise: The Challenge of Climate Change, a public media initiative from The WNET Group.
WATCH NEW PROGRAMMING
Start Up
Mondays on TV starting October 2 | Season 9 available on the PBS app
Join host Gary Bredow as he travels from coast to coast interviewing small business owners to hear their fascinating personal stories and find out what it really takes to start a successful business from the ground up. Energetic, inspirational and educational, START UP is a fast paced series sure to capture the imagination and hearts of Americans who dream of starting their own business.
Growing Up Latina | Stories from the Stage
October 3 on TV, online & on the PBS app
Being a young Latina means living within a vibrant and varied global culture. It also means navigating identity and intersectionality. Rosanna Salcedo discovers that friendship can cross all borders; Ana Hebra Flaster describes her last night at home before leaving Cuba forever; and Michele Carlo turns lemons into lemonade when she gets busted moonlighting.
Subscribe to Stories from the Stage: The Podcast to take these stories on the go!

The Last Out | POV
October 5 on TV, online & on the PBS app
Three Cuban baseball players leave their families and risk exile to train in Central America and chase their dreams of playing in the United States. At the shadowy nexus of the migrant trail and pro sports, the film chronicles their difficult journey, from multi-step immigration obstacles and learning English to the broken promises and dubious motives of agents.
La Manplesa | America ReFramed
October 6 on TV, online & on the PBS app
On May 5th, 1991, people took to the streets of Washington D.C.'s Mount Pleasant neighborhood to protest the police shooting of a young Salvadoran man, Daniel Gomez. Testimony, song, poetry, and street theater are woven together to create a collective memory of one of D.C.'s first barrios and dives into the roots of the '91 rebellion.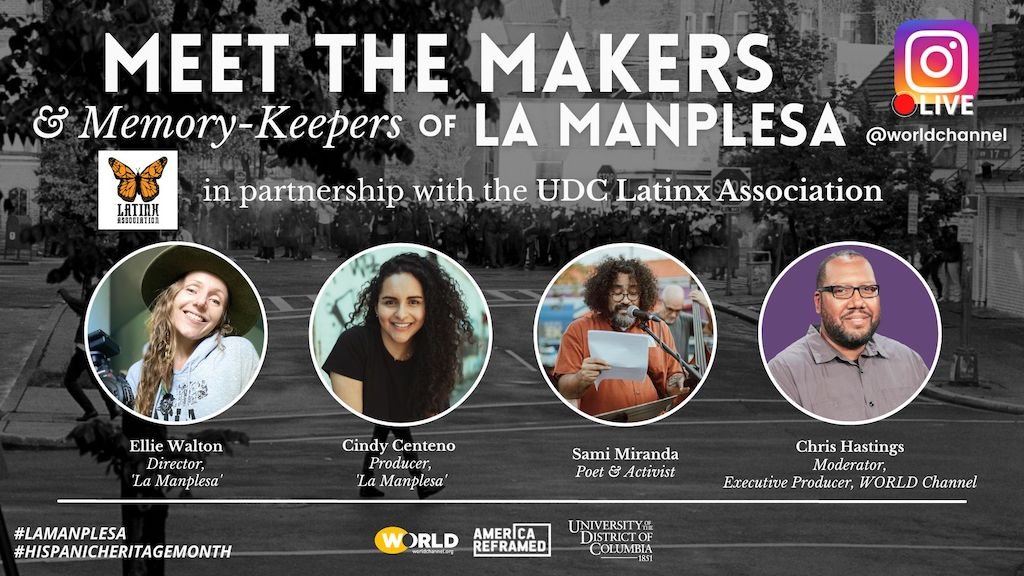 MEET THE MAKERS: LA MANPLESA | INSTAGRAM LIVE
Ahead of the premiere of La Manplesa, join us for a Meet the Makers conversation on Instagram Live! Hear about the legacy of D.C.'s Mt. Pleasant neighborhood and how the film captures the importance of art and memory-keeping – plus, watch a performance by special guest Sami Miranda! Watch the recording now.
This four-part series, hosted by Henry Louis Gates, Jr., chronicles the vast social networks and organizations created by and for Black people – beyond the reach of the "White gaze." Professor Gates sits with noted scholars, politicians, cultural leaders, and old friends to discuss this world behind the color line and what it looks like today.
Accepted | POV
October 12 on TV, online & on the PBS app
Follow four high school students at Louisiana prep school T.M. Landry, known for its viral videos of seniors being accepted to the Ivy Leagues, that sends 100% of its graduates to college. But an explosive NY Times article exposes the controversial methods of its dynamic founder – and the fiction of higher education's promise.
After his family escaped the mountains of Southeast Asia to the town of Hickory, North Carolina, a young musician travels between his own two mountains: the ancestral past and an unwritten future.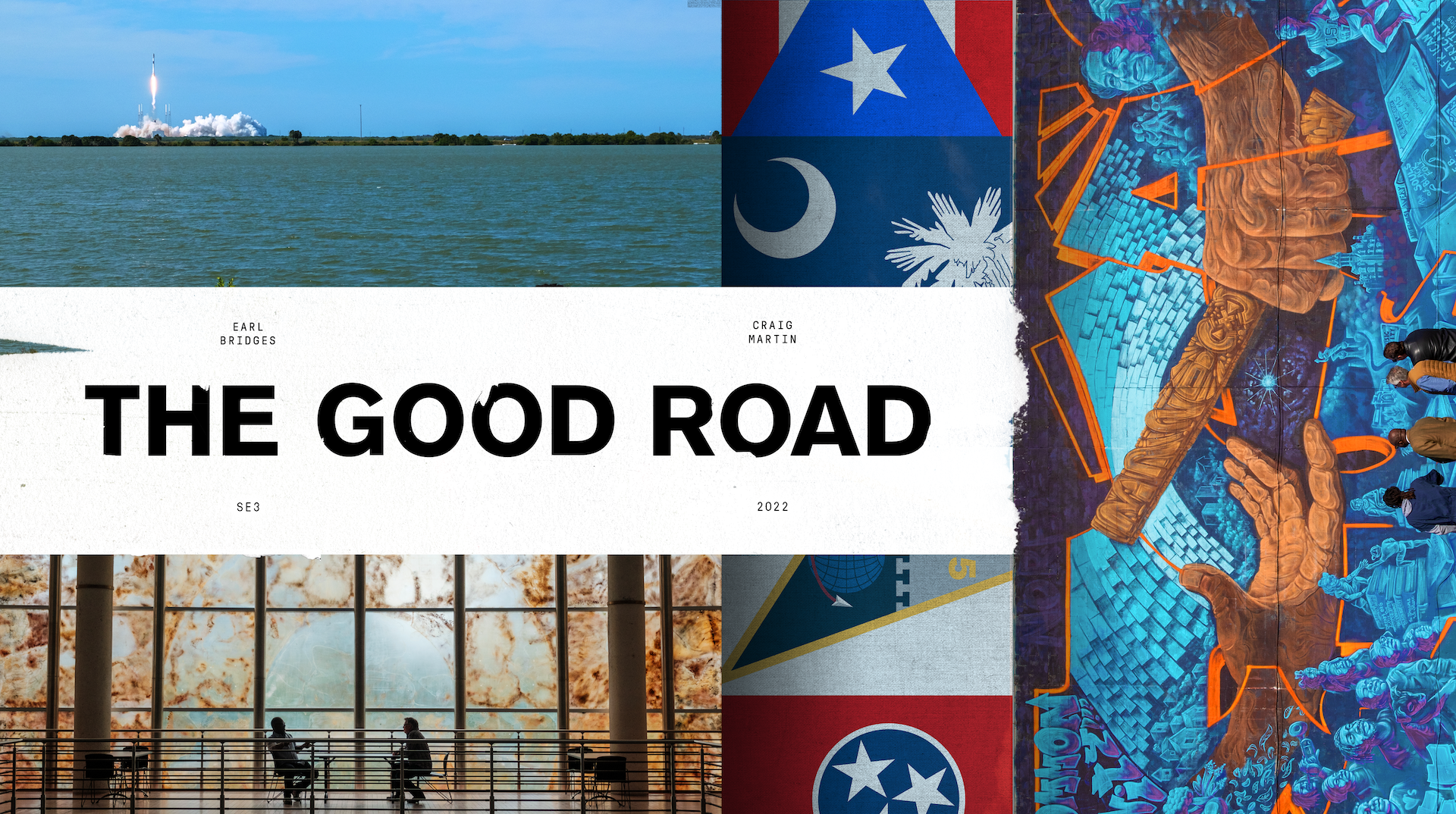 The Good Road
Tuesdays starting September 6 on TV and the PBS app | Season 2 available on PBS Passport
Hosts Earl Bridges and Craig Martin trek around the world to meet artists, activists and experts who are making a difference in their communities. In Season 3, Craig and Earl journey to Nashville, Tennessee; Charleston, South Carolina; the Space Coast of Florida; and to Puerto Rico. Join them on their quest to find people doing good.
Will we act in time? Journalists report on stories of struggle and resilience from around the world as families lose everything to drought, fire and rising seas. Co-hosted by NBC Today's Al Roker and NBC News' Savannah Sellers, this climate special bringing together work by award-winning journalists explores who is paying the price while world leaders wrangle and corporate interests resist change.
Documenting evidence of Russian war crimes in Ukraine and the pursuit of justice. With the Associated Press, tracing Vladimir Putin's pattern of atrocities in Ukraine and other conflicts, and the challenge of holding him to account.
TikTok, Boom. | Independent Lens 
October 12 on TV, online & on the PBS app
What does it mean to be a digital native? TikTok, Boom. dissects the platform along myriad cross-sections—algorithmic, socio-political, economic, and cultural—to explore the impact of the history-making app. Balancing a genuine interest with healthy skepticism, delve into the security issues, global political challenges, and racial biases behind the platform.
In the Name of Justice | Stories from the Stage
October 31 on TV, online & on the PBS app
Standing up for justice means encountering opposition. When we have the courage to do what is right, we can help justice prevail. After a gas explosion, Gladys helps her neighborhood fight back; Eben switches careers to advocate for climate equity; and Antonio's protest sparks a media frenzy in Brazil. Hosted by Wes Hazard.
And listen on Stories from the Stage: The Podcast.

WATCH AND STREAM ONLINE
The late John Lewis took pride in creating "good trouble" and standing up against unfair laws and power structures. Storytellers share their stories of their own "good trouble." Native American Maulian Dana fights to ban "Indian" mascots in Maine schools; Ronald Smith stands up for his integrated marriage; and Dr. Wanda Castro-Borrero's boss pushes back against patients who don't want to see her because of her last name. Hosted by Theresa Okokon.
And listen on Stories from the Stage: The Podcast.


First Vote & Deej | America ReFramed
October 13 on TV, online & on the PBS app
Watch a special double feature on America ReFramed exploring  a diverse cross section of politically engaged Chinese Americans and the story of DJ Savarese, a gifted, young writer and advocate for non-speaking autistics. First Vote explores the intersections between immigration, voting rights and racial justice through the eyes of Chinese American voters, and Deej follows the first-year college student as he navigates finding a sense of freedom.
Family Ties | Stories from the Stage
October 17 on TV | Available online and on the Facebook, YouTube & PBS apps
Sometimes, we are born into families that nurture us. And for all the other times, we need to create our own. Gabriel looks for the imprint of the father he barely knew; Ariel makes a new family after being bullied for her queerness; and Kathleen's life is changed by an encounter with a cousin from El Salvador.
And listen on Stories from the Stage: The Podcast.


Fannie Lou Hamer's America is a portrait of a civil rights activist and the injustices in America that made her work essential. Through public speeches, personal interviews, and powerful songs of the fearless Mississippi sharecropper-turned-human-rights-activist, the film explores and celebrates the lesser-known life of one of the Civil Rights Movement's greatest leaders.
Newsworthy | Stories from the Stage
October 24 on TV | Available online and on the Facebook, YouTube & PBS apps
The news is often attention grabbing. But sometimes the story behind the story is just as interesting as the headlines. Phillip navigates civil rights strife in Boston, MA; Anne manages a local news phone line as Nixon's White House collapses; and Jeff gives a disastrous speech with a very influential guest in the audience.
Subscribe to Stories from the Stage: The Podcast to take these stories on the go!

Bring It Home | America ReFramed
October 27 on TV, online & on the PBS app | Available on PBS Passport
Five families are at a crossroads after the closing of the GM Lordstown auto plant. GM's decision forced thousands to decide between transferring out-of-state or staying put. If they stay, they risk loss of employment and benefits. As families wrestle these tough choices, they are left wondering why a company recording billions in profits is shuttering factories.
---
Discuss and engage with us on Facebook, Instagram, Twitter and TikTok by tagging us @worldchannel and using the hashtag #WORLDChannel. Subscribe to our newsletter and YouTube for more features including events and interviews.
Enjoy our content? Consider donating to keep important storytelling like this going, and find more on PBS Passport.