This September, WORLD Channel will feature robust stories for Latinx/Hispanic Heritage Month showcasing diverse communities, cultures and circumstances. As the terms "Hispanic" and "Latinx" are not often synonymous, our hope is to acknowledge all identities within these communities, from a Mexican-Japanese family in Texas to the representation of a Salvadoran neighborhood in Washington, D.C.
As a nation, we also remember the many lost but never forgotten on September 11, 2001; the featured films this month honor loved ones and first responders while acknowledging how our country has, and continues to, heal, like in Changed Forever 9/11 – storytellers share how their lives were transformed on the day of and weeks, months and years after the attacks.
These films and more highlight how, through our similarities and despite our differences, we can all come together and celebrate what makes us proud to share a home.
WATCH HISPANIC HERITAGE MONTH FILMS
Five Years North | America ReFramed
September 15 on TV, online & on the PBS app through September 30
The story of America's immigration system through the eyes of Luis, an undocumented Guatemalan boy who arrives alone in New York City with little support and many responsibilities, and Judy, a veteran ICE agent with Cuban American and Puerto Rican roots who must weigh the human cost of her work against the future her family would face without her paycheck.

NEW

 The Sauce
Monthly beginning September 21 on YouTube
Asian American communities have an exciting and diverse history that influences all aspects of culture in the American South – from cuisine and architecture to dance and fashion. The cultural contributions add a flavor that is unique and undeniable: The Sauce, presented in partnership with the Center for Asian American Asian Media and NOVAC.
Only a year after meeting each other in Mexico, Japanese man Makoto and Mexican woman Maria wed in 1989. Today, their three daughters dive into a deep discussion about their mixed race identities. Read an interview with filmmaker Kei Matsumoto.
Chronicling the life and music of Ramon "Chunky" Sanchez, from his humble beginnings as a farmworker in Blythe, California to the dramatic moment when he received one of our nation's highest musical honors at the Library of Congress in Washington, D.C. Chunky's arc of transformation from marginalized farm kid to charismatic social activist shows how one person can mobilize people to change the world.
We Like It Like That | America ReFramed
September 22 on TV | Available online & on the PBS app
Created by largely Puerto Rican, Cuban and African American youths living alongside each other in the 1960s, Boogaloo served as an authentic and vibrant cultural expression. The film explores a pivotal moment in '60s music history when blues, funk and traditional Caribbean rhythms were fused to define a new generation of urban Latinos.
Savor the sights, sounds and flavors of the U.S.-Mexico border alongside acclaimed chef and James Beard Award-winning host Pati Jinich as she experiences the region's rich culture, people and cuisine.
The Unafraid | America ReFramed
September 29 on TV, online & on the PBS app
Banned from attending Georgia's top five public universities and from paying in-state tuition at other public colleges in the state, DACA students like Alejandro, Silvia, and Aldo unite through their activist work with an immigrants' rights group. A humanizing portrait of the undocumented, we learn of their struggles as working families support their children in pursuit of their dreams.
Celebrate the recipients of the 35th annual Hispanic Heritage Awards. The evening commemorating Hispanic Heritage Month includes performances and appearances by some of the country's most celebrated Hispanic artists and visionaries.
NEW

 Growing Up Latina | Stories from the Stage
October 3 on TV, online & on the PBS app
Being a young Latina means living within a vibrant and varied global culture. It also means having to navigate identity and intersectionality. Rosanna Salcedo discovers that friendship can cross all kinds of borders; Ana Hebra Flaster describes her last night at home before leaving Cuba forever; and Michele Carlo turns lemons into lemonade when she gets busted moonlighting during an internship at a major advertising agency in New York.
To listen to more stories by Latinx storytellers, visit our Stories from the Stage #WeAreLatino/a/e/x Facebook Watch playlist.
Subscribe to Stories from the Stage: The Podcast to take these stories on the go!

NEW

 The Last Out | POV
October 5 on TV, online & on the PBS app
Three Cuban baseball players leave their families and risk exile to chase their dreams of playing in the United States. At the shadowy nexus of the migrant trail and pro sports, the film chronicles their harrowing journey, from immigration obstacles to the broken promises of dubious agents. Against all odds, these young athletes try to hold onto their hope while fighting for a better life for their families.
NEW

 La Manplesa | America ReFramed
October 6 on TV, online & on the PBS app
On May 5th, 1991, people took to the streets of Washington D.C.'s Mount Pleasant neighborhood to protest the police shooting of Daniel Gomez, a young man from El Salvador. Through testimony, song, and poetry, LA MANPLESA weaves together the collective memory of D.C.'s first barrios and dives into the roots of the '91 rebellion.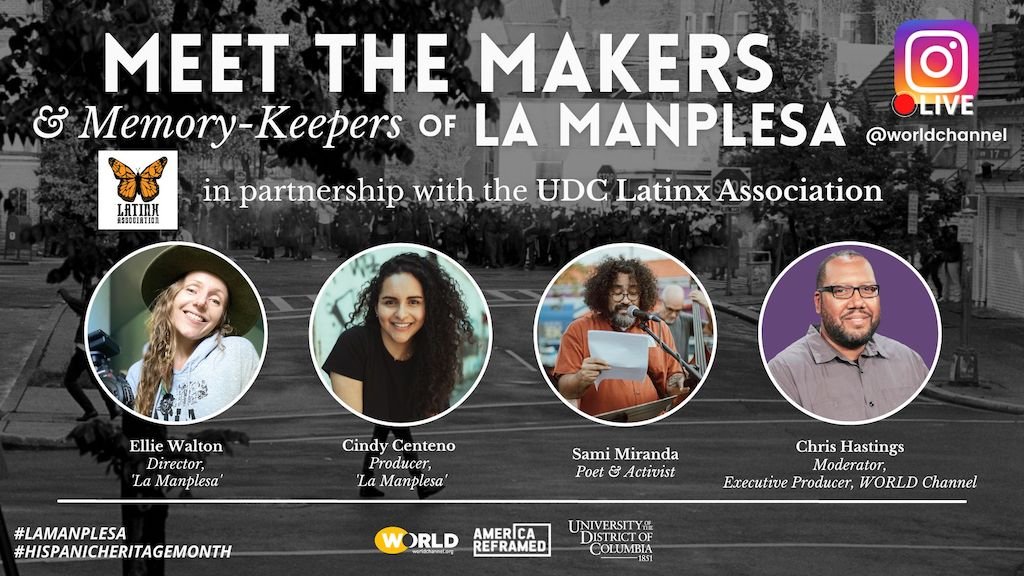 MEET THE MAKERS: LA MANPLESA | INSTAGRAM LIVE
Ahead of the premiere of La Manplesa, join us for a Meet the Makers conversation on Instagram Live! Hear about the legacy of D.C.'s Mt. Pleasant neighborhood and how the film captures the importance of art and memory-keeping – plus, watch a performance by special guest Sami Miranda! Watch the recording now.
Migrants go missing in rural South Texas more than anywhere else in the U.S. For many families whose loved ones have disappeared after crossing the Mexico border, activist detective Eddie Canales is their last hope. Unlock the mysteries and confront the agonizing facts of life and death in Brooks County, 80 miles north of the border.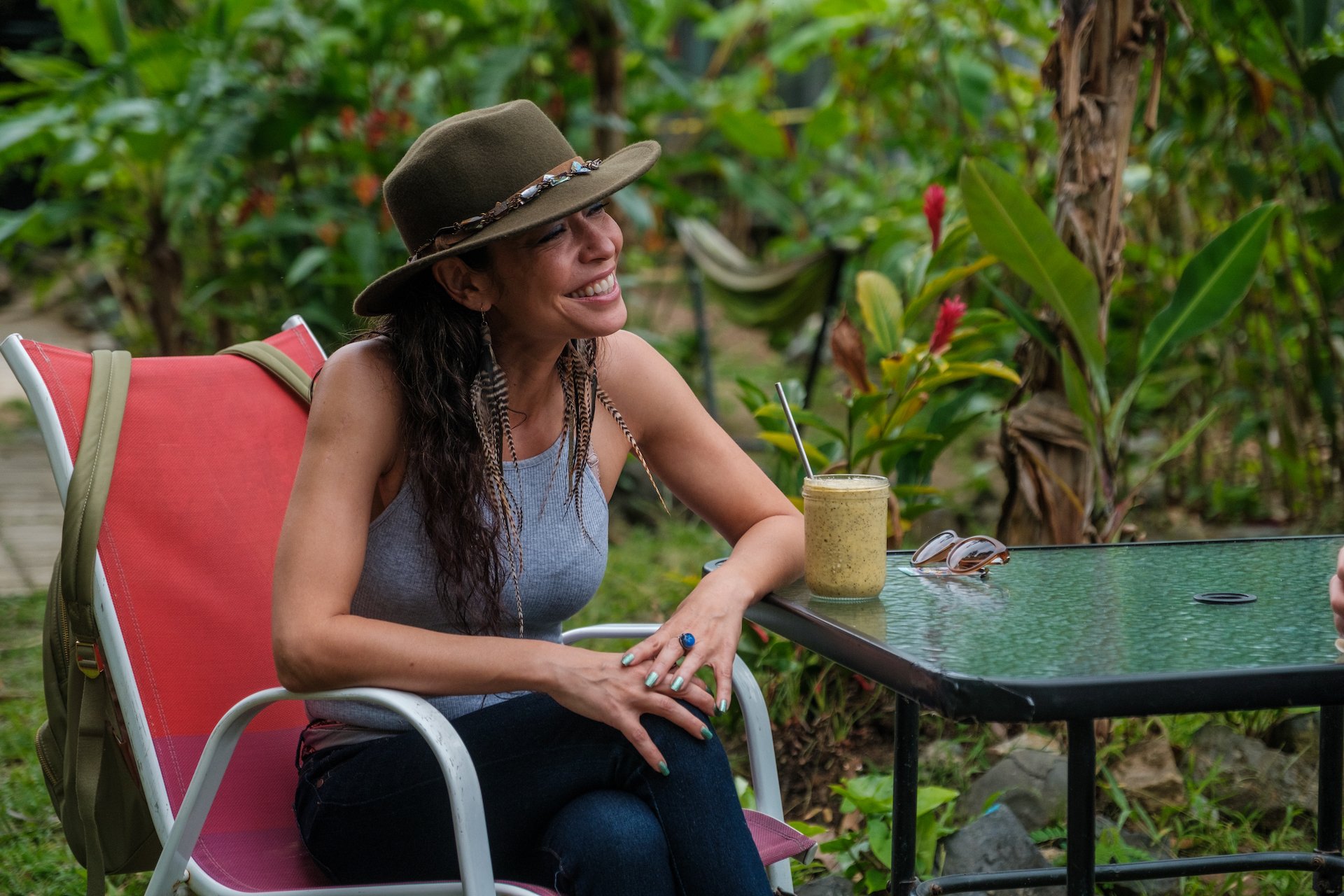 NEW San Juan, Puerto Rico: Island as Identity | The Good Road
October 11 on TV
Puerto Rico occupies a unique place in American identity. Wholly American and yet uniquely apart. Hosts Earl Bridges and Craig Martin explore this paradise through the lens of anti-colonial art in the heart of San Juan, ex-pat poetry and spoken word in the shadow of the rainforest and independence-minded activists.
Follow Giovanni, a young Puerto Rican activist, as he confronts the island's persistent crisis of food insecurity. Motivated by his childhood struggle with hunger, he seeks to inspire his fellow citizens to join a movement of solidarity-oriented work by feeding families and college students through mutual aid efforts – all while facing challenges from local authorities. 
Families come in all shapes and sizes. They're made of unique individuals with different takes on life and the ways to live it. But what binds them together is love. El Sanchez, a queer, trans, non-binary comedian, comes out to their conservative, Mexican American father; Sarah Dorneles Sharpe confronts the notion of being "illegal" when she meets her boyfriend's family; and separation due to COVID-19 reminds Nestor Gomez of a family separation deep in his past. Hosted by Theresa Okokon.
Bakosó: Afrobeats of Cuba | AfroPoP: The Ultimate Cultural Exchange
Available online & on the PBS app
What does "Está Rico" by Marc Anthony, Will Smith and Bad Bunny have in common with "Made For Now" by Janet Jackson x Daddy Yankee? They both hijacked AfroBeats and did not give the genre's origin props. This film does the opposite, following DJ Jigüe to his hometown of Santiago de Cuba to find inspiration from the new sounds.
WHAT'S NEW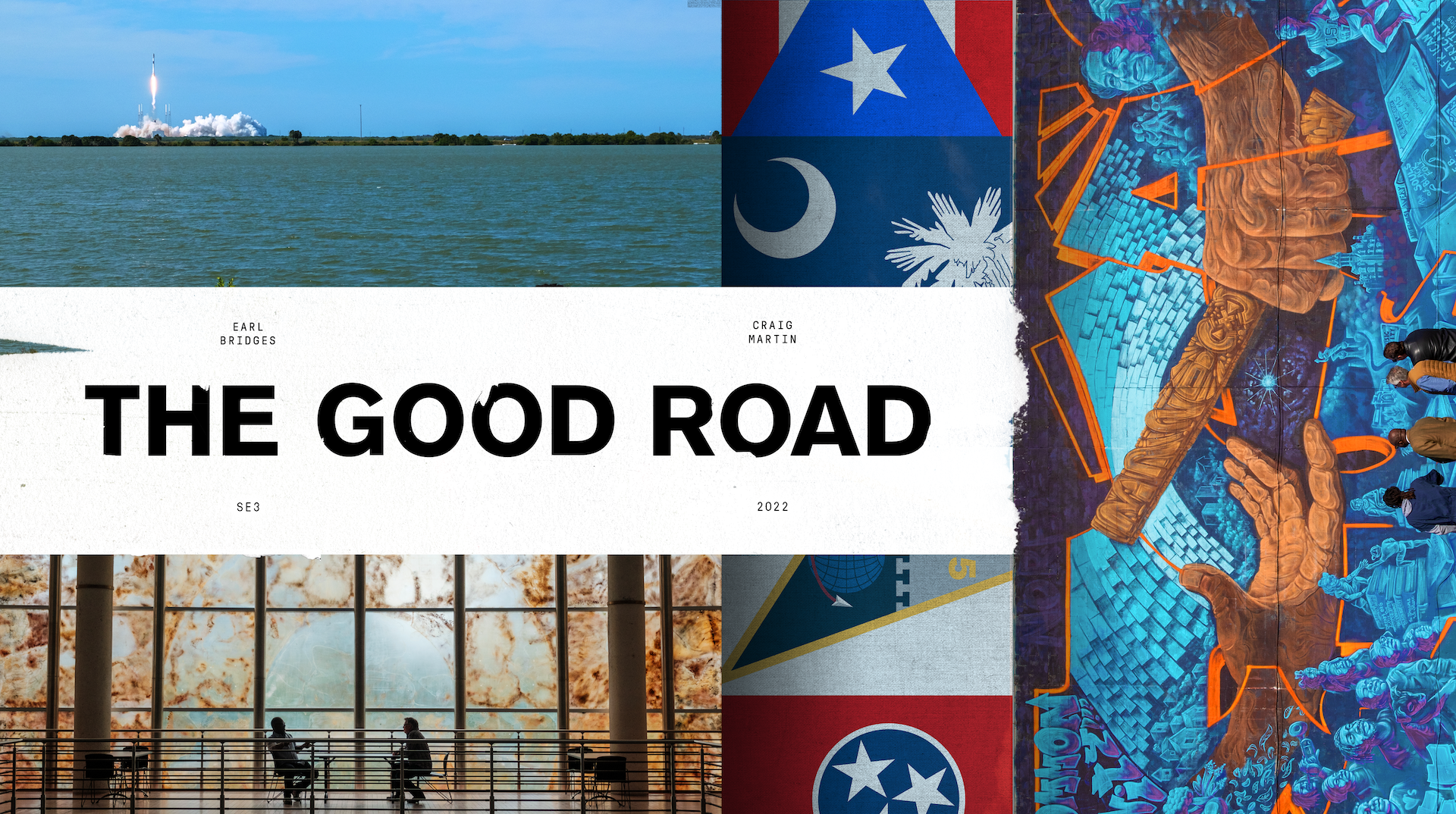 The Good Road
Tuesdays starting September 6 on TV and the PBS app | Season 2 available on PBS Passport
Hosts Earl Bridges and Craig Martin trek around the world to meet artists, activists and experts who are making a difference in their communities. In Season 3, Craig and Earl journey to Nashville, Tennessee; Charleston, South Carolina; the Space Coast of Florida; and to Puerto Rico. Join them on their quest to find people doing good.
The mental health field operates around a center defined by a whiteness of theory and practice. It's a colonization that has rarely been questioned. By focusing on the work of therapists and individuals of color, this series calls for a redressal of the ways in which we define psychiatric illness while discussing what a more responsive mental health care system should look like. Watch the digital series now.
Change is never easy. But if we try hard enough, we can make the world a better place. Luciana Naldi strives for a new definition of beauty after experiencing sudden hair loss; Su Joun extends a helping hand, even though it means breaking the rules; and Robin Schoenthaler shows her fellow EMTs that women can excel. Hosted by Wes Hazard. Read an exclusive Q&A with storyteller Luciana Naldi.
The film explores the present catharsis we are living in, following the death of George Floyd on May 25, 2020. Through three character-driven films that present a vibrant collage of people's lives and experiences, we dive into how the current uprising is impacting communities, and how we can contribute to discussions about racial justice reform. Watch the digital series now.
REMEMBERING SEPTEMBER 11
Twenty years ago, the events of 9/11 changed the world. People struggled to make sense of the terrible acts, and to rebuild their lives in its aftermath.

Subscribe to Stories from the Stage: The Podcast on
Apple Podcasts, Spotify and more.
As American forces and foreign aid leave Afghanistan, the country's fragile democracy and the recent gains for women hang in the balance. Trapped in the uncertainty are Nilofar and Shakila, who are forced to choose between motherhood and their devotion to reform in this film exposing the day-to-day realities of Afghan women struggling to maintain their hard-won rights. Read a Q&A with filmmaker Sedika Mojadidi.
From veteran FRONTLINE filmmaker and chronicler of U.S. politics Michael Kirk and his team, this documentary traces the U.S. response to the September 11 terrorist attacks and the devastating consequences that unfolded across three presidencies. This two-hour special offers an epic re-examination of the decisions that changed the world and transformed America.
In this intimate film driven by the stories and personalities of its protagonists, who were born in the wake of a global tragedy which, for them, was also deeply personal. But it is also the story of an entire generation that has been shaped by the attacks and their aftermath.
MORE PROGRAMMING
How is the North Korea regime financing their nuclear war program? The government sells its own citizens as laborers to work in Russia, China and a dozen other countries, including member states of the European Union.
In 2016, a maid, trapped in the Middle East's Kafala System, returned home to Kenya with 70% of her body burned. The film exposes the inner workings of the system, and the reality faced by thousands of women each day.
PBS SoCal and Variety take you inside the biggest movies and TV shows of the past year through candid conversations with today's hottest actors. Hosted by Variety Film Awards Editor Clayton Davis and Variety Chief Correspondent Elizabeth Wagmeister, each episode brings together pairs of actors engaging in intimate one-on-one discussions about their craft and work. Get an insider's look into the creative process and what it takes to finely hone the craft of acting.
FRONTLINE's season premiere investigates American political leaders and choices they made that have undermined and threatened democracy in the U.S. In a two-hour documentary special premiering ahead of the 2022 midterms, FRONTLINE examines how officials fed the public lies about the 2020 presidential election and embraced rhetoric that led to political violence.
Stories from the Stage & Stories from the Stage: The Podcast
 
From time to time, it's okay to lessen our expectations. But expecting more should be the norm.

Subscribe to Stories from the Stage: The Podcast on
Apple Podcasts, Spotify and more.
In this milestone 100th episode, storytellers share how dealing with challenges showed them strengths they never knew they had.

Subscribe to Stories from the Stage: The Podcast on
Apple Podcasts, Spotify and more.
Hazing | Independent Lens
September 14 on TV, online & on the PBS app
Hazing is a widespread, far-reaching practice fueled by tradition, secrecy, groupthink, power, and the desire to belong in fraternities and sororities on college campuses across the U.S. Filmmaker Byron Hurt embarks on a deeply personal journey to understand the underground rituals of hazing, revealing the abusive lengths college students will go to fit in.
---
Discuss and engage with us on Facebook, Instagram, Twitter and TikTok by tagging us @worldchannel and using the hashtags #HispanicHeritageMonth and #LatinxStories. Subscribe to our newsletter and YouTube for more features including events and interviews.
Enjoy our content? Consider donating to keep important storytelling like this going, and find more on PBS Passport.