This Asian American, Native Hawaiian and Pacific Islander Heritage Month, WORLD, through its films and features, challenges you to answer the question: What does the AANHPI community look like?
What we learn from hearing stories across the country and around the world is that no diaspora is a monolith – and that without a doubt applies to the Asian diaspora, which spans the globe. From Augusta, Georgia to Tibet and Pakistan, distinct experiences demonstrate how diverse and abundant the AANHPI community is, widening our understanding of cultures, traditions and relationships, and how change is continuously shaping individuals.
This month, new and streaming films chronicle the breadth, identities and resilience of Asian American, Native Hawaiian and Pacific Islander communities. Watch Blurring the Color Line, tracing the history of a Chinese American family and their relationships to their Black neighbors in the Jim Crow-era South; Ganden: A Joyful Land, following Buddhist monks from a beloved monastery to their current home in India; The Accused: Damned or Devoted?, exploring how blasphemy laws in Pakistan have widespread effects on human rights; Asian American Stories of Resilience and Beyond, intimate stories of courage and fortitude across the AANHPI community; and much, much more.
Documentaries have the power to shine a light on stories and voices that are hidden from the mainstream or have yet to be heard; this May, watch and listen to stories by and about Asians, Asian Americans and all who make the community unique and varied.

WATCH AANHPI STORIES
Jaddoland | America ReFramed
May 4 on TV | Available now on PBS Passport through May 11
An intimate portrait of the work and process of visual artist Lahib Jaddo offers a fresh look at the immigrant story in America. Through an exploration of Jaddo's art and connections to her life in Texas, the film also drafts a unique picture of how art can help both the creator and the audience make sense of familial and cultural connections, loss, perseverance and life.
Two films bridge the American South and the Korean Peninsula, showcasing the historical and contemporary currents connecting these regions. From stories about one restaurant's overnight fame and the perils of celebrity culture, and another chronicling the overlooked crises of motherhood and adoption, comes a clearer complexion of Korean-American life at home and abroad. 
First Vote | America ReFramed
May 11 on TV, online & on the PBS app
With unparalleled access to a diverse cross section of politically engaged Chinese Americans, the film offers a character-driven verité look at Chinese American electoral organizing in North Carolina and Ohio. The film weaves their stories from the presidential election of 2016 to the 2018 midterms, and explores the intersections between immigration, voting rights and racial justice.
Likened by Buddhists to the Vatican City, Ganden is considered the most influential monastery of Tibetan Buddhism. Monks lived in the monastery for more than 500 years before a brutal invasion drove them to India. The film is a look at the lives and remembrances of the remaining generation of monks to have studied at the monastery in Tibet.
Explore the survival of urban ethnic neighborhoods in three American cities: Washington, D.C., Chicago, and Boston through the voices of residents, community activists, developers and government officials. The film looks at the forces altering each community and the challenges that go with them, including the pressing issue of urban development and gentrification. Watch an interview with filmmaker Lisa Mao.
Charles Chiu and his family's search for their roots takes them on an eye-opening journey through the Mississippi Delta, uncovering otherwise unknown stories and the racially complex history of Chinese immigrants in the segregated South. This Chinese American family's unforgettable story offers a poignant and important perspective on race relations, immigration and American identity.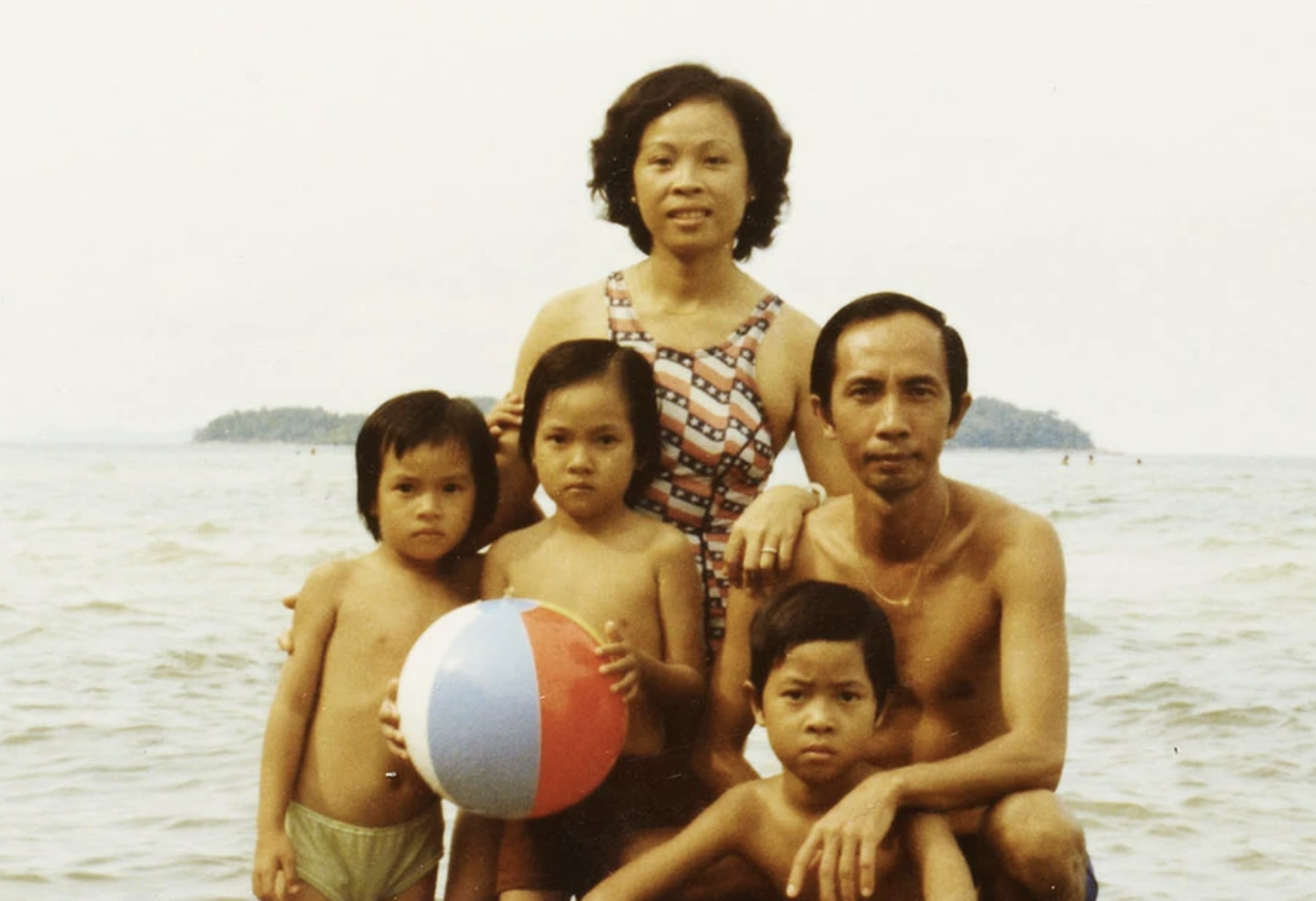 Recounting the lesser-told chapter of what occurred after the United States' withdrawal from the war in Vietnam. The documentary follows the Vuong family through the post-war years in Vietnam including the patriarch's imprisonment, the family's harrowing escape and rescue at sea, and their daughter's decades-long search for their saviors.
See the world through the eyes of Nam June Paik, the father of video art and coiner of the term "electronic superhighway." Born in Japan-occupied Korea, Paik went on to become a pillar of the American avant-garde and transformed modern image-making with his sculptures, films and performances. Experience his creative evolution, as Academy Award nominee Steven Yeun reads from Paik's own writings.
Powerful cleric Khadim Rizvi has one mission: to preserve blasphemy laws in Pakistan – they prescribe a death sentence for disrespecting the Prophet Muhammad. He is running for the country's highest office to carry out his goal, silencing anyone who tries to change the law with death. The film follows the rise of Rizvi's push for power as people who have been accused are just pawns in his game.
Asian American Stories of Resilience and Beyond reflects the complexities of Asian American experiences in this critical moment. In Quyên Nguyen-Le's IN LIVING MEMORY, the queer filmmaker recovers and articulates the legacy of their mother's nail salon for their refugee family after its closure at the onset of the COVID-19 pandemic. Filipino-American filmmaker Frances Rubio digitally records and visually captures the experience of being physically distanced from her sick father, who has been isolated in his nursing facility during the height of the pandemic in RECORDING FOR DODIE. Watch all seven digital shorts now online and on YouTube.
NEW Fanny: The Right to Rock
May 24 on TV, online & on the PBS app
Co-founded by Filipina American and queer teenagers, Fanny is the first all women band to release an album with a major record label (Warner/Reprise, 1970). Revered by David Bowie, meet the most groundbreaking rock group you've never heard of... yet.
Director Crystal Kwok unpacks the history behind her grandmother's family, who were neighborhood grocery store owners in the Black community of Augusta, Georgia during the Jim Crow era. By centering women's experiences, Kwok poses critical questions around the intersections of anti-Black racism, white power, and Chinese patriarchy in the American South.
Asian American Stories of Resilience and Beyond reflects the complexities of Asian American experiences in this critical moment. Two Filipinx cousins, one of which is filmmaker Bree Nieves, grapple with what remains of their hometown dreams, after the loss of one of their fathers during the pandemic. MALDITAS explores the possibilities of growing deeper in faith through grief while in the most conservative county in North Florida. In J.P. Dobrin's THE LOOKOUT, Chanthon Bun, who was convicted of second-degree robbery at 19 years old and lost his legal protection to live in the U.S., must tread carefully as he attempts to legally reintegrate into society after being released from prison. If ICE were to locate him, he would be detained and slated for deportation.

WATCH MORE FILMS
NEW

 Rewind & Play | AfroPoP: The Ultimate Cultural Exchange
May 1 on TV | Available on YouTube & the PBS app
Improvisational pianist and composer Thelonious Monk is among the 20th century's most revered jazz luminaries. This film by Alain Gomis, features raw footage from an interview the artist gave to French state television in 1969. It shows Monk in the grip of a violent factory of stereotypes, offering an unfiltered glimpse at the racial indignities some artistic geniuses are asked to endure.
Amyotrophic lateral sclerosis (ALS) is a neuromuscular disease with an average survival time of 2-5 years from diagnosis. In this intimate exploration, three people with ALS, or Lou Gehrig's disease, bravely face different paths as they live with this progressively debilitating illness.
NEW

 The One | Stories from the Stage
May 8 on TV, online & on the PBS app
When we believe love has abandoned us, we think it will never touch our lives again. But if we persist, amazing things can happen. Years later, Esmond Fountain gets a second chance for a disastrous first date; Randy Rice's boyfriend's mom learns the truth about her son's "roommate;" and Betsy Komjathy uses Facebook to help her teenage son make contact with his birth mother on Christmas. Hosted by Theresa Okokon.
NEW

 Sam Now | Independent Lens
May 10 on TV, online & on the PBS app
In this coming-of-age documentary about generational trauma, follow Sam Harkness from age 11 to 36 as his middle-class Seattle family is heartbroken and unsure of what to do after his mother suddenly leaves them. Woven together with home movies lovingly crafted by Sam's half brother, director Reed Harkness, witness a boy grow up grappling with the ripple effects of a singular traumatic event.
Four short films follow a diverse swath of the South's artists and activists – two students, a quilter, a performer, and an environmentalist – who seek to rectify and reclaim the region's culture and history left askew from the families and values they hold to be true.
NEW

 Pets | Stories from the Stage
May 15 on TV, online & on the PBS app
Pets can turn our lives completely upside down, but we wouldn't trade them, and their loyalty, for anything. "Music for Cats" helps Kendra Dawsey live though the COVID-19 pandemic with a cooped up feline in heat; Suzanne Simmons's hen Emily (Dickinson) takes a surprising ride that ends up saving two roosters' lives; and Tracey Starin's shih-tzu accidentally escapes and becomes a mighty 12-pound hero.
NEW

 Silent Beauty | Independent Lens
May 17 on TV, online & on the PBS app
In this autobiographical exploration of survivorship, New Orleans journalist and filmmaker Jasmín Mara López unabashedly shares her process of healing from childhood sexual abuse. After Jasmin discloses to her family she'd been abused by her grandfather, she liberates others to come forward in a story of confronting a culture of silence over generational trauma.
NEW

 Unconditional: Healing Hidden Wounds
May 17 on TV & the PBS app
Explore the arc of mental health that challenges 50 million families each year. The film that shows us how mental health is not what we think it is. It is not only the polar extremes. It comes in hundreds of shades and in places we do not notice. Filmed over seven years, three families explore what a hidden wound is and how to talk about it.    
NEW

 Animal Companions | Stories from the Stage
May 22 on TV, online & on the PBS app
As we share life with our loyal companions, they in turn teach us about love, compassion, and mortality. Bill Harley goes above and beyond to try and save the life of his son's hamster; farming teaches Ray Christian lessons about life and death; and Alta McDonald finds inner peace by swimming with a loon. Hosted by Wes Hazard.
NEW

 The Tuskegee Airmen: Return to Ramitelli
May 27 on TV & the PBS app
We return to Ramitelli airfield in Italy to chronicle the legacy of World War II's famed Tuskegee Airmen, African American pilots who helped break stereotypes and helped win World War II with their incredible fighter escorts of American bombers. Narrated by country music superstar Darius Rucker. 

WATCH ONLINE
This five-hour film series delivers a bold, fresh perspective on a history that matters today, more than ever. As America becomes more diverse, and more divided while facing unimaginable challenges, how do we move forward together? Told through intimate personal stories, the series will cast a new lens on U.S. history and the ongoing role that Asian Americans have played.
On Honolulu's famous Waikiki Beach stand four large stones that represent a Hawaiian tradition of healing and gender diversity that is all but unknown to the millions of locals and tourists passing by. According to legend, the stones are a tribute to four mahu, people of dual male and female spirit, who brought the healing arts from Tahiti to Hawaii and used their spiritual power to cure disease.
Every day, millions of people are creating their own definitions of what it means to be Asian American. Suzanne works with a parents association to organize during Boston's busing desegregation crisis and gains strength from the women; David travels to China for the first time to connect with his roots; and after being held at gunpoint in her family's store, Eson learns the definition of love.
In the race for existence, striking teenagers discover that activism, authority and awareness make for a steep learning curve. Determined to provoke real action, New Zealand teenagers join the global School Strike for Climate. But planning a movement and building momentum are the easy parts as they face political indifference, their own white privilege, and the ongoing struggle to be heard.
Telling the untold story of false information and political influences which led to the World War ll incarceration of Japanese Americans. The film also examines the parallels to the targeting of groups today and similar attempts to abuse the powers of the government.
When Emmy Award-winning filmmaker Bill Einreinhofer arrived in China 30+ years ago, he had no idea it was the first of many visits. He would spend much of his professional career making stories in and about China, locating rare historical footage. He interviewed countless people about China, its culture, and its history. Many of those people are now gone. But their stories live on through him.
From time to time, it's okay to lessen our expectations. But expecting more should be the norm. Norah proves that women can measure up in the Boston Marathon; Corey's prostate cancer experience makes him an advocate for testing among Black men, and Candace uses microfinancing to help Tanzanian women better their lives. Hosted by Wes Hazard.
Listen and subscribe to Stories from the Stage: The Podcast!
---
Discuss and engage with us on Facebook, Instagram, Twitter and TikTok by using the hashtag #AANHPI and #AAPIFilms and tagging us @worldchannel. Subscribe to our newsletter and YouTube for more features including events and interviews.
Enjoy our content? Consider donating to keep important storytelling like this going, and find more on PBS Passport.