Watch films featuring meaningful moments of reflection, including faith and spirituality.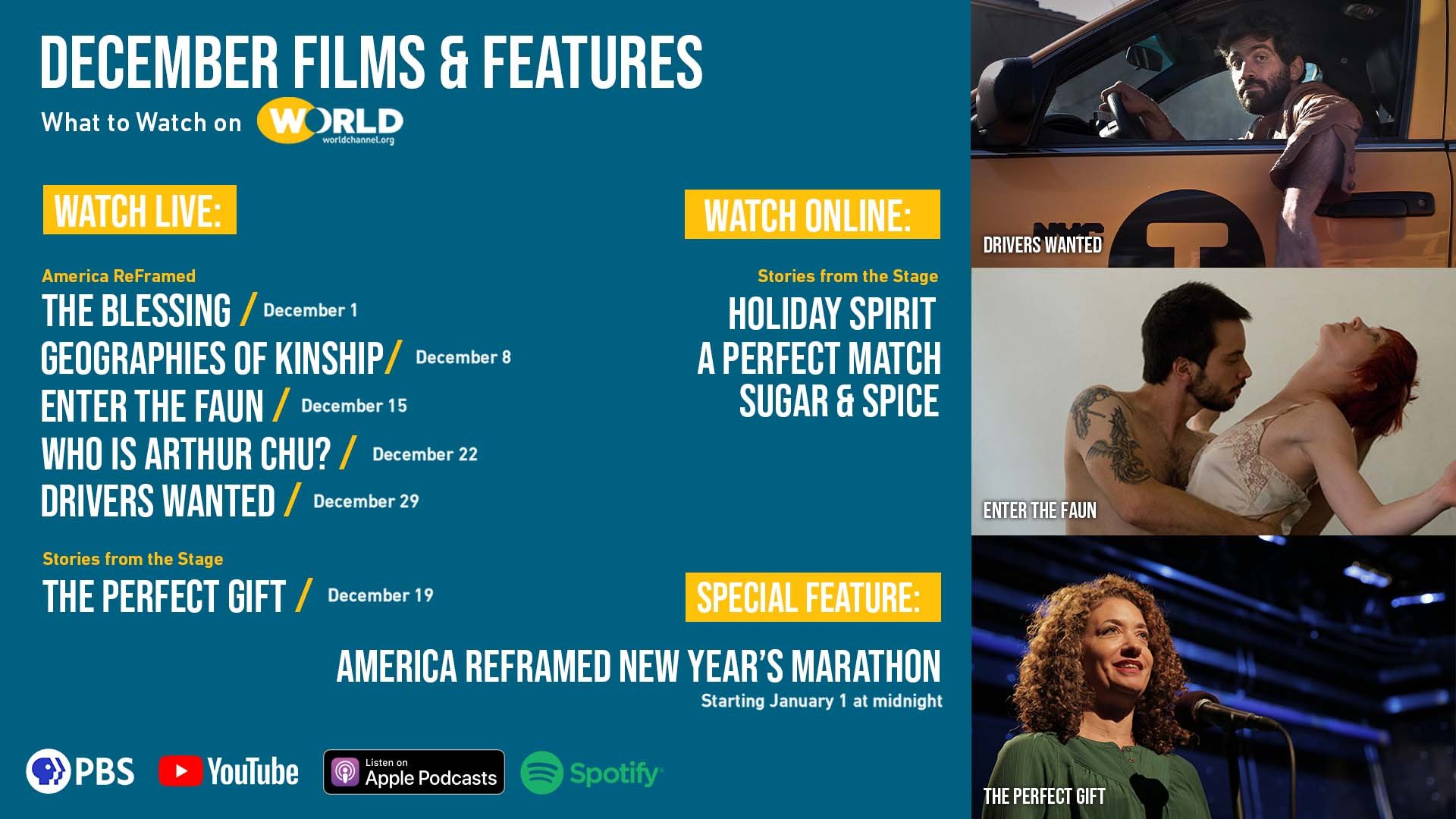 As 2022 comes to a close, what accomplishments, perspectives and aspirations do we carry with us into the new year? This December, WORLD Channel encourages the opportunity to pause and reflect on the state of the world and the hope we have for 2023 while holding steadfast to the faith and beliefs that keep us moving forward.
A year's end is a moment to remember what matters most, reflections we see in this month's featured films: In America ReFramed's The Blessing, a Navajo coal miner struggles between a symbol of his spirituality and providing for his family; and in Stories from the Stage's The Perfect Gift, storytellers share the gifts they've given and received that have meant the most to them in their lives.
During the month, revel in the closeness of family, friends and community over the holiday season, and bring in the new year with a special America ReFramed marathon full of stories that remind us of what is most important to us.
WATCH LIVE
The Blessing | America ReFramed
December 1 on TV | Available online & on the PBS app
A Navajo coal miner, Lawrence, raises his secretive daughter as a single father, while struggling with his part in the irreversible destruction of his tribe's sacred mountain. This deep spiritual sacrifice has caused him decades of emotional turmoil while providing for his family. Meanwhile, his daughter Caitlin searches for her inner identity amidst the expectations of her traditional father.
Four adult adoptees born in South Korea with the rise of the country's global adoption program  set out on a journey to reconnect with their roots, weaving together their complex personal histories and mapping the geographies of kinship that bind them to a homeland they never knew.
National Teachers Academy (NTA) is considered a beacon for Black children: a top-ranked, high-performing elementary school in the fastest-growing neighborhood on Chicago's South Side. As the neighborhood gentrifies, a wealthy parents' group seeks to close NTA and replace it with a high school campus. How will NTA's community fight to save their beloved institution?
Enter the Faun | America ReFramed
December 15 on TV, online & on the PBS app
Fascinated by the unique physicality of Gregg Mozgala, a young actor with cerebral palsy, choreographer Tamar Rogoff was inspired to choreograph "Diagnosis of a Faun." Their creative exploration, the culmination of an intensive two-year collaboration at the intersection of science and art, led them to challenge the limitations associated with disability.
Each year, The Earthshot Prize, a global environmental prize founded by Prince William and The Royal Foundation in 2020, looks to find and grow the solutions that have the power to repair and regenerate the planet. This year's award ceremony will celebrate 15 inspiring finalists and award five winners of The Earthshot Prize, each of whom will go on to win £1 million to help grow their solution.
The Perfect Gift | Stories from the Stage
December 19 on TV, online & on the PBS app
It is often said that it is better to give than to receive. But no matter which side of the transaction we're on, gifts – tangible or not – have the power to simply bring a smile or even save a life. Christine Gentry donates a kidney to a stranger; Stacey Bader Curry dreams of one gift but gets another; and on the night of her first big high school dance, Mary D'Alba gets an amazing gift from her dad. 
Uncle Zaman | The Sauce
December 21 on YouTube
In the pursuit of success, immigrant Muhammad Zaman gets lost in the acquisitiveness of it all in his drive to achieve the American dream. With the fast-paced nature of his life and a constant sense of chaos, the story is about a man who is addicted to winning and obtaining more...even if it costs him his life.
Who Is Arthur Chu? | America ReFramed
December 22 on TV, online & on the PBS app
Follow 11-time Jeopardy! winner Arthur Chu, a former insurance analyst who, by using an unconventional game strategy, amassed both fans and haters on Twitter. To put his 15 minutes of fame to good use, Arthur aspires to become a public figure to address racism and sexism with his posture debunking the "model" Asian American stereotype.
This film tells the story about the Pope's call to care for our planet. In 2015, Pope Francis wrote Laudato Si', a letter to the world confronting the looming calamity of human impact on Earth and ourselves. It is one of the most ambitious and revolutionary papal statements in history and outlines the most critical environmental and social issues that we collectively face.
Drivers Wanted | America ReFramed
December 29 on TV, online & on the PBS app
Take the taxi seat to experience accidents, blizzards and the late night streets of New York City. The film explores the impossibly eclectic community inhabiting a taxi garage in Queens, New York. Each day, a million New Yorkers depend on the anonymous faces behind the wheels, the men who tirelessly drive the city that doesn't sleep.
WATCH BEST OF AMERICA REFRAMED



Starting January 1 at 12 a.m.
All films available online & on the PBS app
Start the new year off with a day full of America ReFramed! Starting just as the ball drops, watch 10 films from 10 seasons of our flagship series exploring ways in which we can see people and communities different from our own in a new light and begin to come together as one nation.
Once a "profoundly disabled" kid, DEEJ is now a college student standing up for his peers.
A look at Chinese American electoral organizing in North Carolina and Ohio.
Exploring the Alabama Prison Birth Project at Alabama's women-only Julia Tutwiler Prison.
A filmmaker's journey of how the deterioration of his vision will impact his life & work.
A Native adoptee's journey to reconnect with her birth mother and her Lummi heritage.
Drivers Wanted reveals the eclectic community inhabiting a taxi garage in Queens, NY.
Native American women reclaim sovereignty in the face of sexual and colonial violence.
A collective memory of Mt. Pleasant's Salvadoran community and the May 1991 rebellion.
The remarkable life of a fearless Mississippi sharecropper-turned-human-rights-activist.
A humanizing portrait of DACA students banned from Georgia's top public universities.
WATCH ONLINE
Holiday Spirit | Stories from the Stage
December 5 on TV | Available online and on the Facebook, YouTube & PBS apps
Top storytellers share stories that conjure the holiday spirit. David Dean Bottrell discovers his passion after stealing the school play's spotlight; Andrea Kamens's bright menorah cuts through the darkness of anti-semitism; and Joe Charnitski tries to break a nightmare-before-Christmas bad luck streak.
In We Stay in the House, four New Orleans mothers struggle to care for their families and themselves in quarantine; In Now Let Us Sing, a North Carolina interfaith, inter-racial choir searches for a new outlet for performing.
A Perfect Match | Stories from the Stage
December 12 on TV | Available online and on the Facebook, YouTube & PBS apps
Searching and finding the right match – whether forged, challenged, lost or kept – is not always easy. Carla battles bureaucracy to bury her mother alongside her father; Andy experiences a new way to relate to his identical twin; and Valerie connects a deceased donor with someone in need of a new liver. Hosted by Theresa Okokon.
Sugar & Spice | Stories from the Stage
December 26 on TV | Available online & on the PBS app
Food is so central to life that we almost take it for granted. But it also shapes us in ways beyond the gastronomic. Gastor goes above and beyond to satisfy his wife's sweet cravings; Claire travels the world to hunt exotic spices and heal her broken heart; and Juan conjures a memorable meal...despite challenges. Hosted by Theresa Okokon.
An Act of Worship | POV
December 28 on TV | Available online & on the PBS app
Muslim Americans recount the past 30 years of pivotal moments in U.S. history and policy from their own perspective. Weaving together observational footage of activists who came of age after 9/11, community-sourced home videos and evocative recollections from individuals impacted by incidents of Islamophobia, the film opens a window into their world through collective memory.
---
Discuss and engage with us on Facebook, Instagram and Twitter by using the hashtag #WORLDChannel and tagging us @worldchannel. Subscribe to our newsletter and YouTube for more features including events and interviews.
Enjoy our content? Consider donating to keep important storytelling like this going, and find more on PBS Passport.