Director Ellie Walton shares her childhood memories of the diverse neighborhood and how her film honors its people.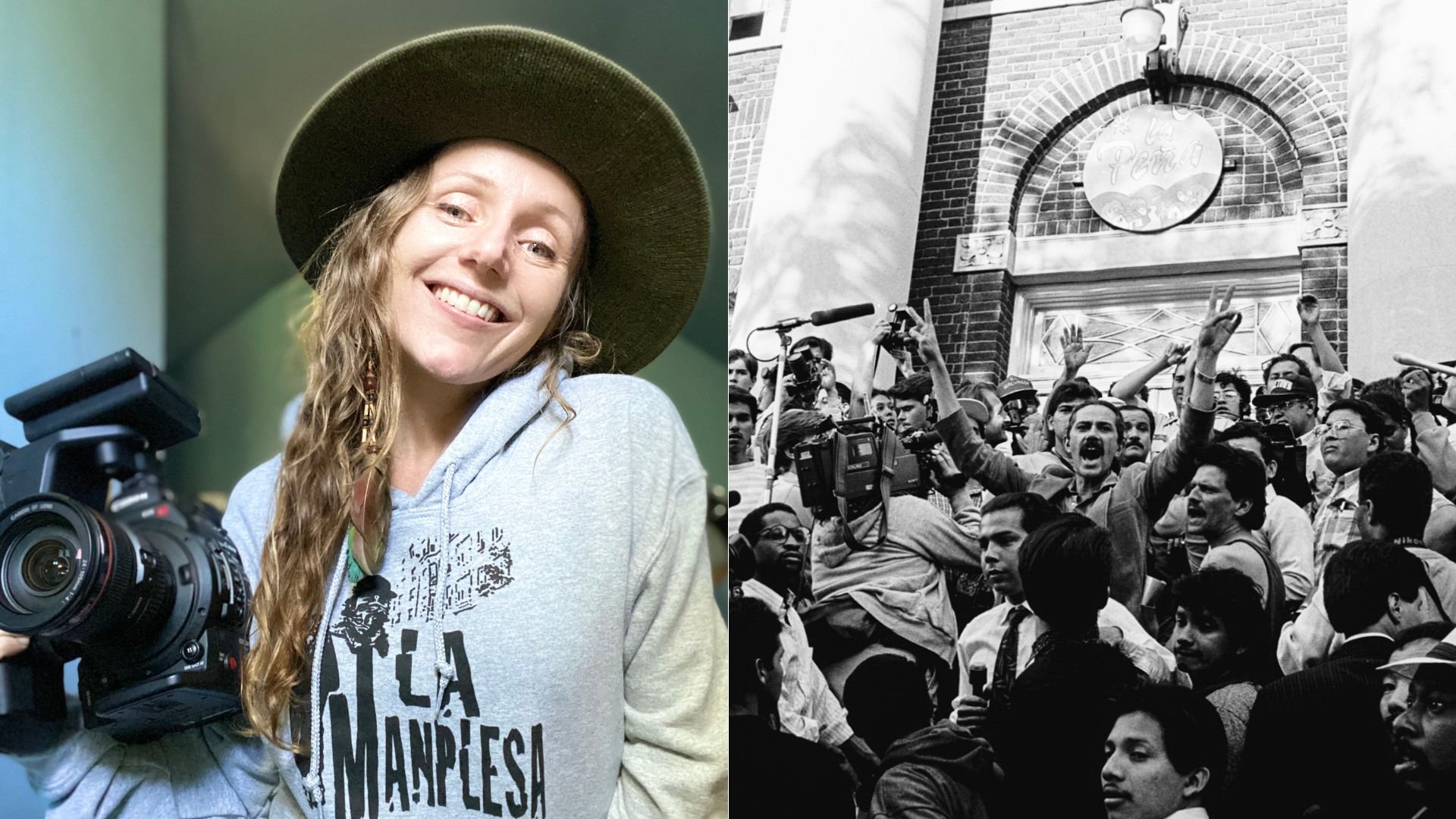 In director Ellie Walton's La Manplesa: An Uprising Remembered, the Salvadoran community of Mount Pleasant ("La Manplesa") in Washington, D.C. reflects on the uprising of May 1991, when residents took to the streets after a young man, Daniel Gomez, was shot by a police officer. Thirty years later, what memories endure and which simply fade away?
Walton, who was born and raised in Mount Pleasant and remains in the D.C. area, tells a story of strength and artistry through reflection against the backdrop of a lively neighborhood. Using personal testimony from the very people who were there in 1991, La Manplesa captures the importance of understanding the past to shape our future. "By anchoring the film in the perspective of artists, it's asking all of us to see what we still have to fight for," Walton said. "It's an opportunity to recreate that sense of a front porch where there are storytellers that are passing down those memories, and that's how we stay connected to each other. That's an essential part of being human."
Walton spoke to WORLD Channel, describing how Mount Pleasant has changed over the decades and how her film pays homage to one of the city's first barrios.
WORLD Channel: Tell us about growing up in Mount Pleasant.
Ellie Walton: I grew up with community. My parents were artists, and our lives spilled out onto the street. Kids would play in the alleys with neighbors watching out that as the sun went down, the kids went home. There were porch jams, Black parties and Latino festivals. I remember being raised by neighbors and aunties and godmothers, and the value of community was always central. It was a neighborhood full of characters that knew each other and took care of each other.
Like all neighborhoods across the U.S., La Manplesa has changed a lot. The forces of capitalism have pushed many people out, and working-class folks can no longer live there – that's really sad. But La Manplesa is still home for so many folks. On Saturdays, people will travel in from Maryland and Virginia to buy groceries at the bodegas. There are layers of history that are still present: Pepe González still lives on 18th Street, and you could go hang out with him on his front porch and he'll tell you stories until the sun sets. There are legends who live in or return to the neighborhood and claim that space, that park or plaza, with music, poetry and food. Even if folks can't afford to live there, they will return and value community over anything else.
WC: How do you remember the 1991 uprising?
EW: I was 9 years old, and I remember hearing the gunshot and walking the one block from my house to Lamont Park. A big crowd had already gathered, and I remember seeing the blood on the cement and [Daniel] Gomez being taken away in the ambulance. But more than anything, I remember the expression on people's faces. It was beyond sadness or anger – like, "Enough is enough." The frustration had mounted, and it was a breaking point. The next day, I remember my brother pulling me back into our house, and we heard the sounds of the police marching. And then the tear gas came, and we had to run to the roof and put our faces in wet towels. We were now all under attack. It didn't make sense.
It's a moment that always stuck with me, and it was a seed for why I wanted to become a filmmaker. I wanted to dig into the roots of why things happen; to do my part in figuring out ways to capture those injustices, so that we can have those conversations and people could really see one another.

WC: Describe your filmmaking journey and the way you tell stories.
EW: My sister was part of the Lesbian Avengers, and [one day] they were doing an act of civil disobedience at a skating rink in Virginia because one of their members was not allowed to skate during couples' time. Before they took to the skating floor, my sister handed me the camera. I was 11 years old, watching my sister and the Lesbian Avengers hold hands as the police began arresting them. A reporter showed up and asked me for the tape; that night, I got to see the footage on TV. It was this moment of realizing the power of film in capturing both the injustice and the action.
My mentors, godparents and parents always encouraged me to see the value of storytelling, whether that's listening to the neighbor next door or gathering folks on stage and sharing. The kinds of films I make are always in collaboration with the community that the story emerged in. I prioritize honoring personal stories and going deep with that truth.
It's important to me that the voices of the neighbors and activists who were there that day are heard…I don't need to compare them with other voices, because what they have to say matters. Although I grew up in the neighborhood, and I was there [that day], I'm still a white filmmaker. It's important to recognize the limitations that I have and make sure that this team is built collaboratively and centers Latina/o/x filmmakers and their voices, since this moment in time was about Latinos being seen, heard and finally staking a claim.
WC: What do you want audiences to take away from your film?
EW: At the beginning of the film, Quique Avilés is cutting up pictures of the police as a way to show folks that sometimes things become so normalized that we stop seeing them. I'll never forget walking the streets of Mount Pleasant a couple of years ago, and someone saying that the riots were just a blip, a bump in history and it didn't matter. It's a history that hasn't been recorded in school books. [Producer] Cindy Centeno, who was born a year [after the uprising], never heard about this. People who now live in Mount Pleasant don't know about this history.
I want audiences to realize the importance of these three days in May of 1991 and how connected they are to the larger history of the United States. It's not only revealing the injustice that happened that day and the power of the people who decided that enough was enough, but to also celebrate a community.
That's something many places across the country can relate to, like immigrant communities where a sense of home and belonging was cultivated and created. I want audiences to feel the strength of community coming together to be seen, to be heard.
---
Discuss and engage with us on Facebook, Instagram, Twitter and TikTok using the hashtag #StoriesFromTheStage and tagging us @worldchannel. Subscribe to our newsletter and YouTube for more features including events and interviews.
Enjoy our content? Consider donating to keep important storytelling like this going, and find more on PBS Passport.