Dawson Mills was started as an early "value-added" cooperative and became a leader in plant-based protein ahead of its time. Today, PURIS is operating in the building first erected by Dawson Mills.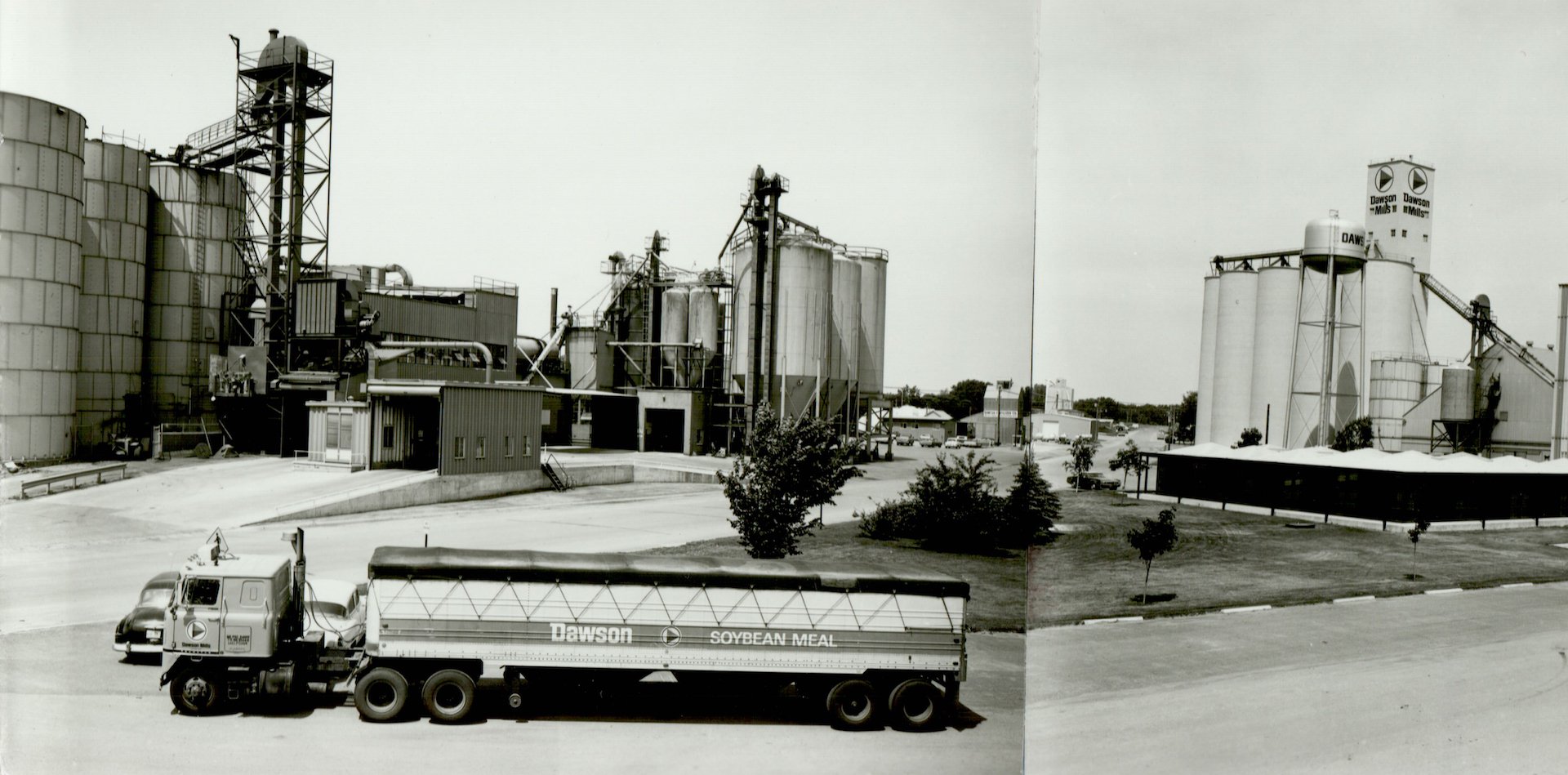 One of Dawson, Minnesota's most popular gathering places is the Rusty Duck, and the menu has a lot to do with making it that.
Patrons appreciate its traditional Midwestern fare, everything from hot roast beef specials to barbecue ribs, steaks and burger baskets. Dawson is very much a traditional meat-and-potatoes community when it comes to food preferences, according to Jay Knoop, who helps serve up the Rusty Duck's popular menu.
But Knoop said it's not all meat and potatoes. Here in the heart of western Minnesota farm country, a veggie burger is also on the menu. Real meat burgers remain the most popular, but Knoop said the veggie burger does well.
How did an alternative meat burger find its way on the Rusty Duck's menu? There is the matter of supporting one of the community's largest employers.
PURIS Company has been processing pea protein in the former AMPI plant on the eastern edge of Dawson since October 2021. The plant employs more than 100 workers. The 200,000-square-foot facility with state-of-the-art processing equipment represents a more than $100 million investment as a partnership involving PURIS and Cargill.
Pea protein produced by PURIS makes its way into a wide range of food products, from high-energy bars and body-building mixes to alternative meat burgers.
"This is more than a pea protein facility," PURIS President Tyler Lorenzen said in the companies' joint news release announcing the big partnership. "This is the future of food."
This is familiar territory for Dawson. This rural community of just over 1,400 people has been in the vanguard of plant-based protein production for more than half a century. In fact, the building that now houses PURIS in Dawson was originally constructed in the mid-1970s by Dawson Mills to extract protein from soybeans.
The history of the rise of plant-based meats and western Minnesota's role in this still-evolving endeavor is the subject of an upcoming series being produced by Pioneer PBS for national broadcast on WORLD Channel; the first of the series is now streaming on YouTube:
Here, Pioneer delves into the history of plant-based protein in Dawson. While it's a story of being on the cutting edge in the food revolution, its origin story is a familiar one in rural Minnesota.
Being located far from the country's major urban markets, Minnesota farmers have often received a lower price for their grains due to the shipping costs to get them to market. In response, Minnesota farmers have long focused on value-added processing.
That's exactly what four Dawson area businessmen proposed over their morning coffee one day, according to David Craigmile, a retired Lac qui Parle County farmer and educator as well as local historian. He said the businessmen decided: "We need to have an ag processing-related business in the area."
The Tri-County Cooperative started processing soybeans in 1951 and became Dawson Mills in 1969. It has since become part of a larger company, Ag Processing Inc., and continues to process soybeans in the heart of Dawson as the community's largest employer.
Dawson Mills was forward-thinking. "In my mind, it was ahead of its time," said Lee Gunderson, who retired as plant manager after 35 years with Dawson Mills.
The soybean processor was among the first to venture into extracting protein from soybeans. It built a processing facility east of town — which is now housing the PURIS operations — for extracting protein from soybeans for human consumption.
It purchased technology from General Mills, which had also produced plant-based protein for human consumption, to produce high-protein cubes flavored as beef, chicken or pork. The cubes were intended for human consumption. They were typically added to macaroni salads and similar dishes, said Gunderson.
Much of the protein produced by Dawson Mills was shipped overseas as part of a U.S. government-sponsored Food for Peace program, according to Gunderson. It was intended to improve diets in Third World countries.
Dawson Mills also produced a soybean isolate, a high-protein powder that could be added to baby formula and a variety of other products.
Dawson Mills faced many challenges as a pioneer. There were "scares" when traces of chemicals detrimental to livestock were found in some of the plant-based protein products processed for use as animal feed. The company changed its chemical extraction process in response.
Gunderson said the company was quick to adapt its equipment and develop new equipment to produce a range of protein products in response to inquiries from prospective customers. But those investments also worked against the company, he said, as the markets that were needed did not develop or prove to be sustaining.
Bernice Oeillien, who retired after 50 years as an administrative assistant with Dawson Mills, summed it up this way for Pioneer PBS: "We thought we're really going to be doing something here, and expanding, and helping the farmers out, and the elevators, and all of the feed, and it looked really great. And I think, maybe if we could have exposed people more to how to use it, and what was really involved, it would've been better. But that's hindsight, you just don't know."
By 1981, Dawson's foray into meatless meats came to its end. The building on the city's east side was purchased by American Milk Producers Inc. and was retrofitted to produce cheese foods from 1982 to 2012.
"Minnesota's Alt-Meat Revolution" is produced in partnership with West Central Tribune and Pioneer PBS.

Stay tuned for more #MeatlessInMN
---
Discuss and engage with us on Facebook, Instagram, Twitter and TikTok by using the hashtags #MeatlessInMN and #MyHomeIsHere and tagging us @worldchannel. Subscribe to our newsletter and YouTube for more features including events and interviews.
Enjoy our content? Consider donating to keep important storytelling like this going, and find more on PBS Passport.