Defining the fight for housing in and across America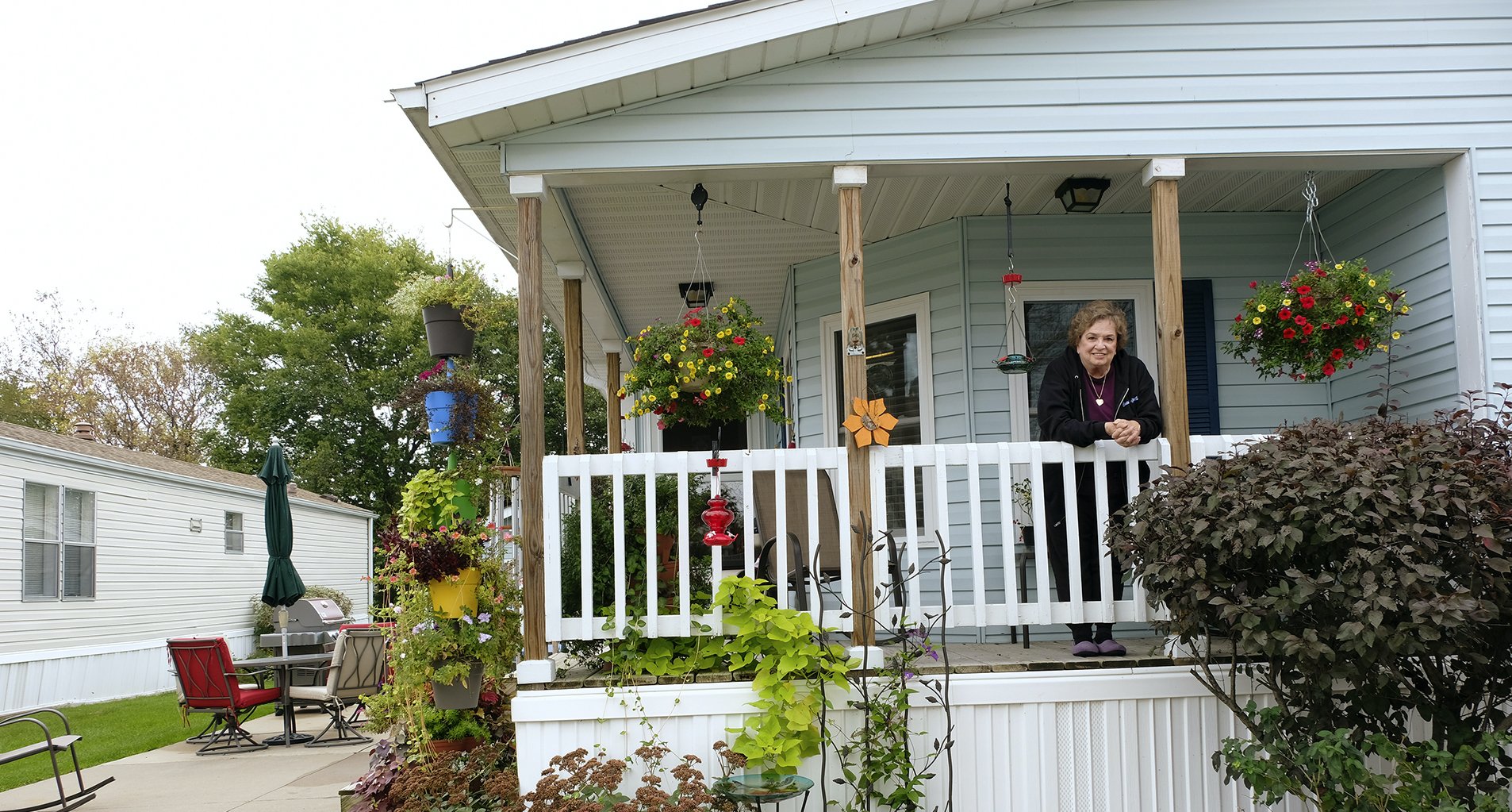 Fifty-five years after the passing of the Fair Housing Act of 1968, housing in the United States remains in a state of disarray. From exponential rent increases to fluctuating high interest rates and overwhelming gentrification, the search for a suitable place to live has been made more difficult, if not impossible. In America ReFramed's A Decent Home, filmmaker and journalist Sara Terry examines the affordable housing crisis through the lens of mobile home residents.
"I don't want to think that greed is what defines me or any of us as Americans. I wanted to ask the question: How much is enough? And I felt that residents in mobile home parks had the answers," said Terry during a Beyond the Lens interview.
Throughout the film, Terry brings viewers through the ups and downs of owning a mobile home (but not the land it sits on) and how the real estate market creates unrelenting change at every turn. How can we come to understand – and, more importantly, navigate – the housing crisis? WORLD Channel and its partners feature films and specials that demonstrate housing in America from all angles.
Affordable Housing
Housing on which the occupant is paying no more than 30 percent of gross income for housing costs, including utilities.
Watch Local, USA's A Dream Deferred: The Broken Promise of New York City Public Housing, now streaming on YouTube.
Displacement
The involuntary movement of people as a reaction to sudden or developing changes in climate or the occurrence of a disaster, including those which are climate-related.
Watch Burning Questions: Covering Climate Now, now streaming on YouTube.
Eminent Domain
The right of a government to take private property for public use upon payment of its fair market value. Eminent domain is the basis for condemnation proceedings.
Watch an exclusive interview with America ReFramed's The Area filmmaker David Schalliol.
Eviction
The lawful expulsion of an occupant from real property.
Watch FRONTLINE's Facing Eviction, now streaming online and on the PBS app.
Fair Housing Act of 1968
The Fair Housing Act protects people from discrimination when they are renting or buying a home, getting a mortgage, seeking housing assistance or engaging in other housing-related activities.
Federal Housing Act of 1949
The Congress hereby declares that the general welfare and security of the Nation and the health and living standards of its people require housing production and related community development sufficient to remedy the serious housing shortage, the elimination of substandard and other inadequate housing through the clearance of slums and blighted areas, and the realization as soon as feasible of the goal of a decent home and a suitable living environment for every American family, thus contributing to the development and redevelopment of communities and to the advancement of the growth, wealth, and security of the Nation.
Gentrification
A process where wealthy, college-educated individuals begin to move into poor or working-class communities, often originally occupied by communities of color.
Watch Local, USA's A Tale of Three Chinatowns, now streaming on PBS Passport, and Legal Lens: Gentrification, now streaming on YouTube.
HUD
The U.S. Department of Housing and Urban Development
Home Ownership
Watch storyteller ToRena Webb-Thomas, featured on Stories from the Stage: Through Thick and Thin, share what homeownership means to her and her family.

Manufactured Homes
A home built entirely in the factory to a federal building code administered by HUD. The Federal Manufactured Home Construction and Safety Standards (commonly known as the HUD code) went into effect June 15, 1976. Manufactured homes may be single‐ or multi‐ section and are transported to the site and installed. The Federal standards regulate manufactured housing design and construction, strength and durability, transportability, fire resistance, energy efficiency and quality.
Watch America ReFramed's A Decent Home, now streaming online, on YouTube and on the PBS app, and read an exclusive interview with filmmaker Sara Terry.
Redlining
The practice of denying investments and credit based on someone's race or ethnicity.
Watch Redlining: Mapping Inequality, now streaming on the PBS app.
Revitalization
The sustainable redevelopment of abandoned properties.
A new generation of Youngstown, OH residents work to reinvigorate their community in America ReFramed's The Place That Makes Us.
Section 8
A HUD program (officially called the Housing Choice Voucher Program) providing funding for rental assistance to low‐income households. Participating tenants typically pay 30 percent of their income for housing (rent and utilities) and the federal subsidy pays the balance of the rent.
Learn more from GBH's Priced Out.
---
Resources
United States Environmental Protection Agency
Greater Regional Alliance of Realtors
U.S. Department of Housing and Urban Development
Harborlight Community Partners
National Geographic
International Federation of Red Cross and Red Crescent Societies (IFRC) and the Climate Centre
---
Discuss and engage with us on Facebook, Instagram, Twitter and TikTok by using the hashtag #ADecentHome and tagging us @worldchannel. Subscribe to our newsletter and YouTube for more features including events and interviews.
Enjoy our content? Consider donating to keep important storytelling like this going, and find more on PBS Passport.