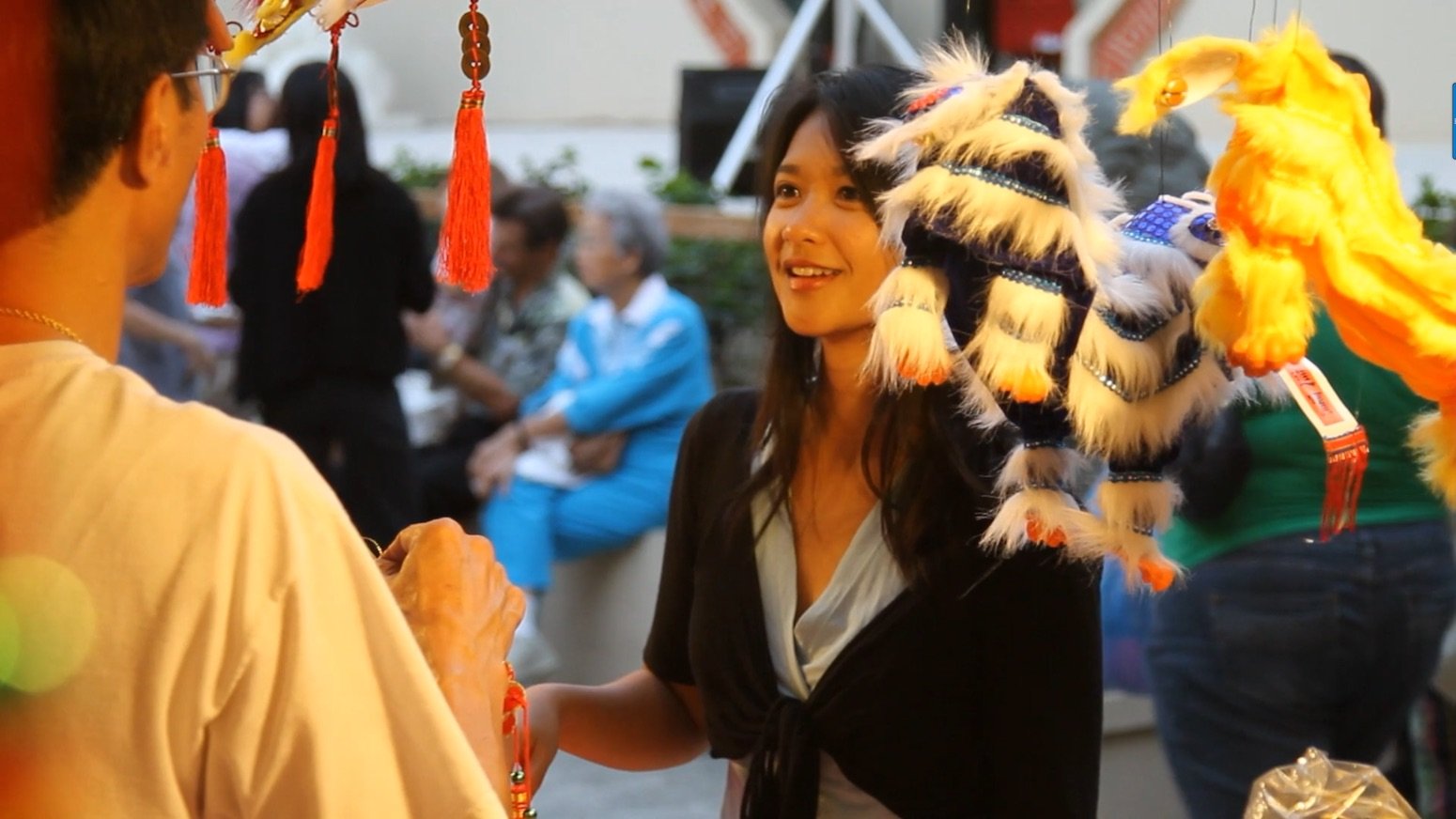 In 'My Chinatown, With Aloha,' filmmaker Kimberlee Bassford explores the effects of the COVID-19 pandemic on Honolulu's Chinatown community, weaving in a historical narrative of the 1899 bubonic plague in Hawai'i. The film highlights how each public health crisis transformed the neighborhood.
Bassford, a fourth-generation resident of Chinese and Filipino descent, used her family's own personal history to tell a story of community strength in the face of both social and economic adversity.
"The [2020] lockdown hit Chinatown really hard, because they rely on foot traffic. People weren't going into Chinatown, especially in those early months during the pandemic, because of the idea in the media of the virus being Chinese," Bassford said. "[I wanted to convey] resilience and the need to approach each other in our community at this time, which is full of challenges, with grace and love for one another."
The Honolulu-based director, who also produced, wrote and edited the short film, spoke with WORLD Channel about the histories that drive her film, how we can move forward after hardships in the past and why the community remains as tenacious as ever.
WORLD Channel: How does 'My Chinatown, With Aloha' tell a story of resilience?
Kimberlee Bassford: I knew about the bubonic plague before COVID happened, and it's only because I read the autobiography of my great-grandfather, C.Q. Yee Hop; he died about 20 years before I was born, so I never knew him. He talks about when the plague hit Honolulu in 1899 – the authorities immediately quarantined Chinatown, because the first victims were in Chinatown and they were of Chinese descent.
If anyone died of the plague in Chinatown, they would burn that building [the deceased was in] to the ground, because they didn't understand how the plague was spread. People lost their homes, they were sent to detention camps, and it was in one of those controlled burnings that the winds changed, and the fire burned out of control.
My great-grandfather, who had a market, remembers being outside the quarantine zone and having to watch his market burn to the ground. It was one of the most emotional parts of his story. I always remembered that.
[The plague and fire] was devastating to the people of Honolulu Chinatown, but they rebuilt. My great-grandfather lost his market, but two years later he co-founded a new market, which became one of the biggest supermarkets on the islands. The community was confronted with challenges, but they ended up building an even stronger and better foundation for themselves and their families. I thought that was important to keep in mind today as we're all going through this pandemic. Hopefully, we can all come out better and stronger.
WC: What did you want to express about the history of Honolulu Chinatown?
KB: The history of Honolulu Chinatown is, in some ways, parallel to the other Chinatowns in the U.S. But there's a unique history, too, that is complex and nuanced. It is one of the oldest Chinatowns in the country, and a lot of people don't know that – they tend to think of San Francisco and New York. When my great-grandfather arrived in Hawai'i, with the early Chinese [immigrants], it was not a part of the United States; Hawai'i was a sovereign kingdom. My great-grandfather was trying to learn Hawaiian before he was trying to learn English.
When the plague and fire were happening in that turn of the century, that was the same period when the monarchy was overthrown and the U.S. stepped in. One of the reasons why authorities took swift action to quarantine Chinatown was because they were lobbying for Hawai'i to become part of the United States. The powers that be – the white American oligarchy – wanted to show the U.S. government that they had everything under control and that there wasn't a plague.
WC: How did the making of this film help you explore your own identity?
KB: I'm the fourth generation of my family in Hawai'i. I grew up in a suburb of Honolulu, but Honolulu Chinatown is a place I've always known about, a place I would go to as a child. During Chinese New Year, we would have banquets in a building owned by my family, so I always felt connected to Chinatown. My family still owns a building and they still work in Chinatown. It's part of my family's legacy, and it's a legacy I wanted to know more about. 
What I appreciated about doing this project was that it was a way for me to get to know my own family history. Growing up, Chinese culture was what I was exposed to. We went to the cemetery once a year and did the bai san ceremony. We celebrated Chinese New Year. But no one ever sat down and said, "This is why we do this ceremony; this is what it means; these are the reasons behind the traditions."
And no one really talked about my great-grandfather growing up. I would see his portrait on the wall and know who he was. I knew he was an important member of our family and that we all descended from him, but I didn't have a sense of who he was, his business struggles and how he was involved in the community. I got to know that history.
As a filmmaker, you're attracted to these projects because you want to learn something. You're trying to figure something else out about yourself and your identity, and this gave me a wonderful way to do that. That's why I titled it "My Chinatown, With Aloha." For a time, I had the working title "Chinatown: 1899-2020," because it was a then-and-now approach looking at history. "Aloha" is a word that we use as a greeting: It means "hello" and "goodbye," but also "love." I came to feel much more connected to Chinatown, my family's connection and my history. It was my love letter to Chinatown.
WC: Why is storytelling important for Asian American and Pacific Islander (AAPI) filmmakers?
KB: It's critical for AAPI filmmakers to tell stories about our community. Our community is very diverse, and my experience is not the same as another Asian American or Pacific Islander. The mainstream media is talking about Asian Americans, and it's important for us to make sure that our own perspective is being told. And that it's coming from an authentic place. And that we are part of that storytelling.
It's a different story that we end up telling when someone from that community is the lens. I have a personal connection to this story in that my own family, my great-grandfather, was very much affected by what happened 123 years ago, and my family is still very connected to Honolulu Chinatown. I don't know if it would have been told otherwise. There's also a level of sensitivity that you have when you're telling stories about your own family and your own community. As a storyteller, you always want to make sure that you're being sensitive and accurate, but when it's of your own community, you have more impetus and a perspective coming from the inside.
[As a filmmaker], I mainly focus on stories about underrepresented and marginalized communities, so most of my films are either about girls and women of color or are centered here in the Asian Pacific region. Those are stories I'm attracted to as a woman of color myself, and I would love to see more representation on screen.
WC: What do you hope audiences take away from 'My Chinatown, With Aloha'?
KB: I would love to put Honolulu Chinatown on the map. When people think of Hawai'i, they don't associate it with Chinatown. But we have a wonderful Chinatown just minutes from Waikiki. It's a great place to visit, eat and see the diversity of cultures. 
And I would really love for people to see the importance of history. History tends to repeat itself, especially if we don't pay attention to it. 'My Chinatown, With Aloha' highlights what happened in a previous pandemic, and hopefully we can learn from it and apply some of those lessons to today.
Kimberlee Bassford's 'My Chinatown, With Aloha' is now streaming on the PBS app and WORLD Channel's YouTube. Asian American Stories of Resilience and Beyond is presented in partnership with the Asian American Documentary Network and the
Center for Asian American Media.