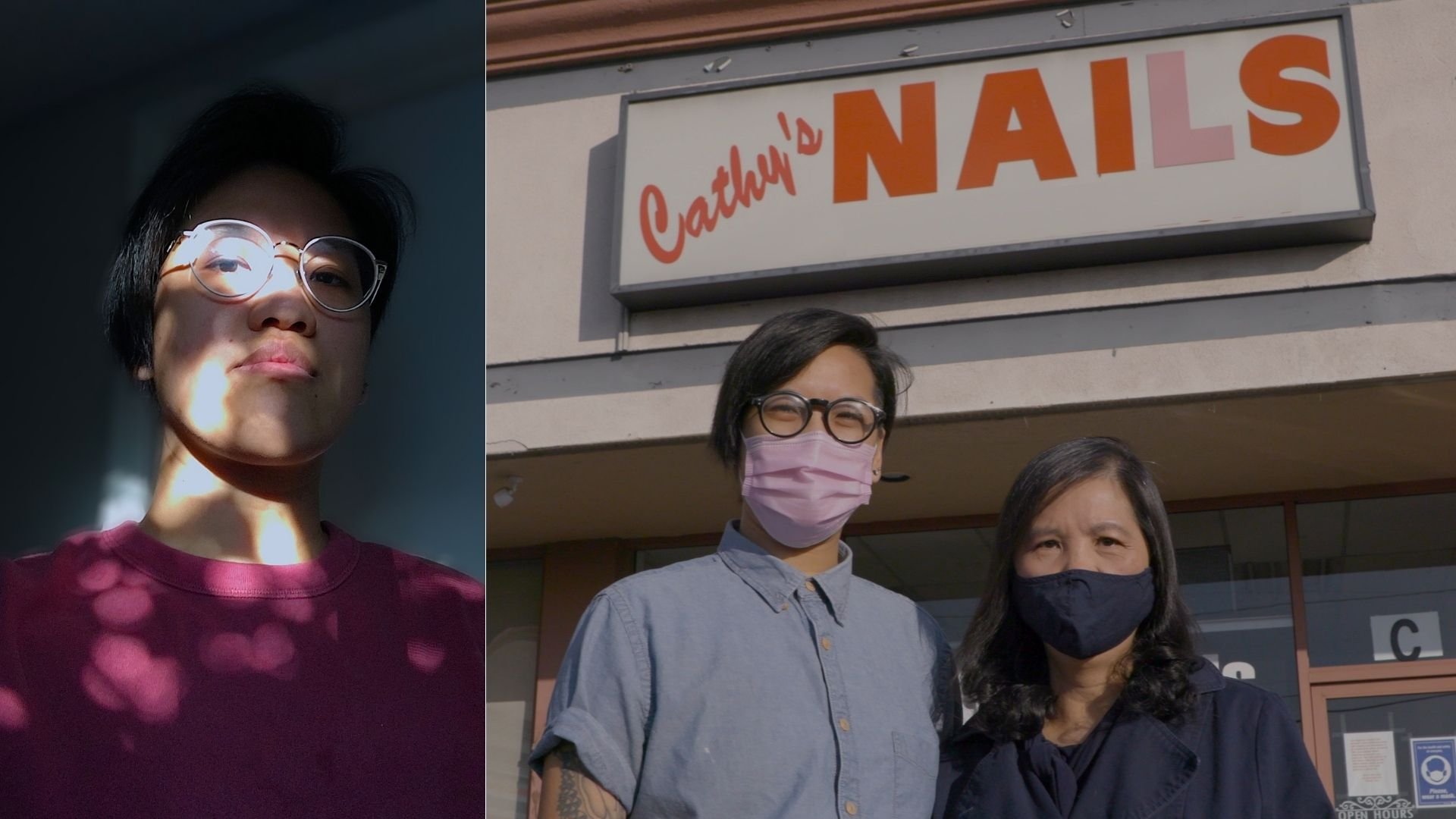 As refugees from Vietnam, filmmaker Quyên Nguyen-Le's (they/them) parents resettled in "the place where the unceded lands of the Chumash and Tongva peoples meet, commonly known as the San Fernando Valley in Los Angeles, California" and began a journey for their American Dream. They opened a nail salon named after Quyên when they identified as Cathy, which represented the family's livelihood until 2020; Nguyen-Le's mother, Angie, was forced to close the business during the pandemic. In "In Living Memory," the director memorializes their mother's salon and recalls what it symbolized for their family.
"I was trying to grapple with how to remember and mourn a place that closed so quickly," Nguyen-Le said. "The film is me and my mother trying to look back and remember the legacy of the salon for us and our family."
When asked about what the film represents to them, Nguyen-Le revealed how family history and their mother's influence shaped who they are and how they've evolved.
WORLD Channel: Why is storytelling important to you?
Quyên Nguyen-Le: When I was in high school, I decided I wanted to be a filmmaker. But my parents used to say, "Why would anyone want to make films about us? Everyone we know has the same story of leaving Vietnam, being refugees, working in nail salons and factories. There's nothing very special about our family." It really affected me that my parents thought that their stories weren't important because many other people had experienced that same thing. I think that's why it is important.
I gravitate toward stories that explore what seems mundane and quotidian, but is seeping in history. I'm interested in the ways that people's histories affect their daily lives. With this short documentary, it is very micro; it was important to focus on [my mother's] specific story and what I felt she was trying to say. The small act of building memory within our family was important. 
WC: How does your film speak to family and connection?
QNL: In making this film, it brought to my heart the importance of generational memory. It wasn't something I thought about in that way before. Both my paternal and maternal grandparents died during the [Vietnam] war while both of my parents were still children, so I grew up without grandparents. It didn't quite register to me what that meant.
Now, I can ask my parents questions that I didn't have the courage to ask or didn't think to ask when I was younger. My memory of my family starts with my parents; it doesn't go further back. That's something I took for granted until I was making this film and asking questions about what happened.
My mom was 19 when she came [to the U.S.], and I thought, "Wow, what a baby. I wonder who helped her in her life. Did she really do it all alone?" And she didn't. That part is becoming clearer to me, and it's something that I can tell other generations about what happened to our family, because I'm now gathering that information. A lot of us live without knowing much about our family history, and I think that's what's so important about filmmaking for me; this film in particular [has] allowed me to, with my mom, recover some of our history.
WC: What was it like telling this story through the eyes of your mother?
QNL: I wasn't necessarily trying to make a film about the [nail salon's] closure. But because it was such a huge part of my childhood, I tried for years to articulate what the salon meant to me and to share that with my mom. My mom is very difficult as a subject, because she doesn't articulate, verbally, what she thinks or feels. I wanted to figure out her thoughts about the salon, and instead of just asking her, "How does this make you feel?" over and over, I leaned into what I knew about her, which is to observe her, have her talk to other people. You gather these fragments, and you put them together. 
WC: How does your film represent resilience?
QNL: Fifty years after the end of the Vietnam War, there's still this very limited understanding throughout Southeast Asia of what happened and how refugees, specifically, have become part of the fabric of American society. Being Vietnamese American, I grew up with a keen sense that, unlike other groups of Asian Americans, Vietnamese Americans are overly represented; our narrative was the driving force of 1980s Oscar-winning films, where it became a joke that if you want to make a prestigious film, you'll make a film about the Vietnam War. We're always talking back at something or trying to answer something.
The narrative of resilience, especially with refugees and immigrants, and oftentimes women, is that they're the bearers of all this historical trauma, and they somehow, magically, get through it. I wanted to honor the resilience, but not idealize my mom's struggle. That's really hard, because the nail salon is symbolic for many, including our family, as many Vietnamese American families are raised through nail salons. I also wanted to honor the strength of people like my mom, but be specific to who she is and what the salon meant to her.
WC: What do you hope audiences take away from 'In Living Memory'?
QNL: I was trying hard to speak within the conversation of other things that have been made about nail salons and Vietnamese American people, but also to pay attention to what my mom was telling me.
The hardest part about making a film like this is that it's imbued with so much meaning. There's so much I want to say, but you only have so much time. I want audiences to really lean into the small, subtle moments. That's how I learned more about my mom: It's not through the way she verbally expresses herself, but in the way that people live and how little things complicate others.
Quyên Nguyen-Le's 'In Living Memory'  is now streaming on the PBS app and WORLD Channel's YouTube. Asian American Stories of Resilience and Beyond is presented in partnership with the Asian American Documentary Network and the Center for Asian American Media.