Calendar of Events
 
COMING UP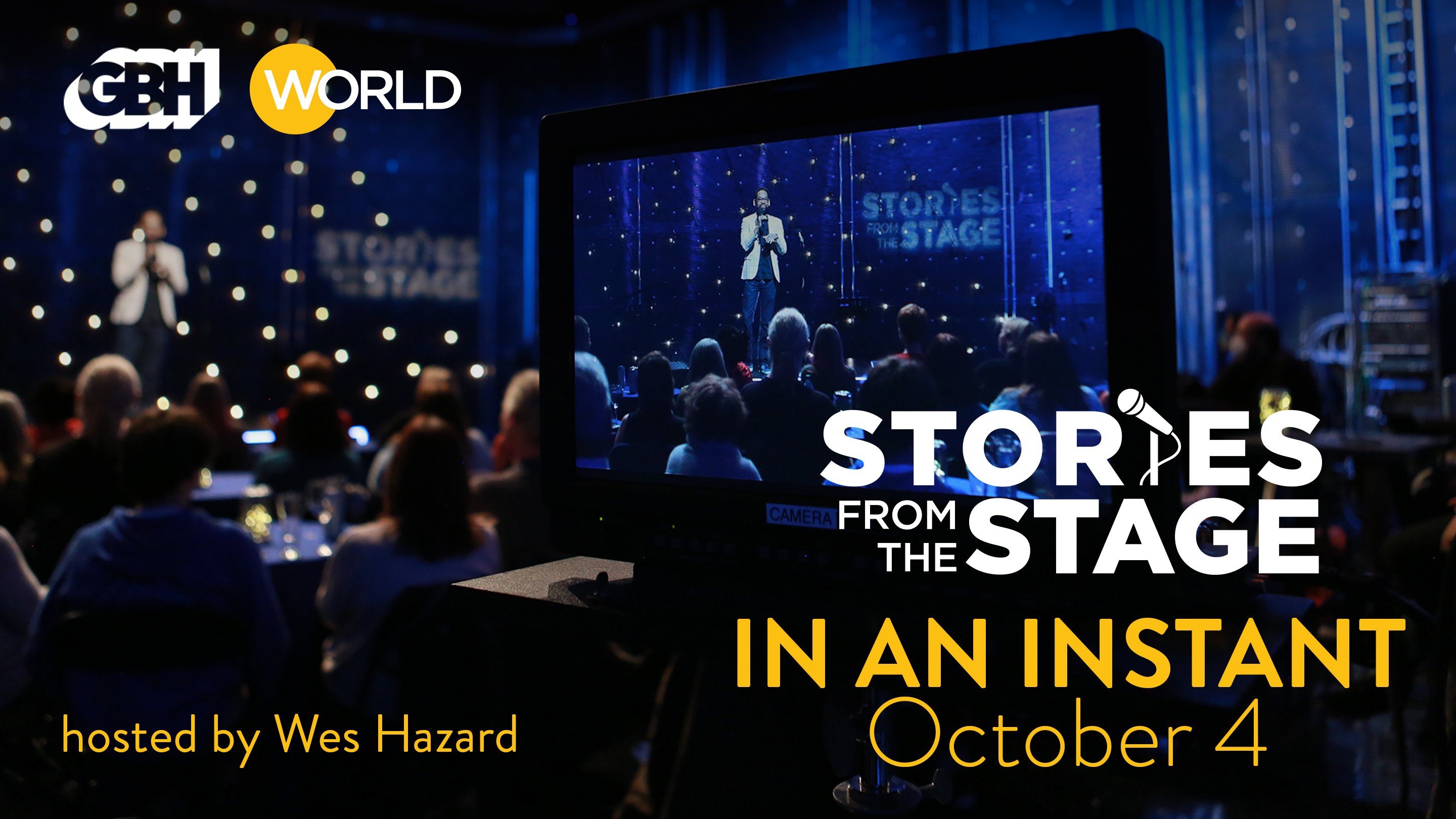 STORIES FROM THE STAGE: IN AN INSTANT | IN-PERSON
WEDNESDAY, OCT. 4 @ 6:30p ET
Our lives can change forever in an instant. Sit on set of Stories from the Stage as you listen to stories that will dazzle you with fateful encounters, moments that changed a path and the life-altering power of taking a chance. Get tickets here!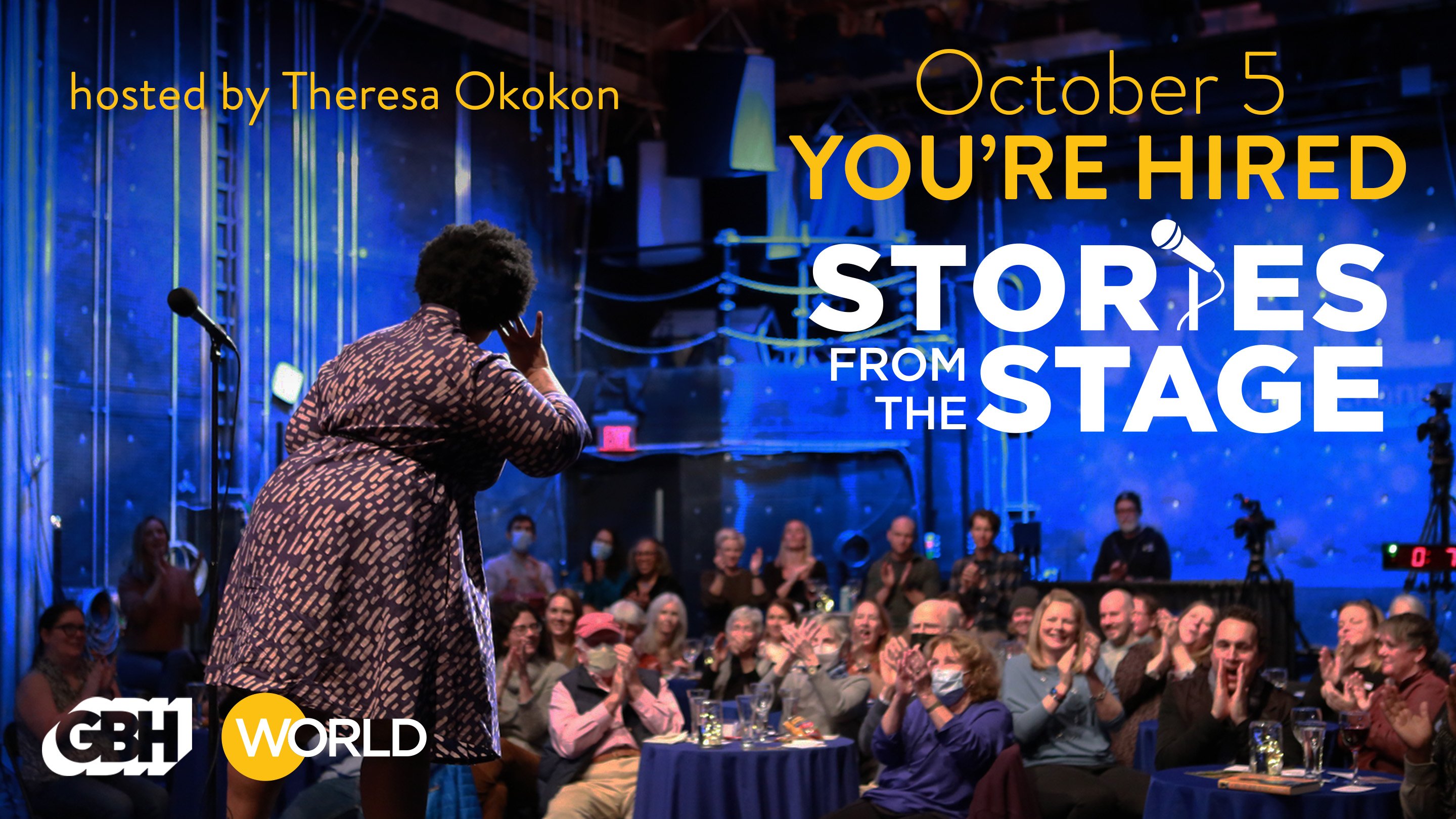 STORIES FROM THE STAGE: YOU'RE HIRED! | IN-PERSON
THURSDAY, OCT. 5 @ 6:30p ET
Congratulations, you're hired! Along with your paycheck and experience, you'll be taking home some jaw-dropping work stories. Join us on set to hear tellers share stories of life in the workplace: from first jobs to extreme jobs and dream jobs, lucky breaks and breaking the glass ceiling. Get tickets here!
STORIES FROM THE STAGE: LAUGHING OUT LOUD | IN-PERSON
THURSDAY, NOV. 9 @ 6:30p ET
We all have those moments we would rather forget. We're talking about embarrassment on an epic scale and flashbacks that last a lifetime. Sharing a good laugh is the universal remedy for these situations. So, get ready to laugh and share the comedy that is being human during this taping of Stories from the Stage! Get tickets here.
WATCH PAST EVENTS
MEET THE MAKERS | FROM HERE
If you're not from here, how do you belong in the place where you live? Meet From Here filmmaker Christina Antonakos-Wallace, executive producer and comedian Hari Kondabolu, Tania Mattos and Sonny Singh in conversation about being viewed/treated as different, and why sharing their stories is essential for people like themselves and for others to understand their experiences.
AFFIRMATIVE ACTION TOWN HALL DISCUSSION
On June 29, the Supreme Court voted to reverse affirmative action in college admissions. This panel conversation – featuring Patrick Tutwiler, MA Secrety of Education; Julie Chen, UMass Lowell Chancellor; George "Chip" Greenidge, Jr., Founder and Director of The Greatest MINDS; Brooke Thompson, President of Associated Industries of Massachusetts; M. Lee Pelton, President of the Boston Foundation; and Iván Espinoza-Madrigal, Exec. Dir. of Lawyers for Civil Rights – explores what this ruling means for students and Americans everywhere, and what steps can be taken to ensure equality in education. Moderated by GBH News's Paris Alston.
MEET THE MAKERS | CROSSINGS
Watch a panel conversation with Crossings filmmaker Deann Borshay Liem, Women Cross DMZ Founder Christine Ahn and Aiyoung Choi, Chair of the Board of Directors of Women Cross DMZ. The three women discuss the organization's mission, family separation and more. Moderated by Doc World host Andia Winslow.
MEET THE MAKERS | BUFFALO SOLDIERS: FIGHTING ON TWO FRONTS
Buffalo Soldiers: Fighting on Two Fronts filmmaker Dru Holley joins Buffalo Soldiers National Museum archivist Jason Fung and historian Dr. Ryan Booth to reveal the story behind the making of the documentary and discuss the intertwined American history of the Black soldiers and Indigenous peoples. Moderated by Stephanie Frederic.
THE STATE OF RACE | DEMOCRACY: WHERE ARE WE NOW?
What does democracy look like for the BIPOC community, and what are the issues at stake? Panelists discuss some of our most vulnerable communities and see how the threats to our democracy may impact people of color – and if we are moving in the right direction. Moderated by GBH News's Paris Alston.
MEET THE MAKERS | ASIAN AMERICAN STORIES OF RESILIENCE AND BEYOND
In celebration of Asian American, Native Hawaiian and Pacific Islander Heritage Month, Asian American Documentary Network's Lailanie Gadia hosts filmmakers Joua Lee Grande, J.P. Dobrin, Quyên Nguyen-Le and Frances Rubio for a candid, intimate conversation about how family, identity and more impact the Asian American experience. The panel explores each filmmaker's short, as seen in the Emmy-nominated Asian American Stories of Resilience and Beyond, and how they came to tell each story.
THE STATE OF RACE | AAPI CULTURAL HERITAGE MONTH: THE INVISIBLE BECOMING VISIBLE
This Asian American Pacific Islander (AAPI) Heritage Month, celebrate the rise of AAPI individuals serving in leadership positions – the invisible become visible and bringing new voices to the table to educate, inspire and advocate for AAPI interests.
This program includes two distinct panels: First, hear from elected and appointed AAPI officials about their personal successes and the challenges faced while serving at the local, city and state levels of government. Featuring State Representative Tram T. Nguyen and Eileen Jay from the Lexington, MA School Committee. Moderated by President and CEO of Commonwealth Seminar Leverett L. Wing.
Then, AAPI artists, business executives and non-profit organizers discuss making a difference in the local and national communities they serve. Featuring Dr. Amar Sawhney, Chairman and CEO of Instylla Inc., CEO of Rejoni Inc. and Founding Partner and CEO of Pramand LLC; Laura Sen, Board of Directors at MassMutual; and Connie C. Chin, CEO of Global Arts Live. Moderated by Jim Dao, editorial page editor of The Boston Globe. 
MEET THE MAKERS | KEEP IT A SECRET
Keep It a Secret filmmaker Sean Duggan, surf journalist Kevin Naughton, pioneer Irish surfer Davy Govan and Prof. Mike Cronin, historian and academic director of Boston College in Ireland, talk about the making of the film and the turbulent time of the Troubles in Irish history.
THE STATE OF RACE | ENVIRONMENTAL JUSTICE
Asbestos. Lead. Pesticides. Toxins. Climate change. Environmental dangers in the air, water and land disproportionately impact the lives of Massachusetts residents of color where they live, work and play. What's being done to repair and protect the Bay State's most vulnerable and diverse communities from the environmental dangers seeping into our daily lives. Are green and blue economies the keys to unlocking a better future? Moderated by GBH News's Paris Alston.
GIRL TALK: EMPOWERING YOUNG WOMEN
A special conversation celebrating the empowerment of young women. Five remarkable women – former Newton South High School debaters Gaby Lewis and Hannah Phan; current High School Quiz Show competitors Sophie Nerine and Dominique Dang; and host Raney Aronson-Rath, editor-in-chief and executive producer for FRONTLINE – discuss themes featured in Girl Talk, including confidence, gender biases, leadership and why freedom of expression is worth fighting for in debate, academic teams and beyond. Presented in partnership with GBH's High School Quiz Show.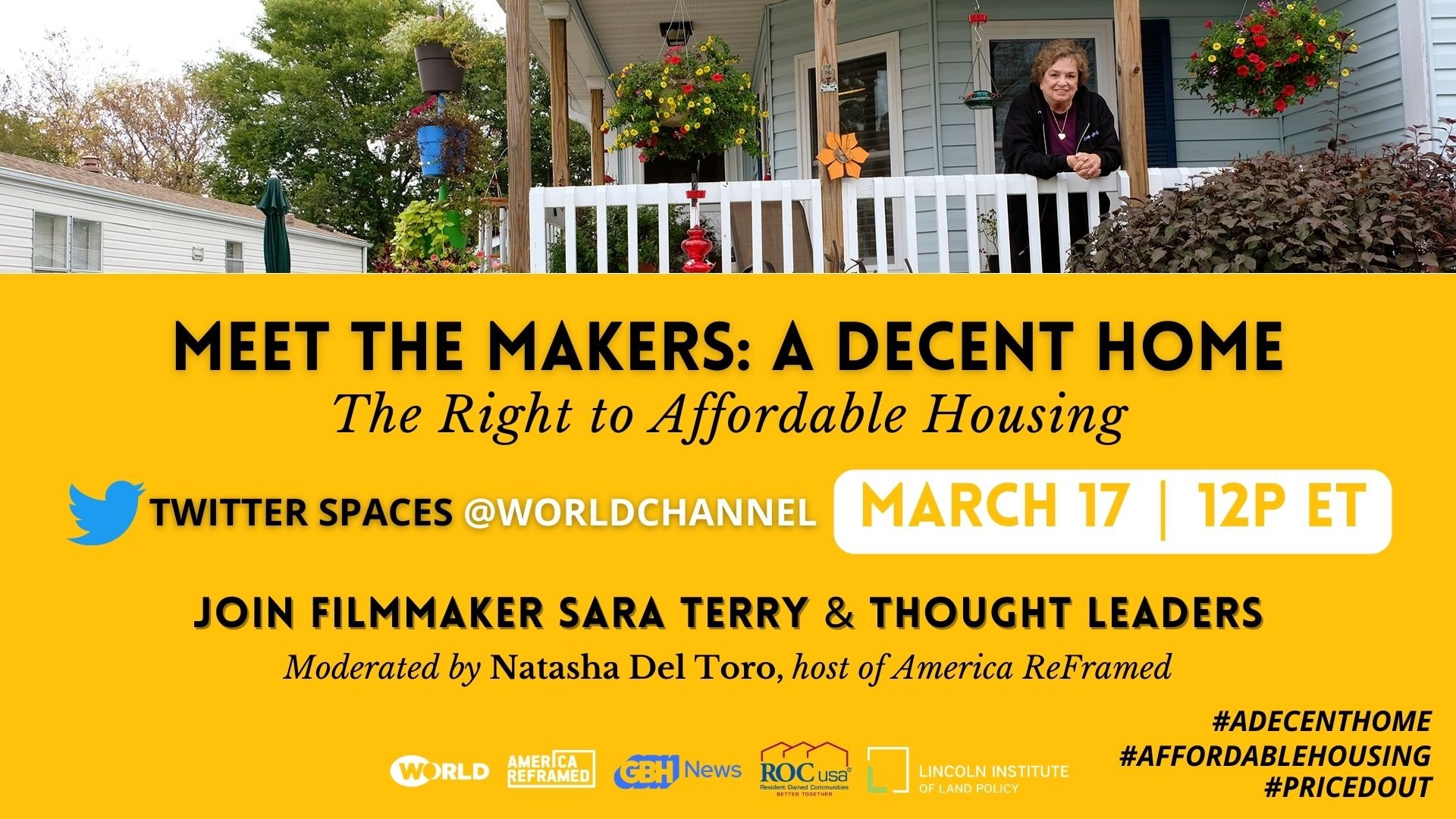 MEET THE MAKERS | A DECENT HOME: THE RIGHT TO AFFORDABLE HOUSING
A Decent Home filmmaker Sara Terry and housing equity experts talk about what residents of mobile home parks are up against and how the 1% continues to capitalize on the economic immobility of others. Listen to the replay here!
THE STATE OF RACE | ARE WOMEN OF COLOR ON THE RISE?
While women of color are transforming leadership, they still trail in pay and opportunities. What work needs to be done to level playing fields in the Bay State? Watch this State of Race panel, moderated by GBH News's Paris Alston.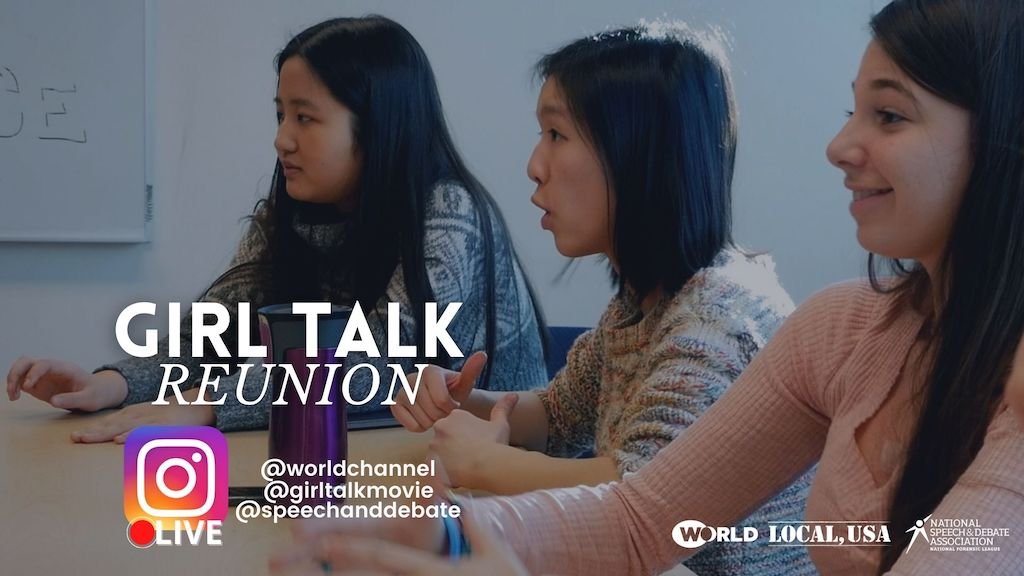 GIRL TALK REUNION
Former Newton South High School debater Gil and Ambika Grover of the National Speech and Debate Association's national debate team to talk about Girl Talk: A Local, USA Special, their experiences with debate and how to promote young female empowerment. Watch the replay!
MENTAL HEALTH, FAMILY AND GRIEF IN THE BLACK COMMUNITY
Watch a virtual discussion about mental health, parenthood and overcoming trauma in the Black community with The Death of My Two Fathers filmmaker Sol Guy, "Java with Jimmy" host James (Jimmy) Hills and Aderonke (Ronke) Pederson, MD from Mass General Hospital's Depression Clinical and Research Program. Moderated by Eugene (Gene) Lambert, MD, MBA, FACP, FASAM from Mass General Hospital's Addiction Consultation Team.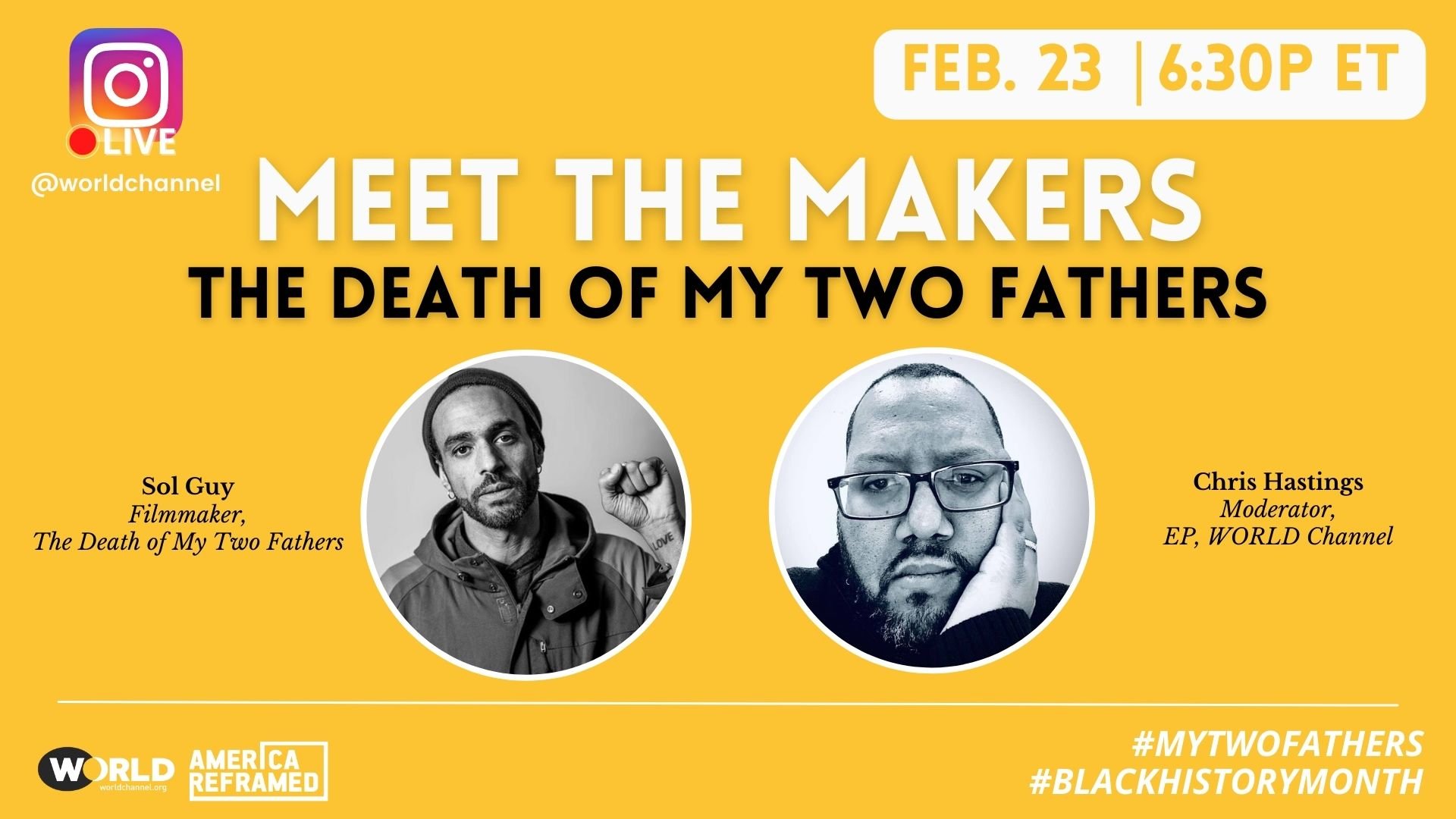 MEET THE MAKERS | THE DEATH OF MY TWO FATHERS
The Death of My Two Fathers filmmaker Sol Guy and WORLD executive producer Chris Hastings talk about the making of the film and what Guy learned during the filmmaking process. Watch the replay.
THE STATE OF RACE | EMBRACE CHANGEMAKERS THEN & NOW
After the unveiling of "The Embrace" sculpture in honor of Dr. Martin Luther King, Jr. and Coretta Scott King, The State of Race examines the rich resulting discourse and debate about the sculpture's significance and future place among Boston's monuments. Plus, panelists will profile past Boston civil rights luminaries and how their legacies continue to impact multicultural leaders in Massachusetts today – from historic protests and lived experience to important connections inspiring transformative change happening now in Boston and beyond. Moderated by GBH News's Paris Alston.
THE STATE OF RACE | THE LATINO HOUSING CRISIS
Homeownership is the single most powerful strategy for closing the racial and ethnic wealth divide. Yet, with homelessness rising among Latino in Greater Boston and Massachusetts and the gap between a living wage and the high cost of housing, the dream of owning a home is nearing impossible. Listen to a conversation about the barriers Latinx communities face to achieve equal opportunities and living standards with Vanessa Calderón-Rosado, CEO of Inquilinos Boricuas en Acción; Lorna Rivera, Director of the Mauricio Gastón Institute for Latino Community Development and Public Policy at UMass Boston; and Dan Rivera, President and CEO of MassDevelopment. Moderated by Jorge Quiroga, former reporter and moderator for WCVB-TV Channel 5 Boston.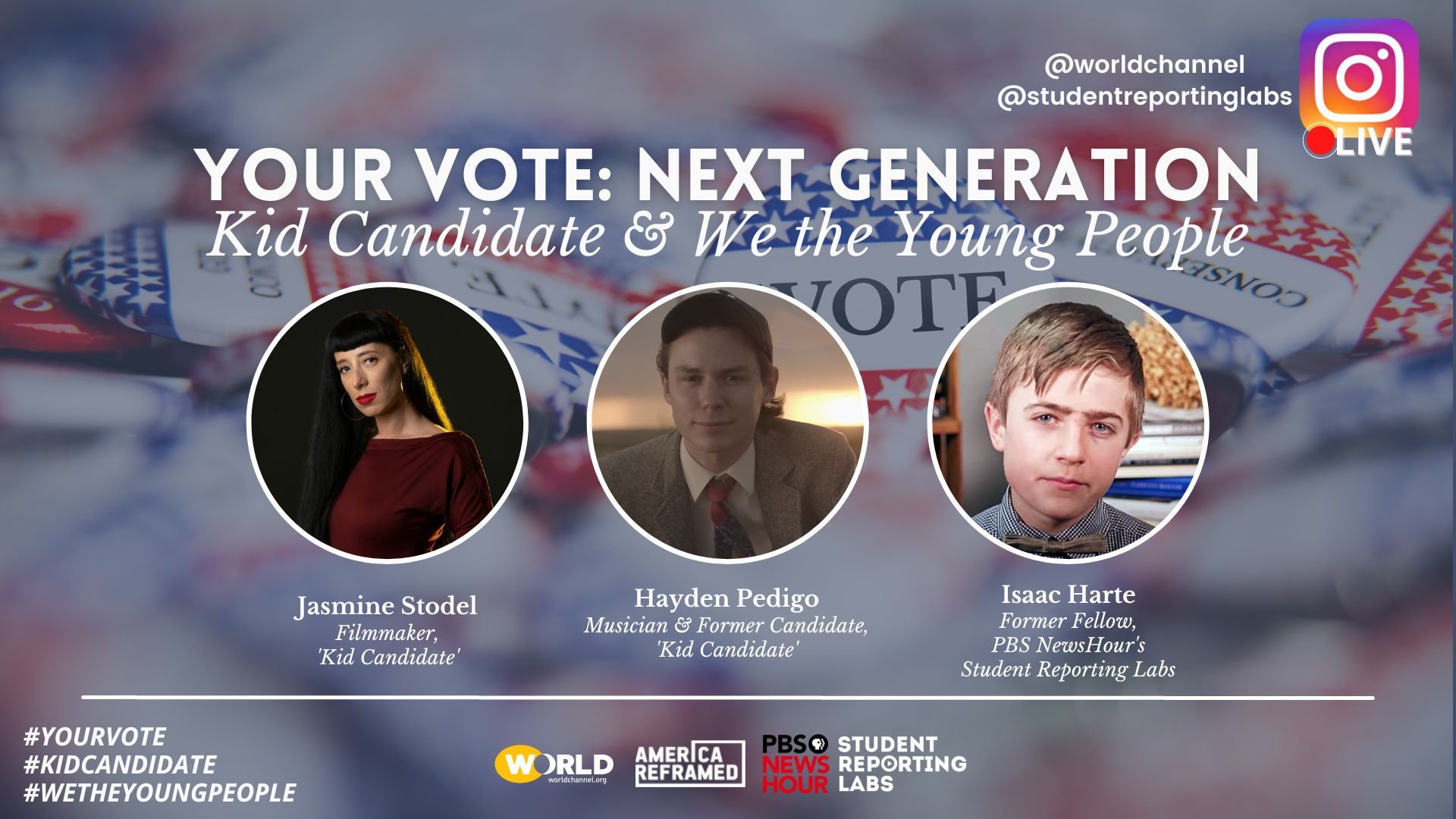 YOUR VOTE: NEXT GENERATION
What questions do young people across the U.S. have about our electoral process? Ahead of the 2022 midterms elections, former PBS NewsHour Student Reporting Labs fellow Isaac Harte speaks with Hayden Pedigo and Kid Candidate filmmaker Jasmine Stodel about the issues facing the mobilization of young voters. Watch the recording!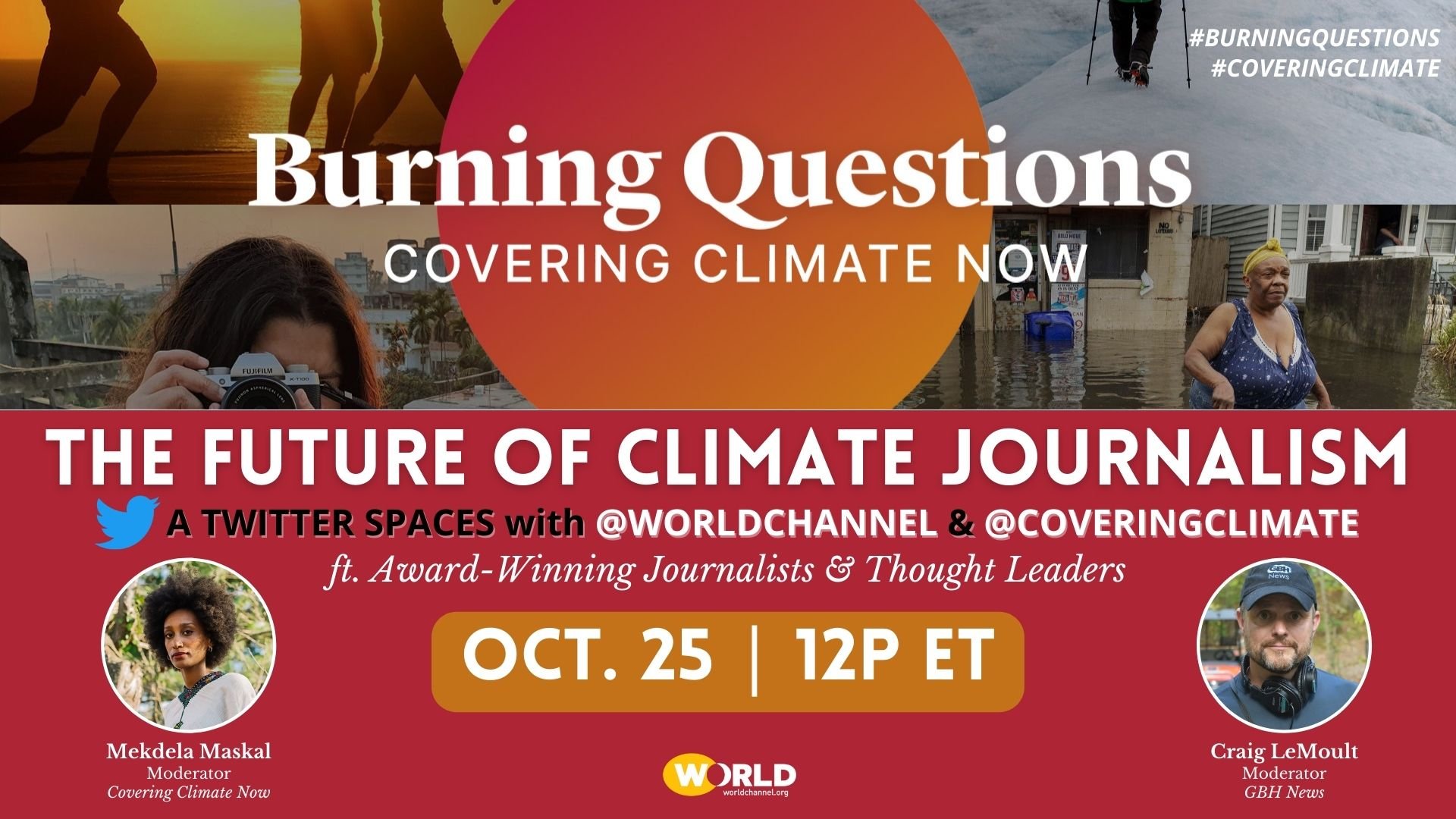 THE FUTURE OF CLIMATE JOURNALISM
Let's talk about climate change – Covering Climate Now and award-winning climate journalists discuss how climate journalism can push us toward actionable steps. Listen to the Twitter Spaces recording!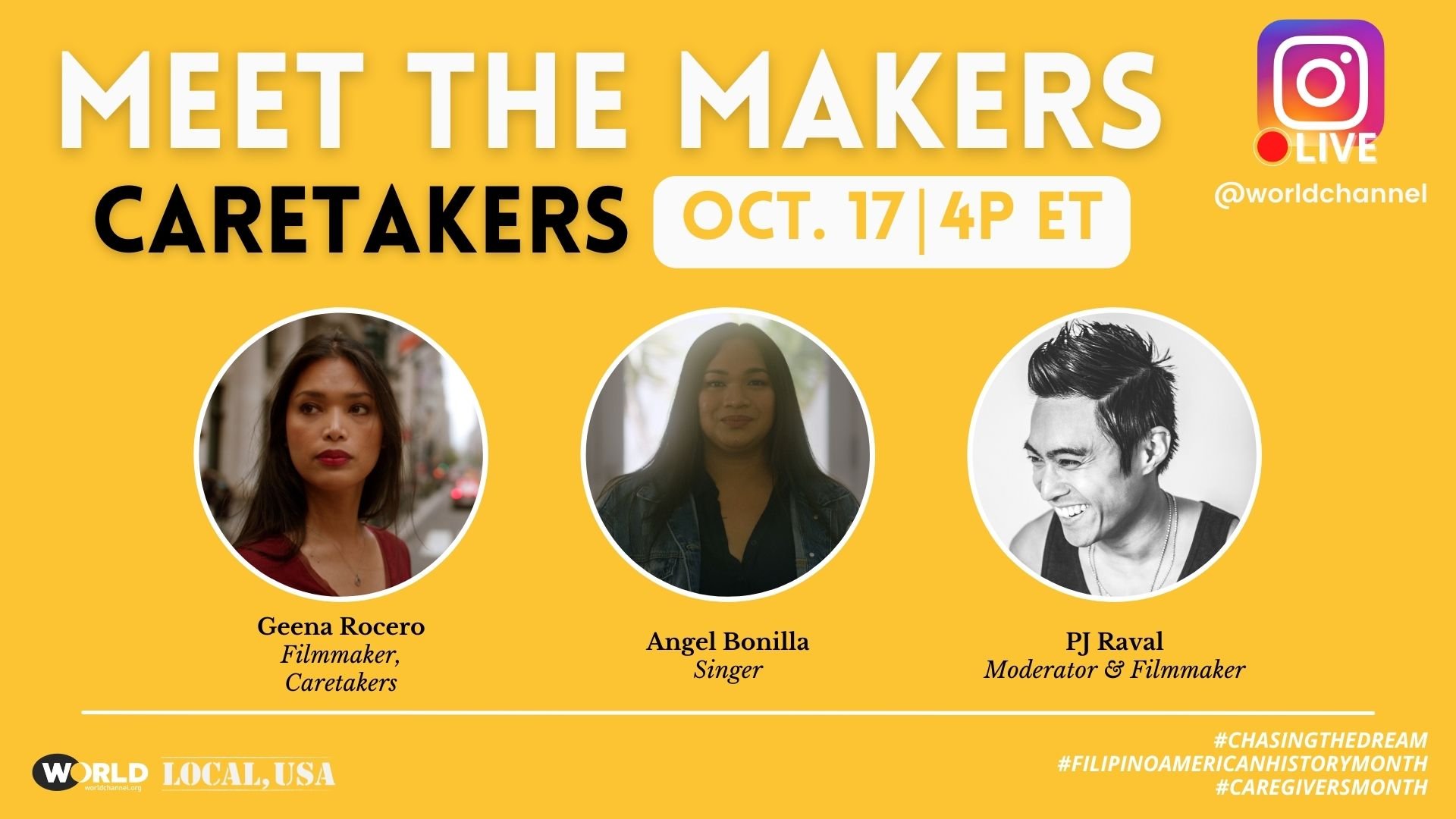 MEET THE MAKERS | CARETAKERS
How do Filipino Americans care for their community across the U.S.? In CARETAKERS, filmmaker Geena Rocero shares four stories of Filipino Americans providing vital care, from nursing to cooking to singing. Filmmaker PJ Raval moderates a conversation between Rocero and Angel Bonilla, a singer and one of the subjects of CARETAKERS, about Filipino Americans on the front lines. Watch the replay now!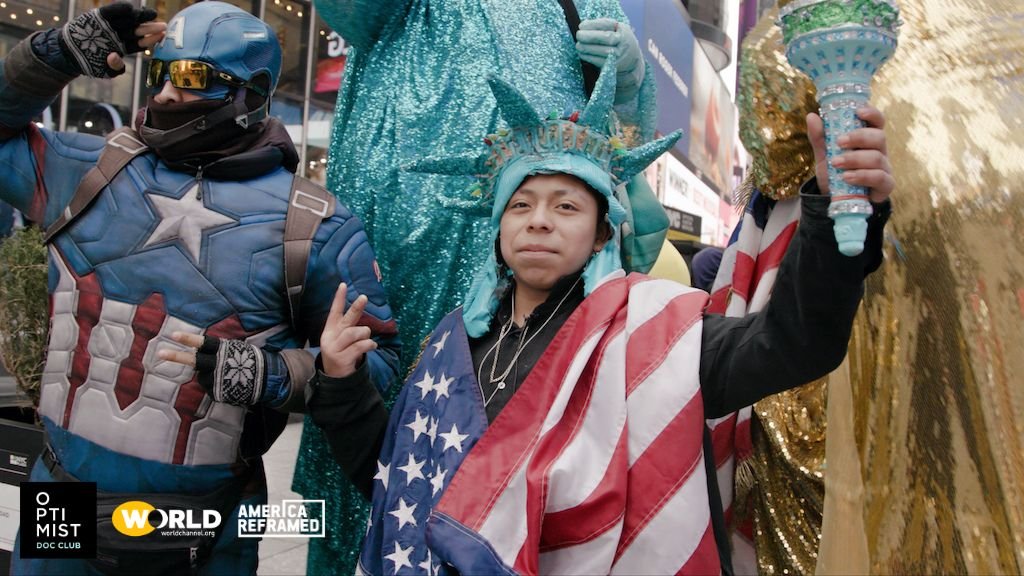 DOC CLUB | FIVE YEARS NORTH
Optimist's Doc Club discusses Five Years North, the story of Luis, an undocumented Guatemalan teen, who arrives alone in New York City and struggles to balance work, school and evading ICE officers. Featuring Optimist Co-Founders and Five Years North Directors Chris Temple and Zach Ingrasci along with WORLD Executive Producer Chris Hastings. Watch the recording!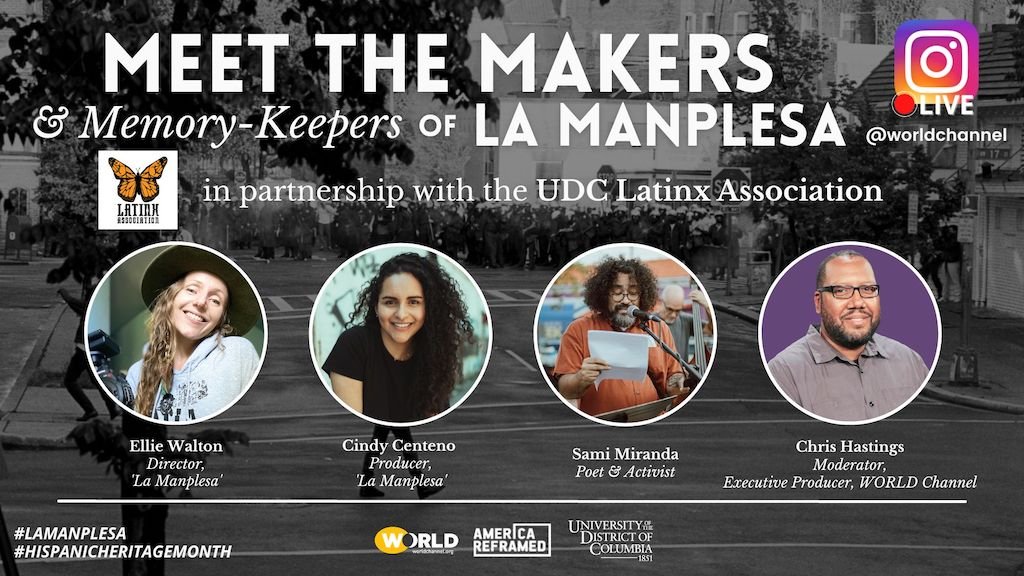 MEET THE MAKERS | LA MANPLESA
Meet the Makers of La Manplesa! Elie Walton and Cindy Centeno join Sami Miranda to discuss the legacy of D.C.'s Mt. Pleasant neighborhood and how the film captures the importance of art and memory-keeping – plus a special performance by Miranda! Watch the recording now.
MEET THE MAKERS | AFGHANISTAN: THE WOUNDED LAND
A conversation about the generational effects of endless war on Afghan women. Directors of 'Afghanistan: The Wounded Land' Mayte Carrasco and Marcel Mettelsiefen are joined by Nasrin Nawa, former senior journalist for the BBC in Afghanistan, and Zohra Yusuf Daoud, a Kabul native, women's rights activist and former media advisor to the First Lady of Afghanistan. Moderated by author, journalist and NBC Analyst Atia Abawi.
A TALE OF THREE CHINATOWNS | A CONVERSATION WITH PLCT
A conversation with A Tale of Three Chinatowns filmmaker Lisa Mao; Lydia Lowe, director of Boston's Chinatown Community Land Trust; and Liz Cheng, General Manager GBH and WORLD, about preserving Chinatowns history and family generations from disappearing. Moderated by PLCT President Robin Yuan.
MEET THE MAKERS | ANY GIVEN DAY
Watch a conversation with filmmaker Margaret Byrne, Cook County Mental Health Court Program Lauren Edidin and graduate Daniel Brown about the film Any Given Day and what it's like to live with mental illness in America. Moderated by Dr. Kameelah Mu'Min Rashad, founder and president of the Muslim Wellness Foundation.
MEET THE MAKERS | CROSSROADS
In 'Crossroads,' filmmaker Sarita Khurana presents the voices of the Sikh community as they process, and heal from, the shooting that killed 4 Sikh Americans at the Indianapolis FedEx hub facility in 2021. Khurana and Sikh American activists discuss the film, gun violence in America and Sikh representation. 
THE STATE OF RACE | BLACK JOY
Enjoy conversation and musical expression highlighting the positive experiences and aspirations of people of color, featuring a discussion highlighting Black joy with The Boston Globe's Culture Columnist Jeneé Osterheldt and Boston Poet Laureate Porsha Olayiwola. Plus, watch a performance by hip hop/rap artist Oompa. Hosted by GBH's Dan Lothian. 
MEET THE MAKERS | IMMIGRANT HERITAGE MONTH
As a nation of immigrants, we celebrate our shared heritage every day. In honor of Immigrant Heritage Month in June, watch a panel featuring filmmakers J.P. Dobrin (The Lookout) and Quyên Nguyen-Le (In Living Memory) along with thought leaders in the immigration space to discuss immigrants, their families and the sacrifices that they have made to belong. 
MEET THE MAKERS | CHINATOWN RISING
Chinatown Rising filmmakers Harry Chuck, Josh Chuck and James Q. Chan join thought leaders, including Former Executive Director of the Chinatown Community Development Center Gordon Chin and Chair of the International Coalition for Human Rights in the Philippines - US Pamela Tau Lee, for a conversation about the film and how a generation united to expose the disparities in their community. Moderated by Executive Director of The Coalition for a Better Chinese American Community Grace Chan McKibben.
GLOBEDOCS | SHORT FILMS HONORING AAPI HERITAGE MONTH
As part of The Boston Globe's celebration of Asian American Pacific Islander Heritage Month, GlobeDocs presents a curated series of short films featuring AAPI stories. Veronica Chao, deputy managing editor, Living Arts, and editor of Globe Magazine, moderates a discussion with a few of the filmmakers to shed light on the context and process behind each film. Presented in partnership by the Asian American Documentary Network (A-Doc), the Center for Asian American Media (CAAM), Boston Asian American Film Festival (BAAFF) and WORLD.
CELEBRATE ASIAN AMERICAN AND PACIFIC ISLANDER HERITAGE MONTH
GBH and WORLD reflect this Asian American and Pacific Islander Heritage Month on some of the challenges and triumphs ethnic AAPI neighborhoods have dealt with as they developed and evolved over the decades. Panelists include President of the board of Boston Little Saigon Annie Le, 'A Tale of Three Chinatowns' filmmakers Penny Lee and Lisa Mao, Executive Director of Asian Community Development Corporation Angie Liou and Director of Asian Community Fund Danielle Kim, with special remarks from GBH President and CEO Jon Abbott. Moderated by General Manager for Television at GBH and WORLD Liz Cheng. Presented in partnership with WTTW.
GEOGRAPHIES OF KINSHIP PRE-BROADCAST CONVERSATION
This 'Geographies of Kinship,' conversation explores the little-known history of African American Korean adoption and the eventual adoption of approximately 200,000 Korean children worldwide. The event features Professor Kori Graves in conversation with Korean adoptees Dr. Estelle Cooke-Sampson and Lisa Jackson and filmmaker Deann Borshay Liem, moderated by Prof. Kim Park Nelson.
FINDING MEANING IN YOUR STORIES | STORIES FROM THE STAGE
Who doesn't love a good story? We all have interesting stories, but when preparing for a performance, it can be difficult to identify the single most important meaning in our story. Coach Cheryl Hamilton and special guests from Stories from the Stage discuss how storytellers find meaning in their stories. Sponsored by Liberty Mutual Insurance.
MEET THE MAKERS | SHELETTA BRUNDIDGE & AUTISM AWARENESS
In this special WORLD Meet The Makers conversation, we introduce Sheletta Brundidge, mother, author, comedian and one of USA Today's Women of the Year. She shares her story of raising her children and talks about her new book, "Brandon Spots His Sign."
MEET THE MAKERS | AFROPOP: THE ULTIMATE CULTURAL EXCHANGE & PACIFIC HEARTBEAT
What is public media's role in representing BIPOC and AAPI communities? Emmy-winning comedian, podcaster and activist Sheletta Brundidge host a conversation with Black Public Media Executive Director Leslie Fields-Cruz and Pacific Islanders in Communications Interim Executive Director Cheryl Hirasa – hear about the new seasons of Pacific Heartbeat and AfroPoP: The Ultimate Cultural Exchange and the importance of diversity in public media.
THE STATE OF RACE | EQUITY IN BUSINESS OWNERSHIP
As Boston's business community tries to recover from the COVID-19 pandemic, Black and Brown business owners face additional challenges. What will it take for these businesses to not only survive, but thrive? Host Dan Lothian speaks with Nia Grace, owner and operator of Darryl's Corner Bar & Kitchen; Heather White, CEO and founder of TrillFit; Clyde Simms, co-founder of Rev'd Indoor Cycling; Nicole Obi, president and CEO of the Black Economic Council of Massachusetts; Segun Idowu, Chief of Economic Opportunity and Inclusion for the City of Boston; and Jim Rooney, President and CEO of The Greater Boston Chamber of Commerce.
BEYOND THE LENS | FANNIE LOU HAMER'S AMERICA
To commemorate 45 years since the passing of civil and human rights leader Fannie Lou Hamer, watch a screening of 'Fannie Lou Hamer's America: Beyond the Lens,' a behind-the-scenes special including personal family stories of the sharecropper-turned-activist. Following the screening, WORLD's Chris Hastings hosts Monica Land, 'Fannie Lou Hamer's America' executive producer and Mrs. Hamer's great-niece, for a Q&A. 
LONG STORY SHORT | STORIES FROM THE STAGE
A live storytelling performance can range from a 12-minute, feature-length piece to a 5-minute story for a competitive slam – like the difference between a novel and an essay. Discover how to edit your stories for impact with Stories from the Stage storytelling coach Cheryl Hamilton and special guest storytellers Kevin Gallagher and Julie Baker. Learn how to tighten your transitions and describe characters with fewer words, but just as much creativity. 
FINDING YOUR VOICE THROUGH FANNIE LOU HAMER
Throughout the 1960s, Fannie Lou Hamer established a legacy of civil rights and human rights activism that remains relevant to this day – especially among Black youth. Academy Award® nominee Aunjanue Ellis, writer and historian Keisha N. Blain, executive producer and Mrs. Hamer's great-niece Monica Land, and director Joy Davenport discuss what the current generation of social justice warriors can learn from Fannie Lou Hamer's example. Moderated by Executive Producer of America ReFramed Erika Dilday. 
THE STATE OF RACE | TECH'S DIVERSITY MANDATE
Technology is one of Massachusetts' largest and fastest-growing industries, but also one of the least diverse. In the summer of 2020, tech companies pledged to create a more diverse and equitable workplace. Nearly 18 months later, what, if anything, has changed? The World Executive Producer Dan Lothian hosts panelists Pariss Chandler, CEO and Founder of Black Tech Pipeline; David Delmar Sentíes, Founder of Resilient Coders; and Pranshu Verma, technology reporter at The Boston Globe to discuss the current state of race in Boston's tech economy and the truth about being a person of color in a predominantly White field. 
HOW TEENS ARE REDEFINING SCHOOL LIFE | STUDENT REPORTING LABS: OUR NEW NORMAL
From vaccination and mask mandates to curriculum protests, school districts across the country are taking center stage in some of today's biggest civic debates. But what do students have to say about their education? In an hour-long special, PBS NewsHour Student Reporting Labs (SRL) explores what this "new normal" is like for teens and how students are redefining school life.
PAGE TO STAGE | STORIES FROM THE STAGE
All stories have elements in common, such as relatable characters, conflict, and a compelling theme. There are, however, distinct differences between written and spoken stories. Dive into the art of storytelling with Cheryl Hamilton, who has dedicated her career to assisting others in sharing their stories. Special guest authors who have been featured on Stories from the Stage share their tips and tricks for bringing their stories to life on stage. 
12 DAYS OF STORIES | STORIES FROM THE STAGE
Stories from the Stage hosts Wes Hazard and Theresa Okokon meet up for a special holiday chat! The hosts swap stories and favorite holiday moments and share what's to come for Stories from the Stage in the new year. Watch the recording!
MEET THE MAKERS | WHY SLAVERY?
On #HumanRightsDay, WORLD's Chris Hastings and Mette Hoffmann Meyer, CEO and Executive Producer of the WHY Foundation talk about the series WHY SLAVERY?. The EPs discuss modern slavery and its often hidden existence, and the global implications of trafficking on communities, corporations and governments.
RETURNING HOME THROUGH TOGETHERNESS: HEALING FROM HISTORICAL TRAUMA
In recognition of Native American and Alaska Native Heritage Month, Sandy White Hawk (Sicangu Lakota), Anitra Warrior (Ponca Tribe of Oklahoma) and BLOOD MEMORY director Drew Nicholas explore the effects of historical trauma endured by the Native American community in boarding schools and through adoption and repatriation with excerpts from America ReFramed films. Moderated by journalist and media critic Jenni Monet (Laguna Pueblo) and presented in partnership by WORLD, America ReFramed and Vision Maker Media.
STORY VS. SPEECH | STORIES FROM THE STAGE
A great speech often includes at least one compelling story, but storytelling on its own should not sound like a speech. Storytelling coach Cheryl Hamilton, who has devoted her career to helping others share their stories, explores the differences between the two valuable forms of communication and how to avoid slipping into speech mode when telling a personal story from your life. 
THE LATINO FACTOR IN BOSTON AND BEYOND
Did you know that if U.S. Latinos were a country, their GDP would be ranked seventh in the world? Latinos are the second-fastest growing population in the country over the past decade, having jumped from 50.5 million people in 2010 to more than 62.1 million citizens today. Award-winning veteran journalist Jorge Quiroga and guests discuss the impact of Latinos in America on voting, the political stage and in the workforce. Presented by GBH WORLD and the Latino Equity Fund.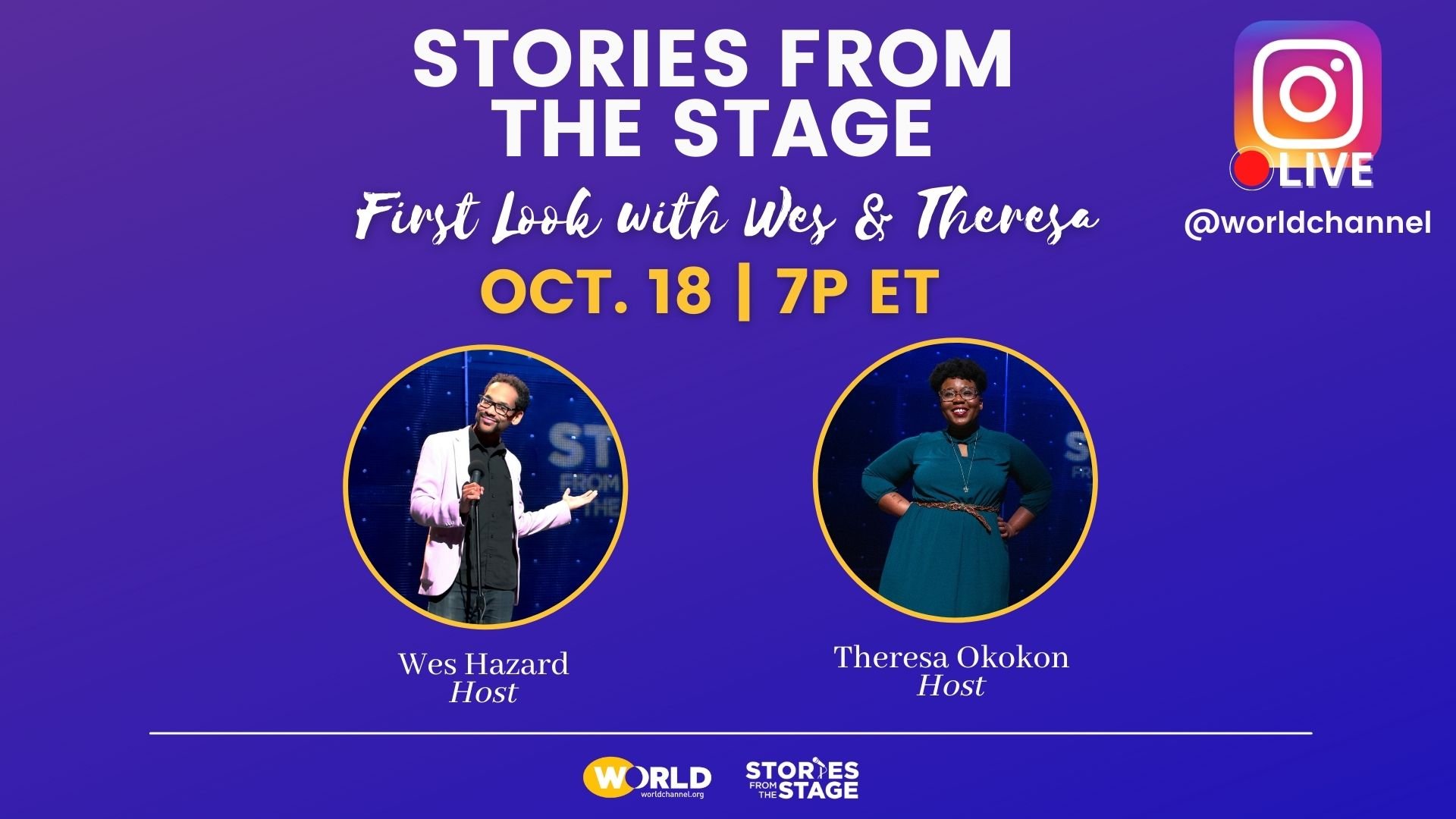 FIRST LOOK WITH WES HAZARD & THERESA OKOKON | STORIES FROM THE STAGE
Wondering what's been happening on Stories from the Stage? Hosts Wes Hazard and Theresa Okokon share what's coming up for season 5 and their own behind-the-scenes stories. Watch the recording!
IMMIGRANT YOUTH & MENTAL HEALTH STRESSORS
FIVE YEARS NORTH is the story of 16-year-old Luis, an undocumented Guatemalan boy who arrives alone in New York City with little support and many responsibilities. Director Chris Temple, editor and co-producer Alejandro Valdés-Rochin and mental health pracitioner Elena Zarandona discuss the hardships suffered by immigrant youth while involved in the immigration process. Moderated by journalist and host of America ReFramed Natasha Del Toro.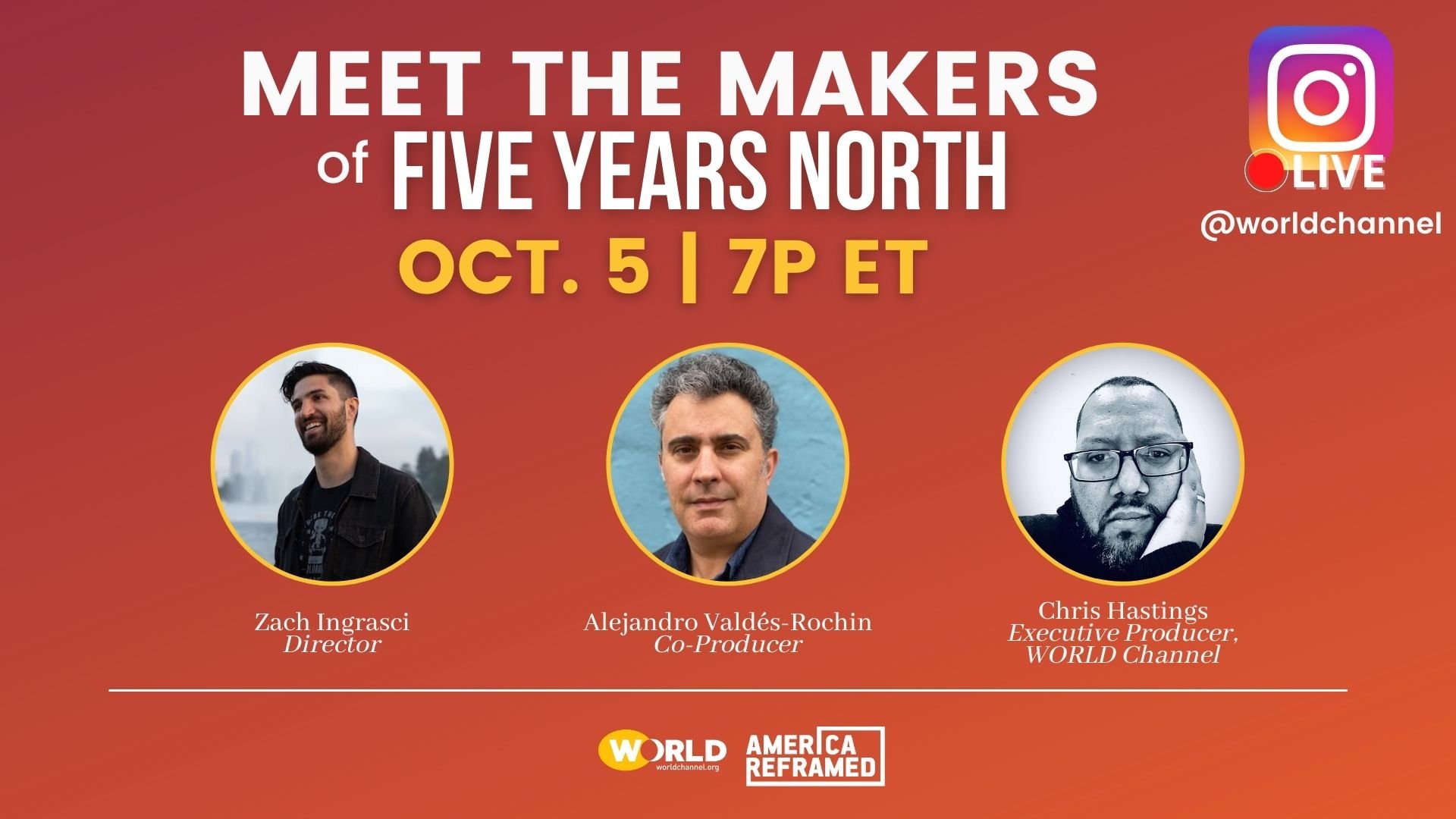 MEET THE MAKERS | FIVE YEARS NORTH
FIVE YEARS NORTH director Zach Ingrasci joins Chris Hastings, executive producer of WORLD, on Instagram Live to talk about the years spent with film subject Luis and how his story came together. Watch the recording!
THE GOOD ROAD | RICHMOND WATCH PARTY
Craig Martin, Earl Bridges and the rest of the team from THE GOOD ROAD go live on YouTube for a watch party celebrating the launch of season 2. Screen the first episode of the season, which explored racial reconciliation in Richmond, Virginia, virtually and enjoy a Q&A with the co-hosts.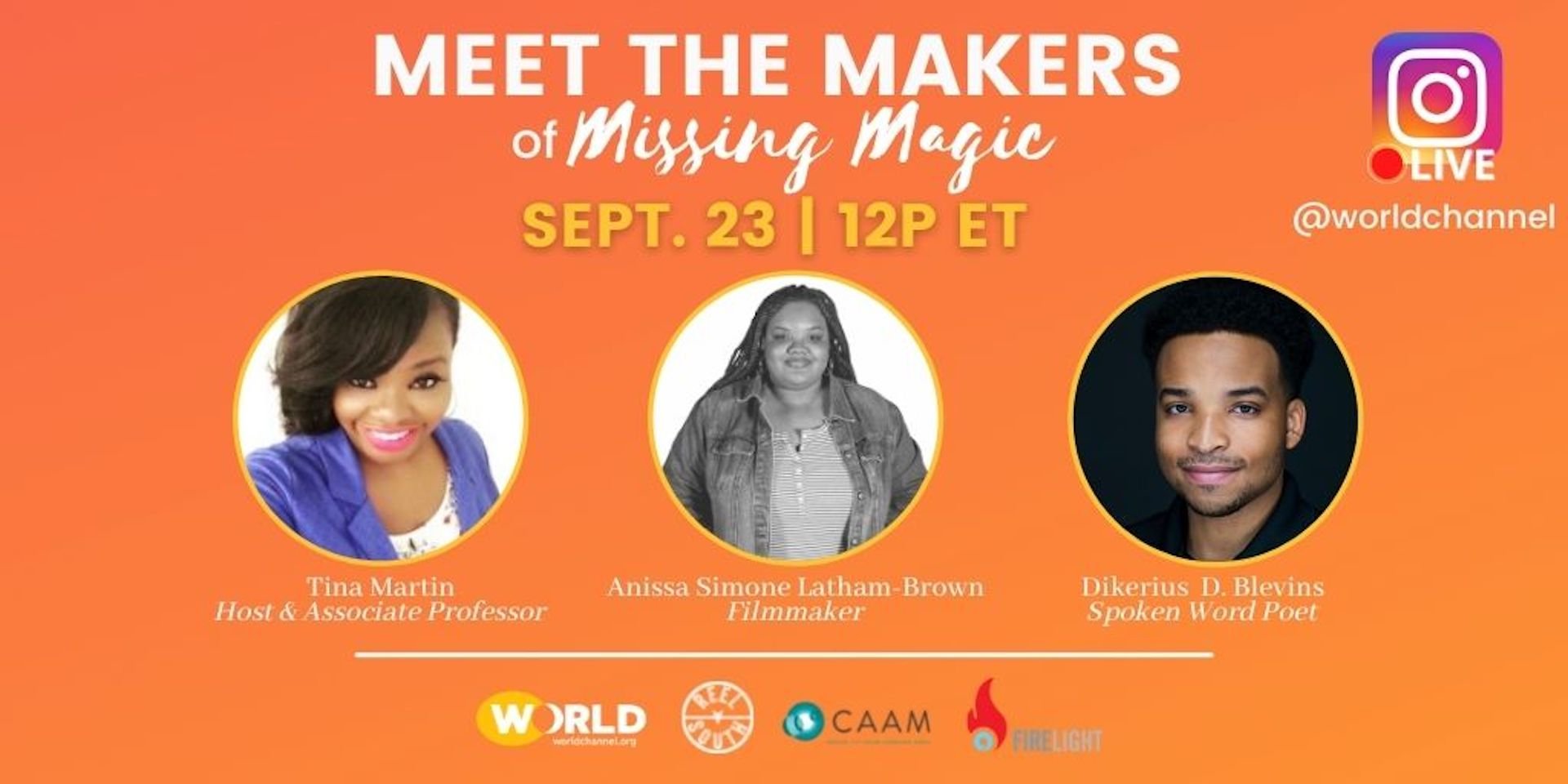 MEET THE MAKERS | MISSING MAGIC
HINDSIGHT: MISSING MAGIC filmmaker Anissa Latham-Brown, with subject and spoken word poet Dikerius Blevins, talk about the film, Magic City's history of racial injustice and what it means to find Black joy in revolution. Moderated by Tina Martin, Boston University Associate Professor and host of Local, USA. Watch a recording of the event. MISSING MAGIC is a part of the HINDSIGHT initiative with Firelight Media, Reel South and the Center for Asian American Media. Watch the film now.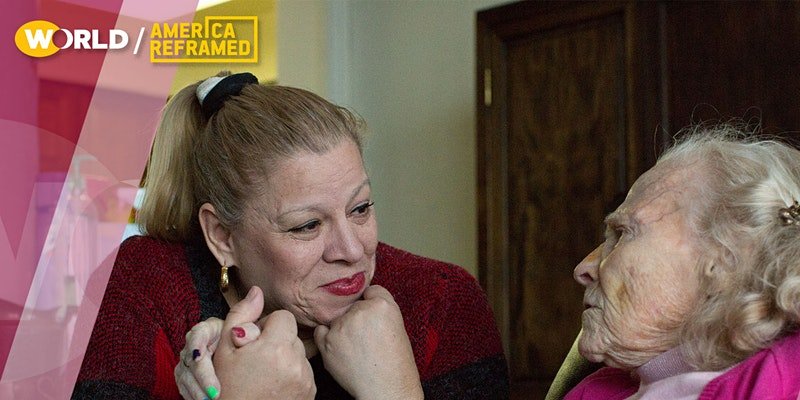 THE FUTURE OF CARE AND CARE WORK: THE REVOLUTIONARY POSSIBILITIES
Filmmakers Deirdre Fishel and Tony Heriza lead a timely conversation about the future of care and care work in America with leading voices in the fight for a new care infrastructure: Ai-jen Poo, co-founder of the National Domestic Workers Alliance; Robert Espinoza, Vice President of Policy of PHI National; and Sarita Gupta, Director Future of Work at the Ford Foundation. Watch the recorded event. 
BEYOND RESILIENCE | DEATH IS OUR BUSINESS
Firelight Media hosts a virtual screening of director Jacqueline Olive's short film 'Death Is Our Business,' about the impact of COVID-19 on New Orleans' Black community and its mortuary and funeral services, followed by a livestream Q&A with the filmmaker and special guests from the film about how the community is coping now. Read more about 'Death Is Our Business' here.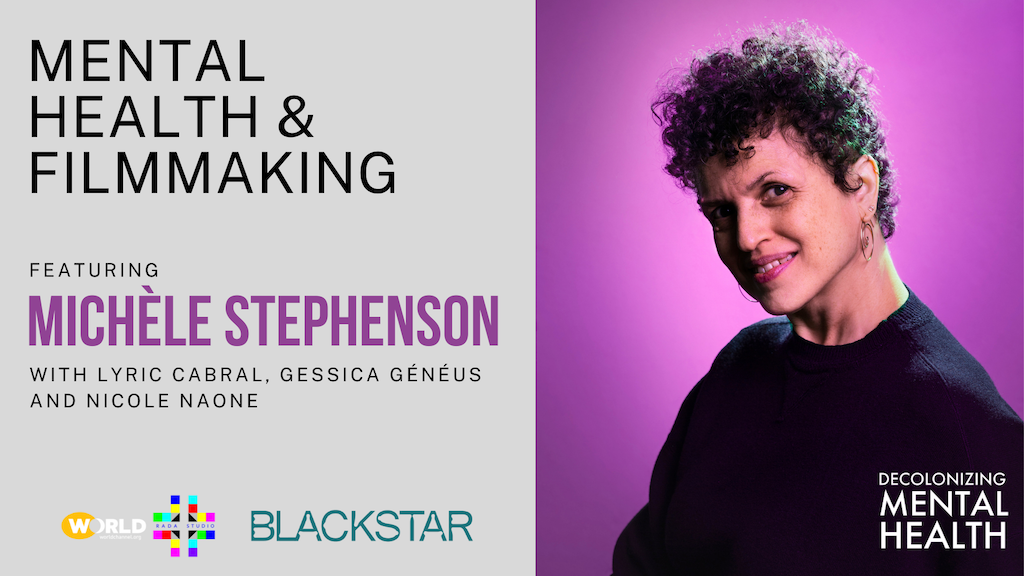 MENTAL HEALTH & FILMMAKING | BLACKSTAR FILM FESTIVAL
Director and producer of 'Decolonizing Mental Health' Michèle Stephenson joins a panel with fellow filmmakers at the BlackStar Film Festival to discuss the duty of filmmakers in remaining culturally sensitive when crafting stories about mental health. Watch the recording.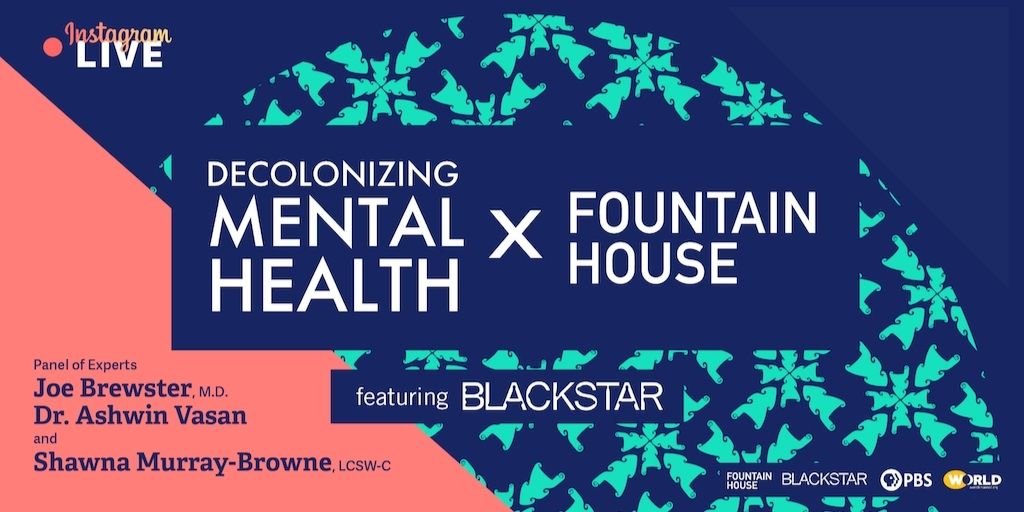 DECOLONIZING MENTAL HEALTH x FOUNTAIN HOUSE
President and CEO of Fountain House Dr. Ashwin Vasan sits down for a Q&A with director and producer of 'Decolonizing Mental Health' Joe Brewster and integrated psychotherapist Shawna Murray-Browne, LCSW, to discuss the role of media in addressing the stigma of mental health and film as a medium for changing the narrative. Watch the recording.
DECOLONIZING MENTAL HEALTH: A ROUNDTABLE CONVERSATION
Host Tina Martin, joined by industry experts like Shawna Murray-Browne, Dr. Dan Foster, Dr. Sidney Hankerson and Paul Hoang, meet for a discussion on where access is lacking for BIPOC in the mental healthcare industry and how it can be addressed. Read a recap.
MEET THE MAKERS | AAPI STORIES & FILMMAKERS
Filmmakers from the award-winning series America ReFramed discuss their films – Far East Deep South, Curtain Up!, First Vote and Hamtramck, USA – and how they relate to diversity, identity and belonging in the Asian American Pacific Islander community. Moderated by 'Far East Deep South' filmmaker Larissa Lam.
MEET THE MAKERS | 9to5: THE STORY OF A MOVEMENT
Academy Award filmmaker Julia Reichert talks 9to5: The Story of a Movement – a film that tells the story of women who fought for change in the workplace. With Ellen Cassedy, Janet Selcer, Dorine Levasseur and Darlene Lombos. Moderated by Tina Martin.
TRIBAL SOVEREIGNTY AND HOME: CELEBRATING NATIVE AMERICAN HERITAGE
A panel discussion about the Native foster care system, the environment, racial injustice, tribal sovereignty, women empowerment and native leadership, and what is currently happening in Indian country. Hear from Dennis Bowen, Sr., former President of the Seneca Nation; Jim Gray, former Principal Chief of the Osage Nation; Misty Frazier (Santee Sioux/Tlingit), Executive Director of the Nebraska Indian Child Welfare Coalition; and Laura L. Harris (Comanche), Executive Director and CEO of Americans for Indian Opportunity. Moderated by investigative journalist Jenni Monet (Laguna Pueblo).
MEET THE MAKERS | FIRST VOTE
MSNBC's Richard Liu speaks with Yi Chen, Jennifer Ho and Kaiser Kuo about First Vote and the relationship between identity & politics. Also, Christine Chen of APIAVote dives into the division/unity of the Asian American electorate. 
MEET THE MAKERS | THE HISTORY OF WHITE PEOPLE IN AMERICA
Meet the Makers of The History of White People in America, a series examining how skin color has come to define race in our country. Featuring filmmakers Jon Halperin and Pierce Freelon, guests Cornelius Moore and Ronda Taylor Bullock and musical performances with Nnenna Freelon, Pierce Freelon and Alan Thompson.
MEET THE MAKERS | #WEARELATINX: HISPANIC HERITAGE MONTH
WORLD kicks off Hispanic Heritage month 2020 with a preview and discussion of the films SIQUEIROS: WALLS OF PASSION (Doc World) and BUILDING THE AMERICAN DREAM (VOCES). Guests include Lorena Manríquez, Miguel Picker and Chelsea Hernandez. Moderated by GBH's Andrea Wolanin.
---
Follow us on Facebook, Instagram, Twitter and TikTok and join the conversation using the hashtag #WORLD. Subscribe to our YouTube channel for exclusive filmmaker interviews and extras.
Sign up for our newsletter for email updates on new film premieres, podcast episodes and upcoming events: