Eyes on the Prize: The Keys to the Kingdom (1974-1980)
About This Episode

"We were, for all practical purposes, engaged in a revolution." — Emma Darnell, Atlanta affirmative action commissioner

After Maynard Jackson is elected Atlanta's first black mayor in 1973, he makes affirmative action a priority. Jackson's biggest test is in the construction of a new airport. He appoints Emma Darnell to oversee affirmative action practices on the project, which she implements, but the white business community sees the changes to their hiring and business practices as reverse discrimination. On September 21, 1980, Hartsfield International Airport welcomes its first flight. The project is done on time and on budget, and with the required minimum 20% minority participation. Confounding the critics, affirmative action has been proven successful in addressing social inequities.

"...a racially imbalanced school is not educationally harmful." — Louise Day Hicks, Boston School Committee

In 1965, school segregation is a by-product of segregated Boston neighborhoods. Predominantly African American schools lack the most basic resources, so black parents bring complaints to the school committee; chair Louise Day Hicks claims schools are not inferior. The parents take the committee to court and on June 21, 1974, judge W. Arthur Garrity rules in the parents' favor, ordering students to be bused city-wide to integrate schools. In September, buses carrying black students from Roxbury are met by angry white crowds in South Boston. White parents pull their children from schools -- the white resistance continues for years. Not until Hicks is unseated and a black school committee member is elected in 1977 will the situation start to stabilize.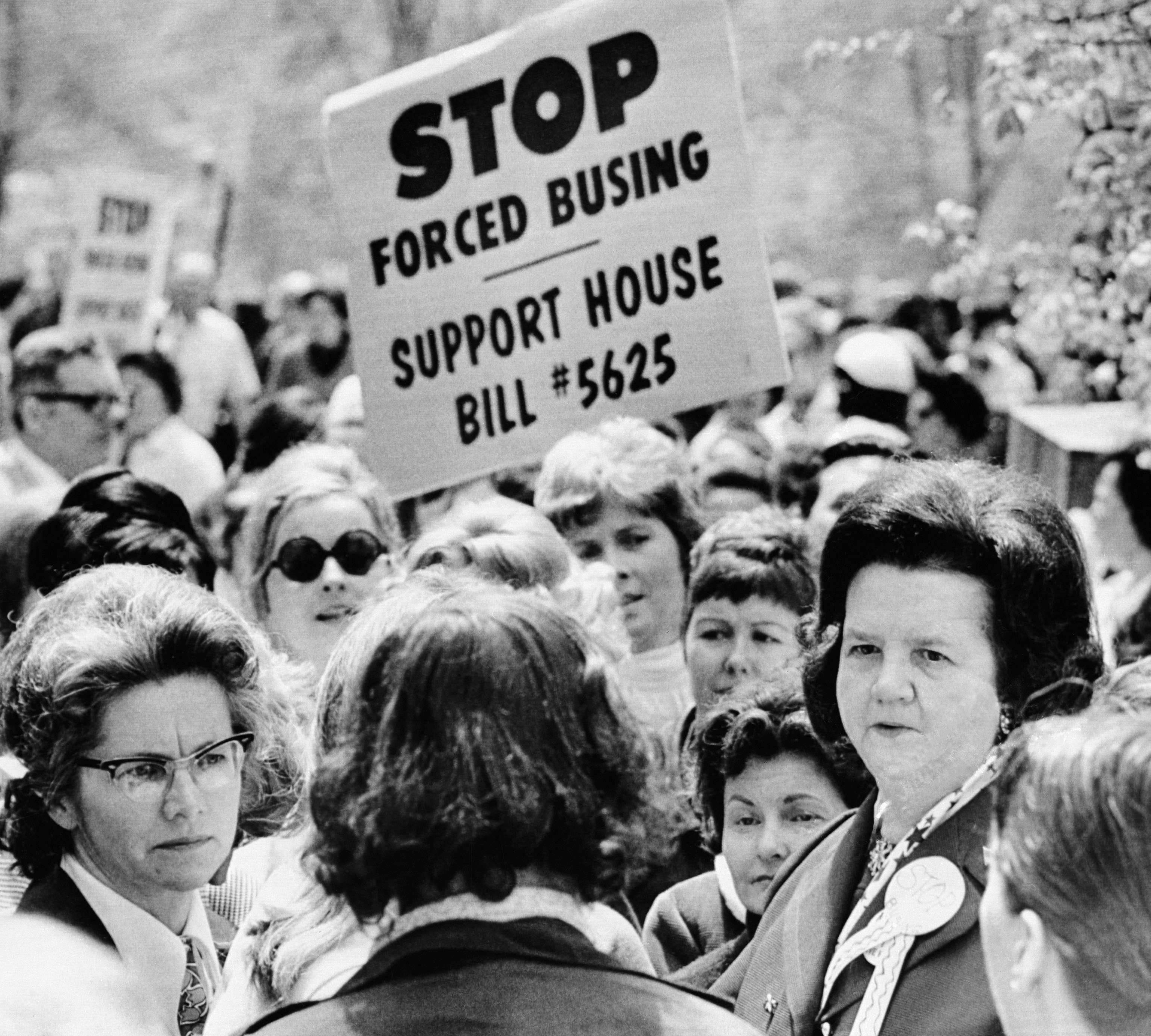 "If in fact women, blacks, Hispanics, have been excluded... how do you include them?" — Eleanor Holmes Norton, chair, Equal Employment Opportunity Commission

After a decade, affirmative action programs have doubled the number of black students attending higher education. In 1978, the Supreme Court hears a case filed by Allan Bakke, a man twice denied admission to the University of California at Davis. He claims the policies have violated his rights, so the court rules that Bakke should be admitted and that affirmative action is not mandatory. For some Americans, the case is proof that the cost of remedying years of discrimination and inequities is too high. For others, like Dr. Toni Johnson-Chavis, an African American woman who was admitted to Davis and practices in a minority community, there is no doubt that the policies make a positive impact on the student and the black community.

then & NOW > What is "The Future of Affirmative Action?" The Atlantic's Richard D. Kahlenberg weighs in

The award-winning documentary series Eyes on the Prize tells the definitive story of the civil rights era from the point of view of the ordinary men and women whose extraordinary actions launched a movement that changed the fabric of American life, and embodied a struggle whose reverberations continue to be felt today.